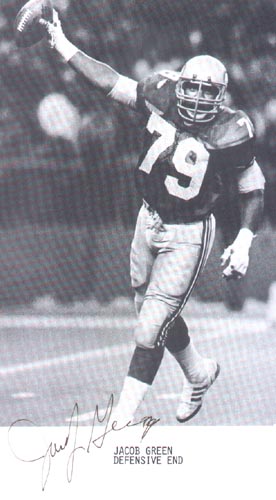 Aug 9, 1998
HAWKS OOZE TALENT - ENOUGH TO BE COMPARED TO 12-4 CLUB IN '84
By Dave Boling
News Tribune columnist
After racking up those 12 triumphs, the '84 team landed seven players (quarterback Dave Krieg, receiver Steve Largent, safety Kenny Easley, nose guard Joe Nash, Brown, kicker Norm Johnson and special teams standout Fredd Young) in the Pro Bowl, with two as alternates (defensive end Jacob Green and back Eric Lane).
And while the 1984 defensive front of Green, Nash and Jeff Bryant was extremely effective, the '98 wall of Sinclair, Adams, Kennedy and Phillip Daniels should be far more disruptive to opponents.
The current offensive front, meanwhile, might be better at every position than the 1984 group. McKenzie was excellent, but aging; Blair Bush and Bob Cryder had been first-round picks. But the current group has a pair of former Pro Bowlers, a pair of first-rounders and a starter off the defending Super Bowl champs.
The 1984 team, without question, benefited from several giant playmakers.
Easley was that season's NFL Defensive Player of the Year, and Largent went on to the Hall of Fame. Their influence is immeasurable. Krieg, meanwhile, was extremely inventive at quarterback, and Young was a special teams terror.
However, Galloway, Kennedy, Adams, Brown, Moon, Darryl Williams and Ricky Watters all have the capacity to individually influence the outcome of games this season.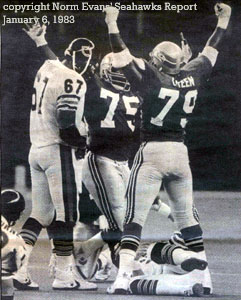 The strength and character of the current team remains undefined, but Brown can point to the power source of the 1984 unit without hesitation.
"It was our unity; we always remembered we were a team," he said. "There was a pride, an integrity there. Every player had the drive to be the best he could be so the team could be the best it could be. There was nobody going to convince us we weren't going to the Super Bowl."
And so it comes down to this: If the talented 1984 team was to match up against the 1998 club - which has yet to compete in a single regular-season game - who would win?
"If you lined them up, this team against that team, I think this team wins," Wright said, "because there's so much speed and defensively dominating players."
Brown just wants to wait and see.
"These are talented guys, but this team hasn't done anything yet," Brown reminded.
"Between the two, though, I'd have to say our bunch."
Why?
"Because everybody knows they don't make 'em like they used to."
TRIUMPHANT SEAHAWKS HOPE THEY'VE TAUGHT THEMSELVES A LESSON
By Michael Wilbon, Washington Post Staff Writer
December 15, 1987
DEC. 14 -- It's fitting that the National Football League's most unpredictable team, the Seattle Seahawks, came into their Kingdome on Sunday on the heels of two consecutive defeats and on the brink of being knocked out of the AFC playoff race -- and proceeded to beat Denver and climb within a half-game of the division lead The Seahawks team that showed up Sunday was the one many people picked to represent the conference in the Super Bowl. The Dave Krieg who showed up Sunday was the one ranked statistically among the top five passers of all time. The Seattle offense that showed up was one that played with imagination and spark. And the defense that showed up was one that contained Denver's John Elway as few defenses have.
That's not to say Seattle (8-5) will have such good fortune again this season. But against Denver (8-4-1), it all added up to a 28-21 victory over the team with the best record in the AFC, looking to wrap up a playoff spot.
His defensive linemen hadn't had a sack in 14 quarters, but each -- Jeff Bryant, Jacob Green and Tony Woods -- had credit for a sack against Elway. Going into the game, Knox had fretted over the pass rush, reasoning that if the Bears -- with all their team speed -- couldn't catch up to Elway then the Seahawks would have massive problems.