Game Day:
Jeff Bryant, Jacob Green and Tony Woods -- had credit for a sack against Elway.
Continue reading
Statistics: Season Summaries and Statistics
Continue reading
What We've Overheard: "The crowd was probably responsible for 50 sacks while I played." -- Jacob Green
Continue reading
Post Game: No trio of defensive linemen stayed together longer than Green, Nash and Bryant.
Continue reading

Source: Inside the Seahawks, Vol 1 No. 12, October 24, 1986-October 30, 1986
"Our Best Performance of the Year"
Green had four of Seattle's seven sacks to set a Seahawks game record. He had the previous high of 3 1/2 against the Los Angeles Raiders in 1983. Paul Moyer, linebacker Fredd Young and nose tackle Joe Nash had the other sacks.
"I had help," said the 6-3, 257-pound Green. "It's not just a one-man game. Other guys put the pressure on Simms.
"We had been called "Sad Sacks' and "Sack Ladies," Green said. "That bothered us."
New York linebacker Lawrence Taylor, the NFL 1986 and career leader in sacks, had none against the Seahawks.
1984 Season Summary
Team Captains: TE Charle Young (Offense), CD Dave Brown (Defense), RB Eric Lane (Special Teams)
Team MVP: SS Kenny Easley
Pro Bowl Selections: CD Dave Brown (1), SS Kenny Easley (3), K Norm Johnson (1), QB Dave Krieg (1), WR Steve Largent (4), NT Joe Nash (1), Special Teams Fredd Young (1)
National Honors: Chuck Knox, NFL Coach of the Year (AP, SN, SGH), SS Kenny Easley, NFL Defensive Player of the Year (AP, PFWA)
All-NFL Selections: CB Dave Brown (Films), SS Kenny Easley (AP, SI, PFW, PFWA, SN, NEA, Films), DE Jacob Green (SN), K Norm Johnson (AP, PFWA, SN, PFW), WR Steve Largent (Films), NT Joe Nash (AP, Films, PFW), Special Teams: Fredd Young (Films, PFW)
Notes: Lost divisional playoff at Miami 31-10.


| | | |
| --- | --- | --- |
| Most Sacks - Career: | 116 | (1980-1991) |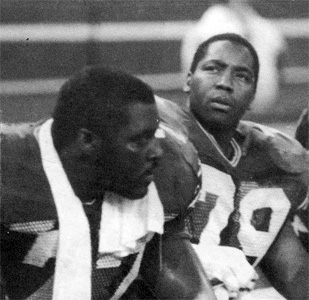 Source: Seattle Times
Sports: Tuesday, October 27, 1992
Seahawks Sack Green, Cite Youth Movement -- 35-Year-Old Defensive Lineman Waives Goodbye
By Craig Smith
JACOB GREEN FILE
-- Position: Defensive end. Age: 35.
-- Drafted: First round, 1980 (10th pick overall).
-- Honors: Selected to Pro Bowl after 1986 and 1987 seasons. Elected Seahawks captain 1988-91. Steve Largent Award Winner 1990.
-- Highlights: Scored four touchdowns in career with Seahawks, two on interceptions and two on fumble recoveries.
-- Records: Seahawks leader for sacks in a game (four, 1986), season (16, 1983) and career (116).
-- College: Texas A&M, first team All-American.
-- Home: Suburban Houston.
-- Family: Wife Janet and daughters Janelle, Jessica and Jillian.
-- Major charity work: Sponsored annual charity golf tournament beginning in 1988 that has raised $134,500 for charities, with most of the money going to Fred Hutchinson Cancer Research Center.