No trio of defensive linemen stayed together longer than Green, Nash and Bryant. They lasted more than a decade and called themselves "The Diehards."
"Last year was strange because it was our first camp without Jacob," Nash said. "This training camp is strange without Jeff. One of these years, Cortez is going to be saying, it's strange without Joe. That's the unpleasant part of the business, but that's the way it is. We'll see how long it goes."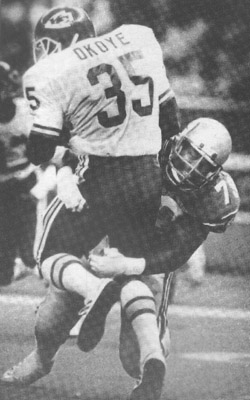 SEATTLE, June 15 /PRNewswire/ -- After 12 years, former Seahawks defensive end Jacob Green still finds time for Seattle and its causes. While raising money to fight cancer, Green enjoys a game of five-man scramble with fellow celebrities at the Jacob Green Charity Golf Classic, presented by The Westin Seattle, to benefit the Fred Hutchinson Cancer Research Center. The Charity Golf Classic begins at 9:30 a.m. Friday, June 18 at The Golf Club at NewCastle in Bellevue.
The sold-out tournament features current and former sports celebrities paired with corporate teams in a "scramble" format. Confirmed guests for this year's event include:
Sam Adkins (former Seattle Seahawks)
Louis Ballard (retired Seattle Seahawks)
George Atkinson (retired Oakland Raiders & Denver Broncos)
Rod Bernstine (retired San Diego Chargers & Denver Broncos)
Fred Brown (former Seattle Sonics)
Tom Catlin (former coach Seattle Seahawks)
Wayne Cody (NW Cable News)
Julio Cruz (former Seattle Mariner)
Satch Davidson (umpire major league baseball)
George Dyer (defensive line coach Denver Broncos)
Kenny Easley (former Seattle Seahawk)
Art Evans (actor)
Nesby Glasgow (retired Seattle Seahawks)
Mike Harden (retired Denver Broncos & Los Angeles Raiders)
Don James (former Husky head coach University of Washington)
Ed "Too Tall" Jones (former Dallas Cowboys)
Tommy Kane (former Seattle Seahawks)
Bruce King (KOMO-TV)
Richard Karn (actor & star of Home Improvement)
Dan Lewis (KOMO-TV)
Reggie McKenzie (retired Buffalo Bills & Seattle Seahawks)
Paul Moyer (retired Seattle Seahawks)
Mary Lou Mulflur (golf coach University of Washington)
Swen Nater (retired San Antonio Spurs, New York Nets, Milwaukee Bucks, San Diego Clippers & Los Angeles Lakers)
Jack Patera (former coach Seattle Seahawk)
Steve Raible (KIRO-TV)
Sonny Sixkiller (former quarterback University of Washington)
Lynn Swan (retired Pittsburgh Steelers, current ABC sports commentator)
Terry Taylor (retired Seattle Seahawks, Detroit Lions, Cleveland Browns, Atlanta Falcons)
Dave Valle (former Seattle Mariner)
Gus Williams (retired Golden State Warriors, Seattle Sonics, Washington Bullets & Atlanta Hawks)
Bill Yeend (KIRO Radio)
Charle Young (retired Philadelphia Eagles, Los Angeles Rams, San Francisco 49ers & Seattle Seahawks)
The Golf Classic features the Blockbuster Video Putting Contest from 8 a.m. until 4 p.m. Grand Prize for this contest is $10,000 for sinking a putt. Other highlights of the Golf Classic are the Alderwood Cadillac and Hole-in-One and the Lee Johnson Chevrolet closest-to-the-pin (first prize is a one-year lease on an automobile).
Green, who lost his father to cancer, has been giving to the Hutchinson Center and cancer research for years. Green has donated more than $600,000 to the Center to date. Each year Green designates funds to support two clinical oncology fellows at the Center, one in memory of his father, Jacob Green Sr., and another in memory of Pete Gross, a special friend and former "voice of the Seahawks."
In 1996 the Hutchinson Center established the Jacob Green Atrium in appreciation for Green's continued support in the fight to eliminate cancer. The Atrium is located in the Weintraub Building of the Hutchinson Center's Southeast Lake Union campus.
The 1999 Jacob Green Charity Golf Classic is sponsored by The Westin Seattle, Costco Wholesale, Alaska Airlines, Sunmakers, Lowell DeYoung, and Bonnie and Jim Towne.
Contact: Susan Edmonds, 206-667-2896 for the Fred Hutchinson Cancer Research Center.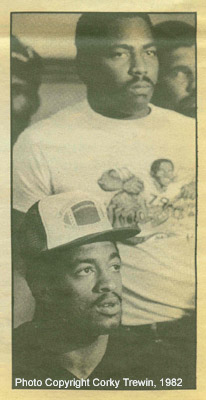 Seahawks Sack Green, Cite Youth Movement -- 35-Year-Old Defensive Lineman Waives Goodbye
By Craig Smith
KIRKLAND - Jacob Green, who made 116 sacks for the Seattle Seahawks, finally got sacked himself.
The Seahawks (1-7) released Green, 35, yesterday as part of a youth movement.
"I wish it could have ended differently, maybe with a Super Bowl or maybe playing the whole year out with these guys because I love them," Green said.
Green, the oldest defensive lineman in the National Football League, was placed on waivers. If no team claims him, he will be free to make a deal with any club.
He is not expected to be signed off waivers because the team claiming him would be obligated to pay half of his $1 million-plus 1992 salary.
Green named Buffalo, Kansas City and the Los Angeles Rams as teams that have expressed interest in him.
Green had not played at all this season and was waived from the team's injured-reserve list. He had been put on IR after final cuts with a sprained right knee suffered Aug. 22 in an exhibition game against Phoenix. He said the knee had healed by Week 2, but under league rules he didn't become eligible to come off IR status until Week 5.
The Seahawks didn't activate him then, and Coach Tom Flores had referred to Green in recent weeks as "insurance."
Flores said yesterday, "At this point, activating Jacob didn't make sense to the organization because defense is not what we need to fix. We need the fix on offense. We have some young defensive linemen that we need to think about for the future. Jacob understood. I have tremendous respect for him and what he's done for this organization and for this town."
Among the young defensive ends in the Seahawks stable are Michael Sinclair, Natu Tuatagaloa and Tyrone Rodgers.
Flores said, "Money was not a factor in the decision. If money were a factor, it would have been done a long time ago."
The Seahawks could have cut Green, one of the team's highest-paid players, after four weeks on IR, but he was kept around until Week 8 was completed Sunday. If Green had been waived earlier and not claimed, the Seahawks would have been obligated to pay him through Week 8, the halfway mark of the season.
Asked if he thought the decision to cut him was motivated by finances, Green replied, "Oh, probably," then later added, "maybe it was, maybe it wasn't."
Asked if he was bitter about being cut, Green said he had been treated "very fairly" when the Nordstrom family owned the team.
"From the three years (actually four) that Mr. (Ken) Behring was up here until now, I can't really say," Green said. "I don't want to say that I was treated unfairly because I was fortunate enough to play 13 years here and that's all I care about. It's not really whether I was treated fairly or not."
Green said Flores had been up-front with him about his situation as it evolved this season.
Green said Flores offered him four options at the end of camp: retirement, being cut so he could try to sign with another team, full-season injured reserve (the Seahawks would have had to pay him his full salary) or regular IR. He said he picked regular IR.
Flores said Green hurt his chances of making the team with a three-week holdout in training camp.
Green is one of seven Seahawks who started the 1991 opener who no longer are with the team. The others: guard Edwin Bailey, tight end Mike Tice, quarterback Dave Krieg, running back Derrick Fenner, punter Rick Donnelly and defensive tackle Eric Hayes.
The waiving of Green means the end of the "Die-Hards," the defensive-line trio of Joe Nash, Jeff Bryant and Green, who had been together since 1982.
"What surprised me was that I'd be the first one out the door," Green said. "We all knew one of the three of us would be out. I guess it's only fitting that since I came in first I should leave first."
Green was the team's first-round draft pick in 1980 out of Texas A&M. He was the 10th player taken overall in that year's draft.
Green said one of his fondest memories as a Seahawk was the late-1983 road game against the New York Giants. The Giants appeared to have won the game with a touchdown pass, but referee Jerry Markbreit called a holding penalty on a New York player who pulled Green down.
"He would always tell me that was his greatest call," said Green, who had recovered a fumble earlier in the game.
The Seahawks won 17-12 and clinched their first playoff berth the next week with a victory over New England. They then went all the way to the AFC championship game, losing to the Flores-coached Raiders, who went on to win the Super Bowl.
Green said leaving the Seahawks "is tough because of the friendships you lose." He said he had been privileged to know and play with the likes of Dave Krieg, Kenny Easley, Curt Warner and Steve Largent.
"You miss those type of guys," Green said. "That's what it's all about. Certainly, I'll go on and live life and even if I don't play anymore, I'll be fine. But I think I can play. I really do.
"I'll always feel a part of the Seahawks regardless of what happens."
The Seahawks' all-time leaders in games played: . . . Steve Largent 1976-89 200 . . . Jacob Green 1980-92 178. . . Dave Brown 1976-86 159. . . Joe Nash 1982-92 154. . . Keith Butler 1978-87 146.