Richard Harris was there!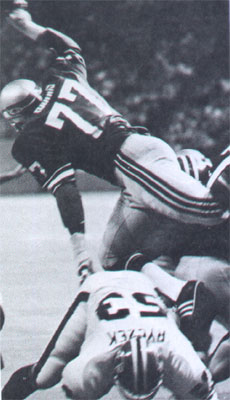 We extend our condolences to the family of Richard Harris, who passed away on July 26, 2011.
Bombers assistant coach Harris dies suddenly
CBC News
Jul 26, 2011 4:36 PM CT
Richard Harris, the assistant head coach of the Winnipeg Blue Bombers, died suddenly Tuesday afternoon at age 63.
Harris collapsed and was taken to hospital from the team's practice facility at CanadInns Stadium. He later died, the club said in a news release.
A popular coach with both players and fans, Harris joined Winnipeg's coaching staff in 2006 following one season with the Ottawa Renegades as their defensive line coach.
"This has struck our entire organization from the top down," said Blue Bomber president Jim Bell. "We are all in a state of shock, and first and foremost would like to express our deepest sympathies to his family. The Winnipeg football club has lost not only a great coach, but an even better man."
Former Blue Bomber Troy Westwood said Harris was well loved by everyone he met and a role model.
"When you consider what we should be as men in the community … to our families, to our friends and to people out and about and society in general, he would be a good example of what many of us should strive to be," said Westwood.
Prior to his stints in Winnipeg and Ottawa, Harris was the defensive line coach for the B.C. Lions for four seasons.
Harris also coached in the Northwest Football League and with the Portland Prowlers of the Indoor Professional Football League.
As a player, Harris spent eight seasons in the NFL. A first-round draft pick (fifth overall) of the Philadelphia Eagles, he played three seasons with them before joining the Chicago Bears for two years.
He wrapped up his career with a three-year stint as a member of the Seattle Seahawks. In college, Harris played at Grambling State University under legendary head coach Eddie Robinson.
Harris and his wife, Tami, made Winnipeg their year-round home. Harris leaves four children: Kimberly, Chianti, Jennifer and Michael; and two grandsons, Chandler and Keegan-Michael, along with a granddaughter, Aurora.
Seahawks Strengthen Defense With Harris
The Fresno Bee
Thursday, September 09, 1976
Fresno, California
SEATTLE (AP) —The Seattle Seahawks of the National Football League, looking to strengthen their young defensive line, acquired defensive end Richard Harris on waivers Wednesday from the Chicago Bears. The 6-foot-5, 255-pound Harris, a former star at Grambling, was a No. 1 Draft choice of Philadelphia in 1971, and the fifth player chosen in the college draft that year.
Cowlings ineligible
The Daily Chronicle
September 11, 1976
SEATTLE (UPI) -
Al Cowlings
, veteran defensive end for the Seattle Seahawks. has failed his physical and won't be eligible for what was a probable starting position Sunday against the St Louis Cardinals.
Until Friday, Coach Jack Patera had indicated the 6-5. 245-pound Cowlings, a newcomer received via waivers this week, would open at right end.
Cowlings is suffering from a foot injury which occured when he played with the Rams against the Seahawks in an exhibition game.
Filling the gap will be Richard Harris, another new Seahawk picked up on waivers from the Chicago Bears.
In addition, the Seahawks cut rookie cornerback Ernie Jones and defensive tackle Larry Woods to round out their roster to the 49-player limit.
Seattle May Make Most of Deal
Ogden Standard-Examiner
Wednesday Evening, September 7, 1977
The top target on defense,which gave up the most yards and points in the NFL last year, was finding some players with a high crunch factor.
"The thing that was almost intolerable last year was our tackling," said Patera.
"We not only missed a lot of tackles but when we did have an opportunity make a tackle, the ball carrier would drag us for five yards.
Patera is starting rookie Terry Beeson at middle Linebacker. "You don't have to have experience to be a hitter," he said.
The defensive front four is completely changed. Veteran tackles Ron East and Bill Sandifer are new, Richard Harris has shifted to end and rookie Dennis Boyd is replacing Bob Lurtsema.
Lions' Richard Harris returns to coaching staff as lead assistant and defensive line coach
VANCOUVER -- BC Lions Head Coach, Steve Buratto, today announced Richard Harris as lead coach and Defensive Line Coach.
"We are very happy to have Harris back with us," said Buratto. "Richard has proven to be one of the most talented and skilled defensive line coaches to come through here, and I am extremely pleased to have him as our lead coach."
Harris, 55, a former NFL player, enters his second year as Defensive Line Coach for the BC Lions. In 2000 he coached with the Portland Prowlers of the Indoor Professional Football League, where he was named Coach of the Year. Previously, in 1984 and 1989, he coached semi-pro football in the Northwest League with the Eastside Express where he won one National Title and went undefeated for one season. Between 1991 and 1996, Richard coached the Puget Sound Jets, where he also coached one undefeated season and won a National Title.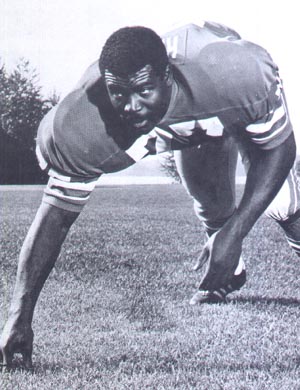 Harris was former first round NFL draft pick, chosen fifth overall in the 1971 Draft by the Philadelphia Eagles. While playing for the Eagles, Harris spent the off-season of 1972 and 1973 teaching Health and Physical Education at Stroudsburg State and was an assistant coach with the team. He was traded to Chicago Bears in 1974 where he spent two seasons before being traded to the Seattle Seahawks in 1976. Following his retirement in 1979, Harris was an assistant coach at Roosevelt High School in Seattle for two seasons.
Harris has two daughters Chianti, 27 and Kimberly, 29 and a grandson, Chandler born June 2001.
Source: Norm Evans' Seahawk Report
Vol. 4, No. 11
Sept. 13-19, 1982
Five former Seahawks last week filed a lawsuit against Seahawk owners, accusing the club of unfair insurance practices, breachs of contractual obligations and unfair medical practices. Former quarter- back Steve Myer, original No. 1 pick Steve Niehaus, three-year starting tight end Ron Howard, lineman Richard Harris and waived Ruben Hodges claim, among other things, that the Seahawks required them "to accept medication and injections by intimidation, duress, misrepresentation and fraud." General Manager John Thompson, questioned the day of the filing, said there'd be no official comment until the suit had been examined.
Collecting Richard Harris?
1974 Topps #216