Ernie Jones was there!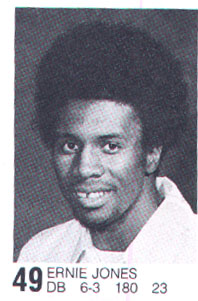 Please click the icon below to read our interview with Ernie Jones and to see what he's doing now! Thank you, Ernie, for granting us this email interview! Best of luck to you, and thanks for what you've contributed to NFL football and to the safety of Miami-Dade Counties!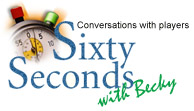 Seahawks
by Doug Thiel
Sunrise Publishing Inc.
In the 1976 college draft we also got Jeff Lloyd in the third round plus two third round bonus choices, Rick Engles and Don Bitterlich. In the fourth round Seattle chose Steve Meyer at quarterback; Randy Johnson, an offensive guard, was a bonus choice as was Andrew Bolton. In the fifth round Don Dufek, Ernie Jones and Larry Bates came to the Seahawks.
The other collegians drafted were Alvis Darby, Lodie Dixon, Larry Shipp, Bob Bos, and Randy Coffield.
M-DCC ALUMNI and FRIENDS HONORED AT FIRST ANNUAL COLLEGE HALL OF FAME CEREMONY
The first Annual Miami-Dade Community College Hall of Fame Awards Ceremony will honor M-DCC alumni and College friends who have made significant and exemplary contributions locally or nationally in their professional fields.
Ernest Jones played basketball for Miami-Dade Community College, where he was named a NJCAA All-American High Jumper. He went on to play football for the University of Miami Hurricanes, earning honors like "Most Outstanding Defensive Back" for two consecutive years and invitations to bowl and all-star games. His superb athletic skills soon would prove worthy of a professional football career. The Seattle Seahawks drafted him in 1976 and a year later he began playing for the New York Giants. Jones decided to give back to his community by making a career change in 1987 when he joined the Miami-Dade Police Department where he now serves as a sergeant.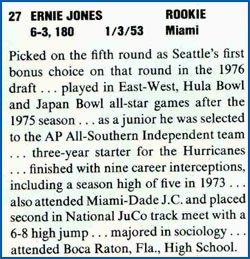 Pro Football 1976
by Larry Felser and Dave Klein
First of all, Seattle had the right to choose 39 veterans from lists submitted by the established franchises. And Patera, for years the defensive line coach for the Vikings, was honestly surprised at the quality of players available, especially the defensive performers. Patera came away with linebackers, for instance.
Boy, did he come away with linebackers! His starting trio would appear to be Ed Bradley in the middle with Ken Geddes and Ken Hutcherson on the outside.
And behind them are former All-Pro Mike Curtis -- long-time Falcon starter Don Hansen and two rookies —Sammy Green of Florida and Randy Coffield -- of Florida State. It's a sound unit.
Bradley could have started for the Steelers if Jack Lambert wasn't there. Geddes did start, for the Rams, and he played championship ball. Hutcherson, a bit short but very quick and strong, will find a spot. Curtis, once All-Pro, will back up the middle and help the kids. Green, the No. 2 pick, will get into the thick of competition and could win a spot. Hansen, a veteran noted for meanness, will help. Jones made a big name for himself in college.
Cowlings ineligible
The Daily Chronicle
September 11, 1976
SEATTLE (UPI) -
Al Cowlings
, veteran defensive end for the Seattle Seahawks. has failed his physical and won't be eligible for what was a probable starting position Sunday against the St Louis Cardinals.
Until Friday, Coach Jack Patera had indicated the 6-5. 245-pound Cowlings, a newcomer received via waivers this week, would open at right end.
Cowlings is suffering from a foot injury which occured when he played with the Rams against the Seahawks in an exhibition game.
Filling the gap will be Richard Harris, another new Seahawk picked up on waivers from the Chicago Bears.
In addition, the Seahawks cut rookie cornerback Ernie Jones and defensive tackle Larry Woods to round out their roster to the 49-player limit.
Lurtsema, five others released by Seahawks
Daily News-Miner
Fairbanks, Alaska
Wednesday, Sept. 14, 1977
SEATTLE (API—Veteran Bob Lurtsema and five other players were cut from the active roster Tuesday as the Seattle Seahawks reduced their National Football League team to the 43-player limit.
Tight ends John McMakin and Charles Waddell, running back Hugh McKinnis and cornerback Ernie Jones also were placed on irrevocable waivers Tuesday. Randy Coffield, linebacker, was placed on injured reserves with a knee injury, meaning he is out for the season.
Lurtsema, 34, an 11-year veteran, was obtained last year from the Minnesota Vikings and became a starter at defensive end. Unless he is claimed by another team, Lurtsema likely will be one of those signed to a new contract by the Seahawks when the NFL teams are allowed to sign two extra players later. The rosters will be increased lo 45, but only 43 will be permitted to suit up for the game.
Waddell was acquired in the veteran allocation last year but missed an entire season because of a knee injury. Jones and Coffield were 1976 draftees— Jones in the fifth round and Coffield in the tenth.
McMakin was waived late Tuesday after the Seahawks picked up tight end John Sawyer on waivers from the Houston Oilers. The release of McMakin leaves Seattle with only nine of the original 39 players the club selected in last year's veteran allocation.
Seahawks recall two players
The Berkshire Eagle
Friday, Oct. 15,1976
SEATTLE (UPI) – The Seattle Seahawks Wednesday announced the signing of two players who had been released earlier this season, cornerback
Ernie Jones
and defensive tackle
Larry Woods
.
To make room for Jones and Woods on the roster, the Seahawks placed rookie running back Andrew Bolton and first-year cornerback Ted Bachman on waivers.
Jones, a fifth-round draft choice from Miami (Fla.), was released prior to the season opener after playing with the Seahawks through the preseason schedule. A 6-3, 180- pounder, he started, against the Denver Broncos and saw action as a reserve in the five other exhibition games.
Collecting Ernie Jones?
Sorry - no Ernie Jones cards! But he did have a mini-poster from the Seattle Post-Intelligencer, #53.