Larry Woods was there!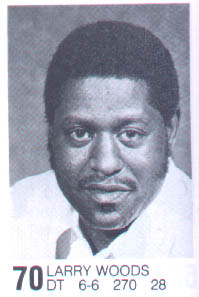 Street and Smith's Pro Football 1977
There is room for improvement at end, where the incumbent starters are Dave Tipton and 35-year-old Bob Lurtsema. Behind them are Carl Barisish and Larry Woods.
Brothers playing in the NFL:
Woods **
Larry - DT - 1971-72 Detroit Lions, 1973 Miami Dolphins, 1974-75 New York Jets, 1976 Seattle Seahawks
Robert - T, G - 1973-77 New York Jets, 1977-80 New Orleans Saints, 1981 Washington Redskins, 1983-85 USFL
Seahawks recall two players
The Berkshire Eagle
Friday, Oct. 15,1976
SEATTLE (UPI) – The Seattle Seahawks Wednesday announced the signing of two players who had been released earlier this season, cornerback
Ernie Jones
and defensive tackle
Larry Woods
.
To make room for Jones and Woods on the roster, the Seahawks placed rookie running back Andrew Bolton and first-year cornerback Ted Bachman on waivers.
Jones, a fifth-round draft choice from Miami (Fla.), was released prior to the season opener after playing with the Seahawks through the preseason schedule. A 6-3, 180- pounder, he started, against the Denver Broncos and saw action as a reserve in the five other exhibition games.
From: Hermance Spiess-Veuve
Sent: Monday, May 30, 2005 6:16 PM
Subject: INFO ON OLD PLAYER
Hello,
i need some information on a old player. He played with the miami team in 1973,then with the jets then with seattle. There is apicture of him on your site.
His name is Larry Woods. Can you please tell me How and Where i can contact this person.
Thank you
Sincerely,
Many
[Note to Mr. Woods: If you would like to contact "Many", please
e-mail me
and I'll give you his e-mail address.]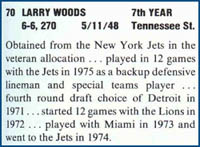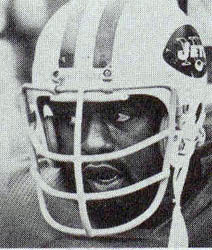 The Pocket Book of Pro Football 1976
Edited by Herbert M. Furlow
It might mean a rush line of Tipton, Owens, and Woods, but camp most likely will decide. No bargains were available in the expansIon draft. Woods was a backup with the Jets, and Tipton an occasional starter with San Diego; Owens used to start with the Saints, but he didn't in 1975. He's a pretty fair pass rusher, but he can be beat on the run. O'Neal might be a sleeper. He comes from Grambling and the Saskatoon Roughriders of the CFL, and he's a rush line end who likes to annoy quarterbacks. Baker and Barisich are possibles.
Cowlings ineligible
The Daily Chronicle
September 11, 1976
SEATTLE (UPI) -
Al Cowlings
, veteran defensive end for the Seattle Seahawks. has failed his physical and won't be eligible for what was a probable starting position Sunday against the St Louis Cardinals.
Until Friday, Coach Jack Patera had indicated the 6-5. 245-pound Cowlings, a newcomer received via waivers this week, would open at right end.
Cowlings is suffering from a foot injury which occured when he played with the Rams against the Seahawks in an exhibition game.
Filling the gap will be Richard Harris, another new Seahawk picked up on waivers from the Chicago Bears.
In addition, the Seahawks cut rookie cornerback Ernie Jones and defensive tackle Larry Woods to round out their roster to the 49-player limit.
Larry Woods Bio
Source: Lauderdale County Sports Hall of Fame Larry Woods put his athletic career on hold during his senior year in high school. But he had already logged five years on the high school team at East End High School in Rogersville. So he was not passed over when college recruiters were looking for talent. He was signed by Tennessee State University, and went on to letter three years, earning a reputation as a strong and mobile lineman. That reputation laid the foundation for a successful six-year career in the NFL. He was fourth-round draft choice of the Detroit Lions and quickly established himself as a quality de­fensive tackle. He also played with the Miami Dolphins in 1973 during their second Super Bowl season. He was traded to the New York Jets and later claimed by the Seattle Seahawks during the expan­sion draft. He is now a teacher and sports official in Houston. Collecting Larry Woods? 1976 Post-Intelligencer mini poster, #23