Gordon Jolley was there!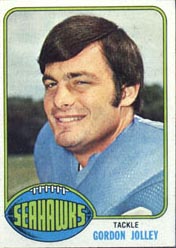 His son is following in his footsteps! Doug Jolley has signed with the Oakland Raiders and has been successful enough to play in the Super Bowl in January 2003! Way to go, Doug!
Pro Football 1976
by Larry Felser and Dave Klein
And if Patera really wants to stay up nights, he can think about his interior line. At the moment, the tackles will be Nick Bebout and Norm Evans. The guards are John Demarie and Bob Penchion. Fred Hoagin is at center.
While this group is less than impressive, there is no passable depth. Randy Johnson is a 244-pound rookie guard from Georgia, Art Kuehn is a rookie backup (for now) center from the Redskins and Gordon Jolley is a tackle reserve.
Bebout didn't play well with the Falcons. Evans, once a Pro Bowl is a bit old and may not show his ability on a weak line. Demarie should have a few years left. Penchion played well in spurts during his career. Hoaglin can play center and guard. Kuehn, one of George Allen's mystery names, played well at UCLA two years ago he never made the Redskins' active roster, joining the WFL instead. Johnson had good grades in college and could win a job. Jolley starting material.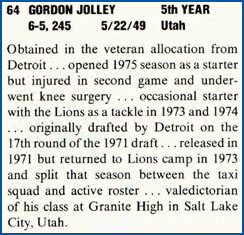 SPORTS BRIEFS
TRI-CITY HERALD
Thursday, May 6, 1976
Tight end
STEVE DUNCANSON
of the University of Idaho said Wednesday he has signed a free-agent contract with the Seattle Seahawks of the National Football League. Duncanson was an all-Big Sky selection the last two years for the Vandals. Offensive loneman
GORDON JOLLEY
of the Seahawks underwent surgery Wednesday for removal of torn cartilage in his right knee. Jolley sustained the injury in an off-season basketball game.
Seattle Draft: 'Good Job'
Don Kosterman, executive vice-president and general manager of the Los Angeles Rams, offered, "Seattle did an excellent job and got some veteran players who will be invaluable. For instance, (Nick) Bebout, (John) Demarie, (Rocky) Rasley, (Gordon) Jolley, (Fred) Hoaglin, (Norm) Evans, (Bob) Penchion are going to play to give the Seahawks an established offensive line.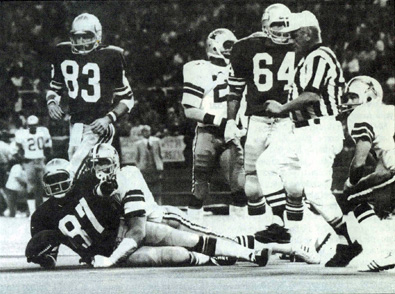 'Hawks Open Drills Today
By Don Fair
P-I Sports Writer
The physical report on knee surgeries: Offensive lineman Gordon Jolley "will not participate for a week"; wide receiver Dave Williams, due July 16 "will probably be ready"; wide receiver Ahmad Rashad "may not start for a couple of weeks just as a precaution."
New Tackle For Seahawks
Daily Sitka Sentinel, Alaska,
Thursday, October 07, 1976
Sitka, Alaska
SEATTLE (AP) — Gordon Jolley says he's glad for the chance to become a starting tackle for the Seattle Seahawks. He's just sorry it happened at the expense of veteran tackle
Norm Evans
.
Evans, who injured his right knee in last Sunday's game against Dallas, will be sidelined for at least four weeks, Coach Jack Patera said Wednesday.
Evans consulted Dr. Donald Slocum, a Eugene,Ore., specialist. After talking, by phone with Dr. Slocum, Patera said, "A final determination on whether surgery will be necessary for Evans will not be made for two weeks.
"If everything goes well and there is no need for surgery after two weeks, he will be out a minimum of four.weeks." Just a week ago, Jolley said he was worried about his future with the new National Football League team.
"They had brought in a fourth tackle (Dave Simonson) and I didn't know what they were thinking," the ex-Detroit Lion said. Jolley, who has undergone two right knee operations himself in less than a year, says his knee now "feels pretty good."
Doug Jolley, Position: Tight End/Long Snapper
College: Brigham Young, Height: 6-4 Weight: 251
Hometown: St. George, Utah
Joined the Cougar program as a quarterback, moving to tight end as a redshirt freshman ... Comes from a sports-oriented family, as his father played in the National Football League for the Lions and Seahawks while his brother played in the St. Louis Cardinals baseball organization ... A reserve until midway through his senior year, he still managed to finish his career with 52 receptions for 768 yards (14.8 avg) ... Doug made the most of those limited catches, as eleven resulted in touchdowns.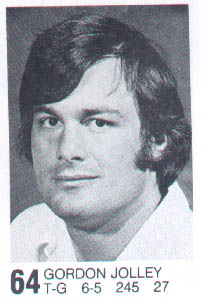 Student-Athlete of the year at Dixie (St. George, Utah) High, where he lettered three times each in football, basketball, and baseball ... Was All-State in all three sports ... Three-time All-State in baseball ... Washington County Athlete of the Year and honorable mention All-American by USA Today in football and baseball as a senior.
Economics major ... Brother, Mike, played four years in the St. Louis Cardinals organization (baseball) ... Son of Jean and Gordon Jolley ... Father played seven years in the National Football League with the Detroit Lions and Seattle Seahawks ... Born on Jan. 2, 1979 in Sandy, Utah ... Resides in St. George, Utah.
Jolley's stock rising leading up to NFL draft day
Source: Deseretnews.com
By Jeff Call
Deseret News sports writer
Jolley, who graduated from BYU with a degree in economics in December, plans to hold a little draft party at his residence in Provo Saturday. No matter what happens, it will be different from the experience his dad, Gordon Jolley, had on his draft day. But Doug can only hope to have the type of NFL longevity his dad had.
Gordon, an offensive lineman, played collegiately at the University of Utah. He spent his draft day skiing in Park City. "We didn't have ESPN and Mel Kiper back then," he explained. "When I got home I got the message that I had been drafted by the Lions. I was taken in the 17th round, which was the last round of the draft at that time."
He played five years for the Detroit Lions and two more with the then-expansion Seattle Seahawks. Now that his son is about to be drafted, Gordon has been studying what Kiper and other so-called gurus have been saying about Doug.
"I think my dad is more excited about the draft than I am," Doug said.
Still, Doug is eager to share these moments with his dad, who has inspired him and encouraged him over the years. "He's been there every step of the way," he said. "Everything I'm going through, he's been through. Throughout my life, he's had faith in me. My dad's always been my biggest supporter. He has confidence in me and that gives me confidence in myself."
Jolley was a star quarterback at Dixie High and he opted to walk-on as a QB at BYU. In 1998, Cougar coaches decided to switch him to tight end. He was concerned about the change.
"The first person I called was my dad," Jolley said. "We talked about it, and he said if I wasn't going to have a realistic shot at playing quarterback, then going to tight end would be a good idea. He said, 'You will make yourself a heckuva tight end.' "
At that position, Doug Jolley earned a scholarship - and now he's on the verge of becoming an NFL draft pick.
Father knows best, indeed.
Street and Smith's Pro Football 1977
The backup tackles last year were Dave Simonson and Gordon Jolley. Jolley started four games. Guard John DeMarie started 8 games, but he's 32 and shows it. Ron Coder also is on the roster. Center Art Kuehn started as many games as the 33-year-old Hoaglin.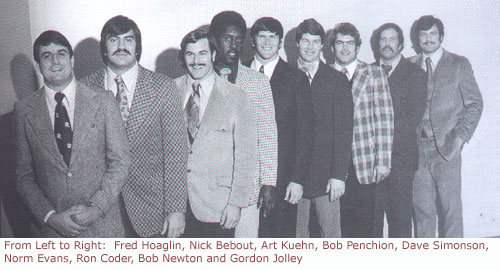 Raiders' focus on tight end works
In two years, Jolley experienced the high of an AFC championship and the low of a 4-12 season. He relied heavily on his father, Gordon Jolley, a junior college football coach in Utah and NFL veteran with the Detroit Lions and Seattle Seahawks.
"No matter what happens, you've got to try and keep a level head," Jolley said. "My dad played seven years in the NFL and he taught me well and what I should expect."
Collecting Gordon Jolley?
1976 Topps #242