Dave Simonson was there!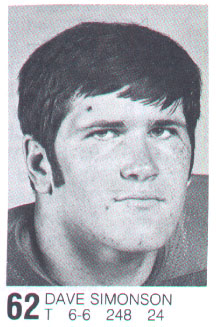 New Tackle For Seahawks
Daily Sitka Sentinel, Alaska,
Thursday, October 07, 1976
Sitka, Alaska
SEATTLE (AP) — Gordon Jolley says he's glad for the chance to become a starting tackle for the Seattle Seahawks. He's just sorry it happened at the expense of veteran tackle
Norm Evans
.
Evans, who injured his right knee in last Sunday's game against Dallas, will be sidelined for at least four weeks, Coach Jack Patera said Wednesday.
Evans consulted Dr. Donald Slocum, a Eugene,Ore., specialist. After talking, by phone with Dr. Slocum, Patera said, "A final determination on whether surgery will be necessary for Evans will not be made for two weeks.
"If everything goes well and there is no need for surgery after two weeks, he will be out a minimum of four.weeks." Just a week ago, Jolley said he was worried about his future with the new National Football League team.
"They had brought in a fourth tackle (Dave Simonson) and I didn't know what they were thinking," the ex-Detroit Lion said. Jolley, who has undergone two right knee operations himself in less than a year, says his knee now "feels pretty good."
Seahawks having better luck on basketball floor
The Seattle Seahawks are undefeated? Who are you trying to kid?
Believe it or not, the basketball version of the Seattle Seahawks has been more successful in the win column then the first year team was on the football field. The Seahawks were 2-12 in their initial National Football League campaign and through Monday had posted a 5-0 basketball record.
Among those Seahawks making the trip will be former Pasco High and Seattle University standout Ron Howard. Howard didn't play football in college, instead being an instrumental force in Seattle U ' s basketball success. Others making the trip will be Don Testerman, Eddie McMillan, Sherman Smith, John McMakin, Hugh McKinnis Dave Brown, Sam McCullum, Dave Simsonson and Greg Collins.
"I hope nobody gets the idea we should give them a return game on the football field," Ingram said. There will be autograph sessions before the game, at halftime and after the game.
From: Aaron Glanc
Sent: Wednesday, June 01, 2005 2:41 PM
Subject: Dave Simonson

He is still with the Austin, MN police department
Where are they now?
Dave Simonson, Austin, Minn. Police lieutenant. (Baltimore Sun, 5/01)
Austin officer, ex-NFL player, retires
Source: Austin Daily Herald
By Katie Johnson
Austin Daily Herald
"My office was a squad car," Lt. Dave Simonson said as he cleaned out his locker - complete with a photo of his grandson, 15-year-old artwork from his kids and his coveted purple combination lock - at the Austin Police Department Wednesday.
Simonson is retiring today after 27 years at his only job ever in law enforcement.
"It's time to go," he said. "I've got plenty of things to do."
Although he is hanging up his badge, Simonson has left an indelible mark on his fellow police officers and will continue to do so in Austin, Capt. Curt Rude said.
After training in Rude on the night shift in 1984, Simonson has continued to serve as his mentor.
"He's going to leave the police department but not the community," Rude said. "Everybody looked up to Dave Simonson and the contributions he made to the city of Austin.
"Instead of being a naysayer, he's a doer."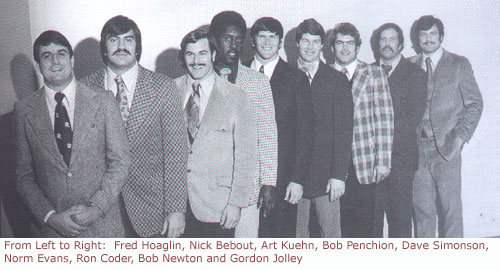 Simonson was born and raised in Austin, graduating from Austin High School and the University of Minnesota, where he was an offensive tackle in football and wrestled for the Golden Gophers.
He was drafted by the Baltimore Colts professional football team in 1974, and played with the New York Giants, Houston Oilers and the first Seattle Seahawks team. He concluded his career with the Detroit Lions after a knee injury.
"We weren't paid movie star wages back then," he laughed, with Rude adding that a Seahawks fan club recently wanted to track down Simonson for their Web site.
Simonson is humble about his career in the National Football League, so Rude had to point out that Houston dropped NFL Hall of Fame wide receiver Steve Largent to pick up Simonson from the Giants.
"They cleared him out to make room for me," Simonson said.
After retiring from football, he and his wife, Connie, now a teacher at Austin Public Schools, were visiting his hometown in 1979 when she spotted an ad in the Austin Daily Herald for a police officer opening.
"So I came back and they hired me," Simonson said. "It was very exciting. I couldn't believe they were paying me to do it."
Training for law enforcement wasn't very comprehensive back then, he said, and a high school diploma and background check were the only requirements.
He was put on the streets during the 7 p.m. to 3 a.m. shift for 10 days, and then if was off to the Bureau of Criminal Apprehension training for eight weeks. After that, he was officially a police officer.
After beginning on the night shift in February 1980, Simonson was eventually promoted to sergeant, and then became a lieutenant for 20 years.
Things have changed over 27 years in Austin, he said, and attributes much of the crime to substance abuse.
"It used to be, Austin was a blue-collar town," he said. "They'd work hard during the day, and go drink hard Thursdays, Fridays, Saturdays.
"When I first started, the drug was alcohol, and it is still alcohol," Simonson said. "Now you're getting your other drugs in there. If people wouldn't abuse, we wouldn't have problems."
As Rude's training officer in 1984 - Rude had downtown, Simonson was on the east side - he showed him the ropes before the Hormel strike shortly after.
Rude said Simonson was a role model in the field and the weight room.
"You should see him throw weights around. He'd never blow off workouts," he said.
"You can still out-lift me," Rude said to him.
Simonson, who has served five terms on the Austin School Board, said he ran for the board because of concerns he had when his son was in school.
"My son was in a class of 30 in kindergarten and I thought that was way too much," he said.
He has also been an assistant wrestling coach, Little League coach and coached football for Riverland Community College when they had a team.
Rude said Simonson's involvement in the community and school influenced him to run in the next election for school board, where he believes there needs to be a law enforcement presence.
Before his retirement, Simonson switched to the day shift, was a range instructor, received an APD Commendation for apprehending a convenience store burglary suspect, and maxed out his Bar Commendations, which are worn on the uniform, for "reaching a plateau of steady performance," Rude said.
Simonson said what he will miss most about being a police officer is the people.
"Working with people is always fun," he said. "That makes it worth whatever you put up with. On the other hand, you deal with people at their worst. That gets old."
In his retirement, he plans to be "busy doing grandpa things" and continue fishing.
"We take these little trips and drag a line," he said. "I don't care if I catch anything."
Looking back, Simonson can say he fulfilled a boyhood dream.
"I could grow up and play football and be a police officer," he said.
Katie Johnson can be reached at 434-2214 or by e-mail at katie.johnson@austindailyherald.com.
Seahawks Cut Veteran Tackle
Aiken Standard, Aiken, S.C.
Thursday, September 8, 1977
SEATTLE (AP) - The Seattle Seahawks have cut veteran tackle Dave Simonson to reduce their National Football League roster to the required 48 players, a team spokesman said Wednesday.
The 6-foot-6, 258-pound Simonson signed with the Seahawks as a free agent last year. A fourth-year pro, Simonson originally was a 12th-round draft choice of Baltimore in 1974.
Collecting Dave Simonson?
No known card or poster