The Beginning:
"I think when I was 5 years old, I got my first Bart Starr uniform," Krieg said.
Continue reading
The Seahawk Years: Dave Krieg trotted from the bench, threw touchdown passes to Steve Largent and Paul Johns and engineered a third.
Continue reading
Retirement: Fitting that after so many years, Dave Krieg chose to return to the place where he began his NFL career to announce his retirement.
Continue reading
What Others Say About Dave: Jerry Wunsch -- "When I was growing up, Seattle was my favorite team because of a guy name Dave Krieg. ...
Continue reading
Dave on Dave: "Sometimes you just wonder how I've been able to last 17 years coming from Milton College," Krieg said.
Continue reading
What You Say about Dave: Dave is my favorite football player of all time for one reason. He played at the highest possible level that his talent would allow and then he squeezed out even more by working hard.
Continue reading
Dave Krieg for Ring of Honor! He's made it! Thanks to all of you who sent letters to petition the Seahawks for Dave's rightful place in the Ring of Honor!
Continue reading
Dave's World Tour: Dave's been ... uh ... he's been ... well ... I'm not sure where all he's been but some of our super secret Seahawks fans have spotted him in some interesting places and we've got the film to prove it!!
Continue reading
Dave's Stats: He ranks seventh in the NFL all-time in attempts (5,309), completions (3,105) and passing touchdowns (261). His 38,147 passing yards rank eighth.
Continue reading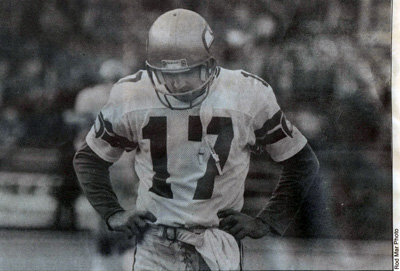 I get sooooooooooooo tired of hearing everyone talk about Dave Krieg's fumble "record" and or his mistakes! Dave is a Seahawks Ring-of-Honor quarterback and a potential candidate for the NFL Hall of Fame! The only reason his "negative" numbers are so high is because he played in the NFL a LONG time!! I challenge you to compare other quarterbacks' with Dave's longetivity to Dave to see how the numbers stack up! Send me the stats and I'll post them here.
Incidentally, although Dave Krieg gets "credited" with the most fumbles in the NFL, you may be interested to know that is not correct! And if it were, he'd rank up there in good company! NFL.com reports:
FUMBLES: Most Fumbles, Career
161 Warren Moon, Houston, 1984-1993; Minnesota, 1994-96; Seattle, 1997-98; Kansas City, 1999-2000

153 Dave Krieg, Seattle, 1980-1991; Kansas City, 1992-93; Detroit, 1994; Arizona, 1995; Chicago, 1996; Tennessee, 1997-98

137 John Elway, Denver, 1983-1998
In the meantime, for those of you who feel you must bemoan his career, here's the ammo you're looking for. Have fun, big meanie! :-)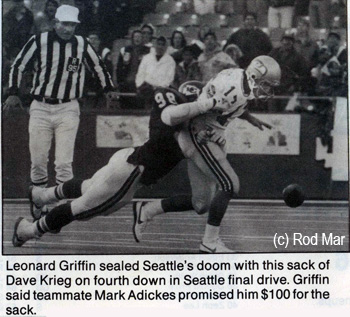 Notes and Quotes: Kansas City 27, Seattle 24
Source: Inside the Seahawks, Vol. 3, No. 10, November 23, 1988
Quarterback Dave Krieg hit 20 of 30 passes for 225 yards, two touchdowns and an interception, but it was four incompletes in the last drive that Krieg wishes he could have over. Krieg, under pressure, was 0 for 4 to finish the game.