The Beginning:
"I think when I was 5 years old, I got my first Bart Starr uniform," Krieg said.
Continue reading
The Seahawk Years: Dave Krieg trotted from the bench, threw touchdown passes to Steve Largent and Paul Johns and engineered a third.
Continue reading
Retirement: Fitting that after so many years, Dave Krieg chose to return to the place where he began his NFL career to announce his retirement.
Continue reading
What Others Say About Dave: Jerry Wunsch -- "When I was growing up, Seattle was my favorite team because of a guy name Dave Krieg. ...
Continue reading
Dave on Dave: "Sometimes you just wonder how I've been able to last 17 years coming from Milton College," Krieg said.
Continue reading
What You Say about Dave: Dave is my favorite football player of all time for one reason. He played at the highest possible level that his talent would allow and then he squeezed out even more by working hard.
Continue reading
Dave Krieg for Ring of Honor! He's made it! Thanks to all of you who sent letters to petition the Seahawks for Dave's rightful place in the Ring of Honor!
Continue reading
Dave's World Tour: Dave's been ... uh ... he's been ... well ... I'm not sure where all he's been but some of our super secret Seahawks fans have spotted him in some interesting places and we've got the film to prove it!!
Continue reading
Dave's Stats: He ranks seventh in the NFL all-time in attempts (5,309), completions (3,105) and passing touchdowns (261). His 38,147 passing yards rank eighth.
Continue reading
Statistics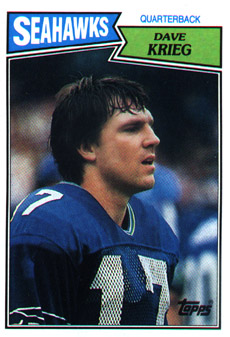 Source: Inside the Seahawks, Vol. 1, No. 20, December 19, 1986-December 2, 1986
Krieg's Thunder in the 'Doom Dome'
Following his third completion in the Monday night victory over the Raiders, a scrambling Dave Krieg had his 100th touchdown. Only two other NFL quarterbacks - Dan Marino and Johnny Unitas - have done this in a shorter period of time. And all this from a man who many were saying was down and out a little more than a month ago. It proves that Krieg should be free to move from the pocket. When he's on the run there are few who can do it better.
Most Difficult to Sack
Source: Sports Illustrated
More revealing than a quarterback's sack total is his total compared with the number of times he dropped back to pass. Though a quarterback's offensive-line quality and his propensity to leave the pocket affect the sack rate (a scrambler like Mark Brunell opens himself up to more sacks), the figure helps to show which passers recognize danger and get rid of the ball best. By this standard, Dave Krieg, acquired this off-season by the Oilers to back up Steve McNair, was the most difficult NFL quarterback to sack last year (minimum 300 dropbacks).
Best Sack Rate, 1996
Player, Team
Dropbacks
Sacks
Dropbacks/sacks
Dave Krieg, Bears
391
14
27.9
Troy Aikman, Cowboys
483
18
26.8
Mike Tomczak, Steelers
417
16
26.1
Jim Everett, Saints
483
19
25.4
Frank Reich, Jets
345
14
24.6
1984 Season Summary
Team Captains: TE Charle Young (Offense), CD Dave Brown (Defense), RB Eric Lane (Special Teams)
Team MVP: SS Kenny Easley
Pro Bowl Selections: CD Dave Brown (1), SS Kenny Easley (3), K Norm Johnson (1), QB Dave Krieg (1), WR Steve Largent (4), NT Joe Nash (1), Special Teams Fredd Young (1)
National Honors: Chuck Knox, NFL Coach of the Year (AP, SN, SGH), SS Kenny Easley, NFL Defensive Player of the Year (AP, PFWA)
All-NFL Selections: CB Dave Brown (Films), SS Kenny Easley (AP, SI, PFW, PFWA, SN, NEA, Films), DE Jacob Green (SN), K Norm Johnson (AP, PFWA, SN, PFW), WR Steve Largent (Films), NT Joe Nash (AP, Films, PFW), Special Teams: Fredd Young (Films, PFW)
Notes: Lost divisional playoff at Miami 31-10.

First Seahawk to Pass 400 Yards in a Game:
Dave Krieg, 418 yards vs. the Denver Broncos, 11/20/83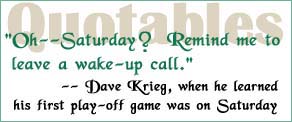 Started in 119 games for the Seahawks

Threw 195 touchdown passes

Had 3576 passing attempts of which 2096 were completions

Had a quarterback rating of 82.3

Scored on 10 rushing touchdowns

Has more TD passes AND yards than HOFers: Bradshaw, Staubach, Namath, Baugh, Tittle, Starr, and Jurgensen.



Aug 9, 1998
HAWKS OOZE TALENT - ENOUGH TO BE COMPARED TO 12-4 CLUB IN '84
By Dave Boling
News Tribune columnist
After racking up those 12 triumphs, the '84 team landed seven players (quarterback Dave Krieg, receiver Steve Largent, safety Kenny Easley, nose guard Joe Nash, Brown, kicker Norm Johnson and special teams standout Fredd Young) in the Pro Bowl, with two as alternates (defensive end Jacob Green and back Eric Lane).

Source: Seahawks.com
Jan 2, 1984 Seahawks conclude nine-game season with a 13-11 win over the Denver Broncos as Dave Krieg throws a 19-yard touchdown pass to Roger Carr with 47 seconds left. The Seahawks drive 87 yards in 10 plays with no timeouts to score the winning touchdown. Seattle finishes the season 4-5 but were 4-3 under Mike McCormack.
Dec 2, 1984 Seahawks clinch playoff berth with a 38-17 win over Detroit as Dave Krieg throws a team record five touchdown passes.
Sep 15, 1984 Daryl Turner sets a club record with four touchdown catches and Dave Krieg equals another with five touchdown passes in Seattle's 49-35 victory over the San Diego Chargers at Jack Murphy Stadium.
Oct 13, 1985 Dave Krieg passes for 405 yards and four touchdowns, including a 12-yarder to Paul Skansi for the winning touchdown with 35 seconds remaining, as Seahawks defeat Atlanta, 30-26. Krieg directs the Seahawks 86 yards in 16 plays on the winning drive.
Dec 13, 1987 Dave Krieg completes 23-of-33 passes for 238 yards and Ray Butler catches six passes for 107 yards and two touchdowns in leading Seattle past Denver, 28-21, at the Kingdome.
Oct 2, 1988 Rookie quarterback Kelly Stouffer makes his first NFL start for an injured Dave Krieg and leads the Seahawks to a 31-20 win over the Atlanta Falcons in Atlanta. John L. Williams ties a team record with three rushing touchdowns.
Nov 13, 1988 Seahawks defeat the Houston Oilers, 27-24, as Dave Krieg returns after missing seven games with a shoulder separation. Krieg engineers a 10-play drive to set up Norm Johnson's game-winning field goal with less than one second left.
Nov 28, 1988 Dave Krieg equals his own team record with five touchdown passes as Seahawks defeat the Los Angeles Raiders, 35-27, on Monday night in the Kingdome. Curt Warner (130) and John L. Williams (105) become the first pair of Seahawks to each gain over 100 yards rushing in the same game.
Dec 18, 1988 John L. Williams accounts for 239 yards of offense, including 180 receiving, and Dave Krieg throws for 410 yards and four scores, as the Seahawks defeat the Los Angeles Raiders, 43-37, in Los Angeles to clinch the first AFC Western Division title in franchise history.
Oct 29, 1989 Dave Krieg and Brian Blades combine on a 21-yard touchdown pass with 40 seconds left in a 10-7 win over the San Diego Chargers. The win is the 100th in regular season play for the Seahawks. Blades catches a career high 10 passes for 117 yards.
Dec 4, 1989 Dave Krieg ignites a three-game winning streak with 298 yards passing and the game-winning touchdown pass in a 17-16 Monday night win over Buffalo.
Dec 10, 1989 Seahawks win 24-17 at Cincinnati as Dave Krieg throws three touchdown passes. One goes to Steve Largent, the NFL record 100th of his career.
Nov 11, 1990 Seahawks score their first win in Kansas City's Arrowhead Stadium since 1980 as Dave Krieg throws a 25-yard touchdown pass to Paul Skansi as time expires. The PAT gives Seattle a 17-16 win and starts a four-game streak of games decided on the last play. The win is the 159th of Chuck Knox's career, moving him into seventh place all-time.
Sep 1, 1991 Seahawks drop season opener, 27-24, at New Orleans and lose starting quarterback Dave Krieg for six weeks with a broken thumb in the process. Wide receiver Brian Blades sets career highs with 12 receptions, 160 yards, and two touchdowns. 9/8 Jeff Kemp makes his first start since September 25, 1988, and throws two touchdown passes in a 20-13 win over the New York Jets. One goes to Travis McNeal, the first of his career.
Oct 20, 1991 Dave Krieg returns from missing six games on injured reserve to lead Seattle to a 27-7 win at Pittsburgh. Krieg throws for 266 yards, completing 25-of-31 passes, and two scores.

Matt Hasselbeck led the 2003 Seahawks to one of their more successful seasons in recent years. Seahawks.com compared his stats to record-setting Seahawk quarterbacks and this is what they've come up with.
Source: Seahawks.com
Highest Passer Rating, Career
84.1 Matt Hasselbeck, 2001-
82.3 Dave Krieg, 1980-91
81.3 Warren Moon, 1997-98

Most Passes Attempted, Season
532 Dave Krieg, 1985
528 Warren Moon, 1997
513 Matt Hasselbeck, 2003

Most Passes Completed, Season
313 Warren Moon, 1997
Matt Hasselbeck, 2003
286 Dave Krieg, 1989

Most Yards Passing, Season
3,841 Matt Hasselbeck, 2003
3,678 Warren Moon, 1997
3,671 Dave Krieg, 1984

Most Games, 300+ Passing, Career
11 Dave Krieg, 1980-91
9 Jim Zorn, 1976-84
8 Matt Hasselbeck, 2001-

Most Games, 300+ Passing, Season
4 Matt Hasselbeck, 2002
Matt Hasselbeck, 2003
3 Jim Zorn, 1979
Dave Krieg, 1984

Most Touchdown Passes, Career
195 Dave Krieg, 1980-91
107 Jim Zorn, 1976-84
49 Jon Kitna, 1997-2000
Matt Hasselbeck, 2001-

Most Touchdown Passes, Season
32 Dave Krieg, 1984
27 Dave Krieg, 1985
26 Matt Hasselbeck, 2003

Most Seasons, 3,000+ Passing
4 Dave Krieg, 1984, '85, '89, '90
3 Jim Zorn, 1978-80
2 Matt Hasselbeck, 2002-