The Beginning:
"I think when I was 5 years old, I got my first Bart Starr uniform," Krieg said.
Continue reading
The Seahawk Years: Dave Krieg trotted from the bench, threw touchdown passes to Steve Largent and Paul Johns and engineered a third.
Continue reading
Retirement: Fitting that after so many years, Dave Krieg chose to return to the place where he began his NFL career to announce his retirement.
Continue reading
What Others Say About Dave: Jerry Wunsch -- "When I was growing up, Seattle was my favorite team because of a guy name Dave Krieg. ...
Continue reading
Dave on Dave: "Sometimes you just wonder how I've been able to last 17 years coming from Milton College," Krieg said.
Continue reading
What You Say about Dave: Dave is my favorite football player of all time for one reason. He played at the highest possible level that his talent would allow and then he squeezed out even more by working hard.
Continue reading
Dave Krieg for Ring of Honor! He's made it! Thanks to all of you who sent letters to petition the Seahawks for Dave's rightful place in the Ring of Honor!
Continue reading
Dave's World Tour: Dave's been ... uh ... he's been ... well ... I'm not sure where all he's been but some of our super secret Seahawks fans have spotted him in some interesting places and we've got the film to prove it!!
Continue reading
Dave's Stats: He ranks seventh in the NFL all-time in attempts (5,309), completions (3,105) and passing touchdowns (261). His 38,147 passing yards rank eighth.
Continue reading
What others say about Dave Krieg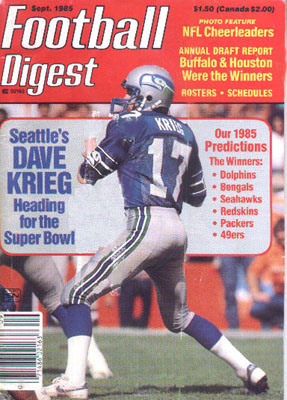 Bears coach Dave Wannstedt
"Dave's won an awful lot of games for an awful lot of teams. He's been in every situation that could come up, so he walks into the huddle and regardless of the situation or where we're at on field, he's been there before."
Mike McCormack, General Manager
"Dave Krieg's competitive heart overcomes a lot of his so-called shortcomings, arm strength and that."
Gale Gilbert
In a 1986 interview of Gale Gilbert by Leslie Tidball, Mr. Gilbert was asked, "Do you think it's true right now that the only quarterback that can succeed in the NFL has to be 6 foot 4, a rifle arm?"
He replied, "Look at Dave, no, not at all. Everyone's competitive to a point but other people quit. Dave does not quit."
Gilbert goes on to say, "We've got a good friendship, a real good friendship. In fact he's my best friend on the team. It's hard because I think people hold it against him because he's the one who replaced Jim Zorn and he set such a high standard for the Seahawks when they went 12-4 and he was their leader and he's going to have to live up to that. "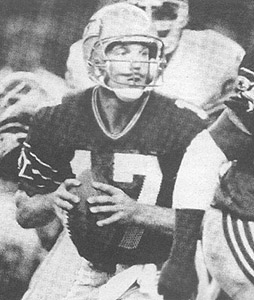 Jon Kitna
Jon Kitna was born in Tacoma, Wash., went to the NAIA school Central Washington and lives in Bothell, Wash. He grew up a fan of the Seahawks and was a big fan of Dave Krieg. Kitna...sees a lot of similarities between himself and Krieg.
"Both of us were not really given a chance and continue to hang around, " he said. "In some aspects we are the same. We're both scrappy, and I don't think he cared what people thought about him and how he looked on the field as long as he got the job done. That was his mentality when I watched him growing up, and that's the same mentality I have."
Bryan Millard
"I give a lot of credit to Steve Largent, he's our coach on the field, and to Dave Krieg, who just takes command of a game."
Steve Largent
"I think that this team has demonstrated a great deal of character by our play during the last football games of the season. Dave Krieg played as well as he ever has."
John L. Williams
"I think we learned what we had to do. Dave Krieg is going in there and making things happen."
Jerry Wunsch
"When I was growing up, Seattle was my favorite team because of a guy name Dave Krieg. ... He was a guy that I followed. It is kind of like a childhood dream to be out here and to be a Seahawk."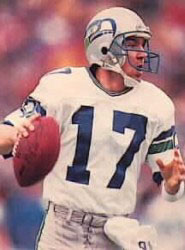 Joe Nash
"He's the best player I've ever seen. I feel very fortunate to be on the same team as him for as many years as we were (eight). I think there's a lot of pride in the Seahawks organization, seeing Steve going into the Hall of Fame. Steve Largent was a member of this community, a member of the Seahawks family, and he has now reached the pinnacle of the game. I think everybody is going to be beaming from ear to ear. I think it's fantastic. It's so well deserved. Is anybody surprised? Absolutely not."
Warren Moon
Warren Moon, on how things might have been if he'd have signed with Seattle right out of Canada: "Yeah, I've thought about it some. But Seattle had a pretty good football team back then and a pretty good quarterback (Dave Krieg) who was playing pretty well at the time. I really did want to come here, but I did think about those chemistry things as far as replacing a guy like Dave Krieg, who was coming off of a good year and the team was just that close to getting to a Super Bowl."
Steve Largent
"He's not real flashy or a pinpoint passer like Fouts, but he'll make the plays for you."
Quarterback coach Ken Meyer
"He doesn't get ruffled. He's a leader. There's a certain way you're going to wiggle your butt when you get up to the line of scrimmage. Everybody sees it and says, 'This guy is going to take charge.'"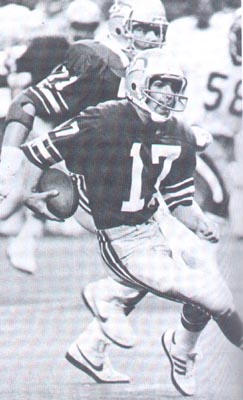 KENT PULLIAM, Kansas City Star Staff Writer
The laughter is infectious and genuine.
Krieg, the Oilers' backup quarterback, is having the time of his life. He's playing a game he loves. And, at 39, he knows it's not going to last much longer.
...the man who was never even drafted laughs when he's reminded that Derrick Thomas drags him to the ground seven times one afternoon back in 1990. Krieg is most sacked quarterback in NFL history.
But it doesn't matter to Krieg. He has warmer memories.
"To fly on a plane for your very first time and go to Seattle and now to be here 18 years later talking about it," Krieg said. "Even if it is all the fumble records and the sack records, a lot of other people would like to be in my shoes."
Yeah, like every kid in America who ever picked up a football.
Krieg is putting the finishing touches on a career in which he played in two AFC championship games and three Pro Bowls and led his team to a division title twice and into the playoffs six times.
He has started 173 of 206 games, including the 1994 and '96 seasons, when he replaced an injured starter and his winning percentage was better than the starter he replaced.
"I've been very fortunate to play with the Steve Largents and the Barry Sanders of the league. I spent some great years in Seattle with a great group of people. It's been like living a boyhood dream in an adult's body."