The Beginning:
"I think when I was 5 years old, I got my first Bart Starr uniform," Krieg said.
Continue reading
The Seahawk Years: Dave Krieg trotted from the bench, threw touchdown passes to Steve Largent and Paul Johns and engineered a third.
Continue reading
Retirement: Fitting that after so many years, Dave Krieg chose to return to the place where he began his NFL career to announce his retirement.
Continue reading
What Others Say About Dave: Jerry Wunsch -- "When I was growing up, Seattle was my favorite team because of a guy name Dave Krieg. ...
Continue reading
Dave on Dave: "Sometimes you just wonder how I've been able to last 17 years coming from Milton College," Krieg said.
Continue reading
What You Say about Dave: Dave is my favorite football player of all time for one reason. He played at the highest possible level that his talent would allow and then he squeezed out even more by working hard.
Continue reading
Dave Krieg for Ring of Honor! He's made it! Thanks to all of you who sent letters to petition the Seahawks for Dave's rightful place in the Ring of Honor!
Continue reading
Dave's World Tour: Dave's been ... uh ... he's been ... well ... I'm not sure where all he's been but some of our super secret Seahawks fans have spotted him in some interesting places and we've got the film to prove it!!
Continue reading
Dave's Stats: He ranks seventh in the NFL all-time in attempts (5,309), completions (3,105) and passing touchdowns (261). His 38,147 passing yards rank eighth.
Continue reading
Krieg on Krieg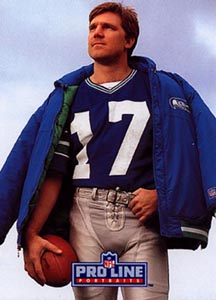 "It's a funny way to be in the record books," quarterback Dave Krieg said. "He (Derrick Thomas) got seven sacks on me, but we won the game. I can live with that."
"I've proven a lot of people wrong just by making it this far. I know I'm a good quarterback and I can't let what other people say about me affect how I play on the field. That's a defeatist attitude and that's not the way I am." -- Sept. 1986
On being the leader in all-time fumbles and number of times being sacked: "What an honor. I didn't think I would hang around this long. If you told me 18 years ago that I would still be playing at 39, I'd have said you were crazy."
You expect Dave Krieg to get nervous about a little ol' football game or a 14-point deficit? "Seventeen years. C'mon. I've done this before," he said after leading the Chicago Bears back to a 19-17 win over the Oakland Raiders.
"My career wouldn't have gotten off the ground if it hadn't been for Warren Moon's decision earlier in his career to go to Houston. I was riding a snowmobile back home in Wisconsin when I found out that Warren signed with Houston. I said, 'That's good for Warren' and then I got to stay here.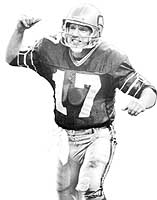 On his decision in 1997 not to sign with Detroit: "I wanted to come to Seattle and see what they were thinking. Maybe it ultimately cost me a job in Detroit. Maybe there is a silver lining and a reason for that."
"Sometimes you just wonder how I've been able to last 17 years coming from Milton College," Krieg said. "I've been blessed, been very fortunate and I've been healthy -- knock on wood -- and I've been able to make plays and do things from the quarterback position."
On John Friesz wearing the #17 jersey: "John can wear an eight on the front and a nine in the back. That equals 17. Then I can wear 17."
Of his alma mater, Milton College: "I won't get a football field named after me. Then again, I won't have to pay alumni dues either."
"I don't think I have any one quality that is outstanding. I just go out and try to do whatever it takes. If that means I complete passes, OK. If it means I have to scramble, I try and scramble. People give me more credit than I deserve."
At a press conference following a game: "There are more guys in front of my locker here than in the stands at Milton."