The Seahawk Years (and more!): Part 2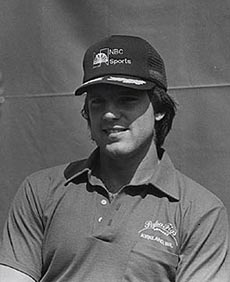 SEAHAWKS BEAT BILLS BY A POINT
Associated Press
December 5, 1989
DEC. 4 -- Dave Krieg and John Williams teamed up for the Seattle Seahawks' longest play this season, a 51-yard touchdown pass with 5:38 to play tonight, lifting the Seahawks past the Buffalo Bills, 17-16.
Making his first start after being benched two games, Krieg avoided a heavy rush and lobbed the ball over linebacker Ray Bentley. Williams caught it at the 35, ran along the right sideline, got a block from Brian Blades and bowled over Nate Odomes to get into the end zone.
Earlier, Krieg threw to rookie tight end Travis McNeal on a similar play for 48 yards, the team's biggest play of 1989 until the game-winner.
The Seahawks, who had lost four straight, damaged the Bills' chances of catching the Denver Broncos for the best record in the AFC. The Bills (8-5) still lead the AFC East by one game over the Miami Dolphins.
Seattle (5-8) clinched the victory -- and Buffalo's fourth successive road loss -- when M.L. Johnson recovered Larry Kinnebrew's fumble just prior to the two-minute warning. The Seahawks then ran out the clock.
Buffalo had taken a 16-10 lead on field goals of 32, 40 and 43 yards by Scott Norwood. But he missed from 48 yards just before Krieg threw to Williams.
Earlier, defensive end Art Still made the first interception of his career to set up a field goal and Jim Kelly threw to Andre Reed, the AFC's leading receiver, for a 61-yard score.
Seattle moved smartly to its opening score, a 29-yard field goal by Norm Johnson. Krieg threw to Curt Warner for 13 yards and Steve Largent for 24, extending the NFL's all-time leading receiver's record consecutive game streak with a catch to 174.
Then Krieg and McNeal worked the 48-yarder. Krieg avoided a strong rush and lobbed the ball to McNeal.


SEAHAWKS PUT SKIDS TO BENGALS
Associated Press
December 11, 1989
Dave Krieg passed a yard to Curt Warner with 3:51 to play to give the Seattle Seahawks a 24-17 victory over the Bengals yesterday in snowy Cincinnati. The Seahawks, who had trailed by 10 points, badly hurt the Bengals' playoff hopes.
On the play before the winning pass, Bengals Coach Sam Wyche disputed a call. He never did calm down and barred reporters from his team's locker room and ordered his players not to talk to reporters.
"I told them not to say anything," he said outside the locker room. "It's kind of like officiating; sometimes things aren't fair."
The Seahawks (6-8) appeared to be stopped when Warner failed to score on third and goal from the 1. But head linesman Tom White blew the play dead and threw a flag for illegal motion. Referee Bob McElwee ruled there was no illegal motion, but the whistle had ended the play anyway, giving Seattle a second chance. Krieg then found Warner wide open in the right flat.
Krieg got the offense going just before the half. He directed a 78-yard drive in 12 plays, improvising a 10-yard touchdown pass for Steve Largent's 100th touchdown catch. It moved Largent ahead of Don Hutson for No. 1 on the NFL's touchdown receiving list.
Largent, 35, already had extended his NFL record to 175 consecutive games with a reception when he caught a nine-yarder on his team's first possession. He also became the first NFL player ever to catch passes for 13,000 yards.

SEAHAWKS HURT RAIDERS' PLAYOFF BID
Associated Press
December 18, 1989
DEC. 17 -- Dave Krieg and the Seattle Seahawks haven't had a good time in 1989, but they probably spoiled the Los Angeles Raiders' season tonight. The Raiders could have clinched an AFC wild-card berth with a victory in the Kingdome. Instead, they lost to the Krieg-led Seahawks, 23-17, after taking a 17-13 lead with two touchdown passes at the start of the second half.
"We knew we were in control of our own destiny," dejected Raiders quarterback Steve Beuerlein said. "It hurts."
Both the Raiders (8-7) and the Seahawks (7-8) are still alive for the playoffs, but both are longshots. The Raiders, who had a three-game winning streak broken, will finish their season on the road against the New York Giants. The Seahawks, who now have won three in a row, will wind up in the Kingdome against Washington.
Krieg, who has 19 interceptions and 16 fumbles this season, completed 25 of 34 passes for 270 yards and two touchdowns, with no interceptions and no fumbles.
In a last-ditch effort to win the game, the Raiders got to the Seattle 15. But Beuerlein's fourth-down pass with 11 yards to go sailed over Mervyn Fernandez at the Seattle 5 with 1:28 left.
The Seahawks went 76 yards in 14 plays for their game-winning touchdown, on Krieg's 13-yard pass to fullback John L. Williams at 13:49 of the third quarter for a 20-17 lead. With 6:44 left, Norm Johnson kicked a 43-yard field goal.
Source: Seattle Times
Sports: Monday, September 02, 1991
Painful Loss For Seahawks -- Krieg's Thumb Broken As Saints Win, 27-24
By Craig Smith
NEW ORLEANS - Most of this city is below sea level, and that's about where the Seattle Seahawks' chances for a successful season appear to have sunk after only one game.
A devastating injury that will sideline quarterback Dave Krieg, coupled with a depressing 27-24 loss to the New Orleans Saints yesterday at the Superdome, have left the Seahawks trying to regroup and depending on Jeff Kemp to lead them for the next eight weeks.
How bad was it?
-- Krieg is expected to be out for eight weeks with a broken thumb on his throwing hand. Kemp relieved Krieg in the fourth quarter and nearly led the Seahawks on a scoring drive in the final 71 seconds.
-- The Seahawks lost when rookie John Kasay was wide left on a 37-yard field-goal attempt that would have tied the game.
"I let this team down. I let this organization down . . ." a dejected Kasay said of the miss. "I just pushed it. It felt good. I thought I hit it good. I didn't."
-- The kick would have been a 22-yard attempt if Krieg, who was out of the game, hadn't been flagged for an unsportsmanlike-conduct penalty. He charged down the sideline, far beyond the restraining mark at the 32-yard line, to question the call on an end-zone pass that was ruled out-of-bounds.
Krieg thought he was exempt from the rule because he is a captain.
Officials said the flag was thrown because Krieg was illegally downfield, not because of anything he said.
The focus for next Sunday's home game against the New York Jets now shifts to Kemp, who wasn't even announced as the backup quarterback for yesterday's opener at the Superdome until last Friday.
Seahawk fans needing some encouraging news can dial back to 1988, when Krieg missed seven games with a shoulder injury and Seattle, with a 9-7 record, won the AFC West title for the only time in franchise history.
But Kemp wasn't exactly the hero while Krieg was injured. Kemp started the first of the seven games Krieg missed and had an awful outing in a 38-7 Week 4 loss to San Francisco before Kelly Stouffer came in to relieve him. Kemp completed 1 of 12 pass attempts for only 6 yards.
Stouffer was 3-3 as the starter in the next six games before Krieg returned in Week 11.
"As sad as I am for Dave, the Seahawks and the season must go on, and I'm going to love it," said Kemp, the 11-year pro from Dartmouth.
"Sometimes, you see a team respond to a big loss at a certain position with intensity and a driven attitude. That's what I think we'll do," said Kemp.
Stouffer, injured Aug. 3 against Phoenix, must remain on injured reserve for three more games with a separated shoulder.
Receiver Louis Clark says the Seahawks won't give up because Krieg is out. "I believe in Jeff Kemp and Dan McGwire," he said. "We don't have a quitting person on this team. We fought back. It just didn't work out this game. We've got 15 more games to go."
The Seahawks certainly didn't quit after putting themselves in a 17-0 first-half hole. Seattle rallied to take the lead, 24-20, with 17 third-quarter points.
New Orleans' winning touchdown was a 10-yard, fourth-down pass from Bobby Hebert to wide receiver Floyd Turner with 1:11 to play. The touchdown capped a 68-yard drive that took 6:01.
Hebert saw that Seahawk cornerback James Jefferson was closing fast on the play and threw the ball slightly behind Turner, who flashed open as Jefferson went flying past him.
"I just stopped and let the guy run through," said Turner. "Bobby hit me in the numbers."
The Seahawk outing was full of big plays both good and bad, some of them by the same players.
The good:
-- Krieg put together one of the best drives of his career, completing all seven passes he threw in leading the Hawks on a 86-yard, second-quarter scoring march capped by a 10-yard toss to Blades.
The bad:
-- Krieg, who had 26 completions in 35 attempts for 274 yards, was intercepted twice, once for a touchdown. Linebacker Pat Swilling returned a soft Krieg pass 39 yards for a score and a 17-0 lead early in the second quarter.
-- Three consecutive penalties, a personal foul on Bryan Millard followed by false starts by Andy Heck and Millard, set up the play on which Krieg was injured.
With less than nine minutes left and a third-and-31 on the Seahawk 11, Krieg chose to scramble after the Saints went into a prevent defense. He was hit by two linebackers, Sam Mills low and Rickey Jackson high. He stayed in for one more play, throwing a short completion to John L. Williams before the pain forced him to the sideline
Source: Seattle Times
Sports: Thursday, October 17, 1991
Seahawk Destiny Lies In Dave's Healed Hands
By Steve Kelley
He has been loved and hated, cheered and jeered. He has given us more than a decade of agonies and ecstasies.
We have blessed his miraculous finishes and cursed his blessed mistakes.
Dave Krieg has been the Seattle Seahawks' regular quarterback - more or less - since 1983. He has brought the Hawks back time and again from the brink of defeat. He has taken Seattle to the brink of a Super Bowl, losing to the Los Angeles Raiders in the 1983 AFC Championship Game.
We have cringed at the "soap dish" fumbles. We have shuddered at the overtime interceptions. But we've witnessed his miracle finishes and grown comfortable with his face.
This season, this 3-4 season, he has been dearly missed. John L. Williams has missed the intuitive communication he shares only with Krieg. The offensive huddle has missed the undaunted confidence he brings.
The Seahawks have suffered from Jeff Kemp's poor decisions and Dan McGwire's inexperience. We have seen offensive mistakes cost the Hawks games they should have won.
Dave Krieg is back. And not an interception too soon.
"I'm looking forward to having Dave back," offensive coordinator John Becker said yesterday after Krieg's first full practice. "Any time you lose your starting quarterback, you lose some continuity. I know our players have tremendous confidence in Dave. He has a great rapport with his linemen and his receivers."
In this curious season of 1991, Krieg is the future. The playoff hopes of the Seahawks rest on his right arm and in his experienced head. Whether or not he wants to be, Krieg is the pigskin messiah.
"That's a natural, a given, I guess," Krieg said. "But I look at it that the whole offense has to pick up. It's not just one guy's fault that the offense has had problems. It's like when they've put me on the bench once in a while. They have to look for something to change. We need to find some kind of solution.
"You worry about your performance the first time back. I want to get out there and throw that first pass or two. I want to stand back in the pocket a little bit and get banged around. It's been awhile. But I want to go out there and have fun. I don't want to put too much pressure on myself."
Yesterday, practicing inside the bubble in Kirkland, the mood of the team was relaxed and happy. The sting of Sunday's overtime loss to the Raiders was gone.
Dave Krieg was back. There was feeling of a return to normalcy. Sometimes, you don't know what you've got until he's gone.
"Dave's made some big plays for this team," Coach Chuck Knox said. "He's a tough guy. He's the kind of guy the players can identify with. He's a people guy."
The half-moon scar at the base of his right thumb is the only remaining reminder of the opening-day break. Krieg says he feels no pain. The pain, he says, has been in the waiting, the six weeks of inactivity.
Even the healthiest football players are graced with precious few weekends in the sun. Every weekend robbed by injury is an opportunity lost.
Krieg is lucky. He has played 120 games in 12 years. Still, he is 33 and he realizes the pain of these six missed Sundays.
"That's just a fact," Krieg said. "The way football is, something can happen on any play. Something could happen to me in the next game. You never know what's going to be your last play.
"You only have 16 games a year. What I'm shooting for now is to get some of the games back that I missed by getting us into the playoffs.
"The most frustrating part is watching. Like on Sunday, you think you could have helped your football team, somehow, some way. It was tough seeing the guys who have been around here so long, guys like Jacob Green, Nesby Glasgow, Joe Nash and Jeff Bryant, Eugene Robinson. To watch those guys come back into the locker room after that loss and I hadn't played, and to watch the hurt and see agony on their faces.
"I couldn't contribute, and to see them go after it the way they did, that really touched me a lot. When you're playing, sometimes you don't realize how much a guy puts into a game."
History says Krieg will do well in his Sunday return at Pittsburgh. He missed seven games with a shoulder injury in 1988. The Seahawks were 4-2 after his return and won the AFC West.
He was benched for two games late the next season. When he returned, the Hawks won three games in a row. Six weeks of rust won't be Krieg's problem Sunday.
"I've been through all this before, so I know what to expect," he said. "But the important thing is, I have to go out and do my job. The defense is doing a great job. Offensively, we have to get our running game going a little better. We need to cut down on our turnovers and, somewhere in there, I fit into that puzzle.
"The turnovers are out there, whether I've been out there committing them or not. I have to be aware of that. Hopefully, that won't happen to me."
Krieg stood on the Seahawk sideline at midfield Sunday night. He had a perfect view of Ronnie Lott's game-killing interception.
"Who knows what I would have done?" Krieg said. "I threw an interception in overtime to Denver's Dennis Smith and also won some games like that. If you play long enough, you get a chance to win a few of those."
The victories must begin this weekend. This season's destination belongs to Dave Krieg.
Source: Inside the Seahawks, Volume 2, Number 1, Sept. 3-Sept. 9, 1987
Intensity up as Hawks win
by Leslie Tidball
Don't look now, but the team that struck terror into the civilized NFL world in 1986 reared its head Friday night in the Kingdome.
Seattle's 38-10 pasting of Detroit wasn't a perfect game. But the team took a giant step toward playing what Chuck Knox defines simply as Seahawks football.
"Dave Krieg made the plays he has to for this team to win," Knox said. "The offensive line did a good job of pass protecting. The defense played very, very well. The special teams were excellent."
Playing before 59,695 Seattle fans, the Seahawks turned up their intensity level several notches, an element missing in two pre-season losses to the Rams and St. Louis.
"We were up," said safety Eugene Robinson. "We were clicking."
Dave Krieg made as good a 1987 Kingdome debut as he could have hoped for. He hit 15 of 19 passes for 177 yards and two touchdowns. Seahawk quarterbacks did not throw an interception.
"Sometimes it doesn't even work that good in practice," said Krieg. "It gives us the confidence we'll need to go out and do it during the regular season."
Krieg directed a picture-perfect drive in less than two minutes near the end of the first half scoring a retaliatory touchdown after a long bomb by the Lions.
"We didn't panic," said Seattle's No. 1 quarterback. "We just did what we had to do."
Seattle mixed the pass and run as it marched for its first score. Both Curt Warner and John L. Williams attacked outside the tackles, stretching the Lions' defense.
The drive stalled and Norm Johnson booted a 34-yard field goal with 2:43 remaining in the first quarter. The 44-yard drive took eight plays and consumed 3:45.
Detroit responded at 11:30 of the second quarter to tie the game on a 33-yard field goal. that drive was punctuated by the first Kingdome appearance of Brian Bosworth, replacing the injured Keith Butler. Krieg's passing marched the Seahawks 67 yards in 7 plays to put the Seahawks ahead 10-3 late in the second quarter.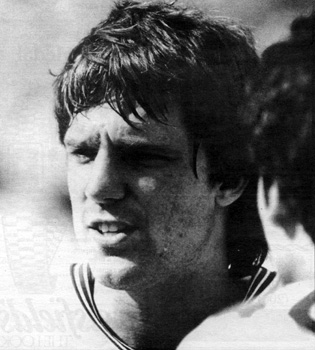 Krieg hit Williams on a 21-yard pass play when Williams sprinted straight out of the backfield, caught the ball at about the 3 and tumbled into the end zone.
It was Williams' first score as a Seahawk.
"It felt great," the elated Williams said. "We just have to keep doing what the coaches tell us, learn from this success and do it in the regular season."
A big smile broke across Williams' face as he remembered the touchdown once more. "It did feel nice," he said.
The key play in that drive was a 23-yard pass from Krieg to Steve Largent. The wide receiver caught the ball, dragging both feet as he fell out of bounds at the Detroit 21-yard line.
But Detroit retaliated immediately as the Seahawk defense gave up a 90-yard Chuck Long to Jeff Chadwick pass.
Chadwick broke into the clear on the play when safety Eugene Robinson slipped, and then Kerry Justin tripped over Robinson. The catch was Chadwick's fifth of the game and tied the score at 10-all with just 1:56 remaining in the half.
Then the Seahawks caught fire.
Out of the shotgun, Krieg hit Ray Butler for 23 yards; he hit Steve Largent for 7 yards, and then Warner for 9 yards.
Krieg connected again with Butler for 14 yards and called timeout. Krieg missed a deep pass to Largent in the end zone, then connected again with Butler for 9 yards.
The touchdown pass went for 8 yards to Daryl Turner, standing alone near the back of the end zone.
Detroit tried a desperation pass at the end of the half, but it was intercepted by cornerback Mel Jenkins after it was tipped by Terry Taylor.
Turnovers and special teams play were the keys to the runaway in the second half.
Seattle stretched the lead to 24-10 after Kerry Justin recovered a fumble early in the third quarter. Randall Morris, who rushed for 70 yards in 17 attempts, scored on a 1-yard plunge.
An electrifying punt return by rookie David Hollis to the Detroit 21-yard line set up a three-play scoring drive by Seattle.
Jeff Kemp hooked up with rookie Louis Clark on an 18-yard touchdown pass to put the Hawks ahead 3 I -10.
Seattle scored once more, late in the fourth quarter, after Detroit's Rick Calhoun fumbled a punt recovered by Seahawk rookie Derek Tennell on the 15-yard line.
Seattle quarterback Gale Gilbert, getting his first pre-season action, kept the drive alive with a pass to Fennell. Morris scored on a fourth-and-one, two plays after rookie Tony Burse was taken from the field on a stretcher. Burse suffered a sprained neck.
Seattle finished the contest with 365 yards in total offense. Detroit had 320 total yards. Seattle held the ball for nearly 36 minutes while the Lions had the ball for only 24 minutes.
Source: Norm Evans' Seahawk Report, Vol. 4, No. 13, Sept.27 – October 3, 1982
Quarterback Dave Krieg has had a broken little finger and a fractured index finger, but the dislocated thumb (on his throwing hand) he suffered against Houston was the worst. "It was ugly," said Krieg. "I mean, I've never seen anything like it." Krieg will be sidelined probably four games with the injury, meaning that No. 3 Sam Adkins likely will be brought off the inactive list to backup Jim Zorn.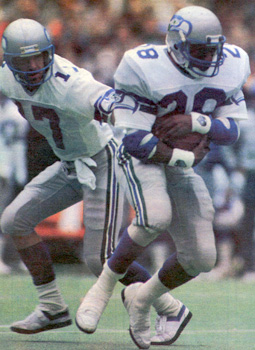 Source: Inside the Seahawks, Volume 1, Number 17, November 28, 1986 - December 4, 1986
Seahawks Special Teams Pluck Eagles'
by Leslie Tidball and Stan Farber
A game plan designed to build confidence in key players and a defense that played with fire led the Seattle Seahawks to a 24-20 victory over the Philadelphia Eagles in the Kingdome Sunday afternoon.
Attendance was down. There were 9,163 no-shows in the sold-out Kingdome, reflecting the Seahawks' fans' growing discontent over a team that had started out so well and slipped behind so badly.
But it was the work of special teams , linebacker Fredd Young and lineman Jacob Green that ignited the Seahawks to a win for the first time in five games. No Chuck Knox-coached team has ever lost five games in a row. It was the Eagles' fourth consecutive defeat.
"We played hard, but we made a lot of mistakes," Knox said. "They gave us everything we could handle, but we finally made a couple of big plays today when we had to have them."
Seattle special teams Coach Rusty Tillman said, "We go into every game looking for opportunities. (Philadelphia's) Buddy Ryan is an attack coach, and this was an opportunity."
Fumbles and penalties by both teams in key situations were indicative of the hard times the Eagles and 'Hawks have fallen on. Seattle has the league's toughest schedule this year; Philadelphia has the second toughest.
The Eagles scored first Sunday on a 35 yard PaulFeathers McFadden field goal with 6:45 to go in the first quarter. The Philadelphia drive began at theirown 18. Eagles' quarterback Randall Cunningham scrambled for nine yards to begin the drive, then combined running inside by Keith Byars, Junior Tautalatasi (a rookie from Washington State University) and Anthony Toney.
Cunningham, the Eagles' leading rusher, kept the drive alive at the 'Hawks' 24 on a dive over the middle on fourth and one. But sacks by Green and Young stopped the Eagles' attack and forced the field goal.
Seattle responded quickly, driving 90 yards in just four plays. Two of the Seahawks' most maligned players, quarterback David Krieg and receiver Daryl Turner produced the big play.
On third-and-three at the 28, Krieg took a two-step drop and lofted the ball from the Seahawks' 38 toward Turner. Turner was pushed by defender Evan Cooper, who was flagged for interference, but caught the ball over his right shoulder on the dead run. He broke away from Cooper and sprinted the remaining 47 yards for the touchdown.
"They were in a bump-and-run on Daryl," Krieg said, "so we figured he could get by his guy, and that's what he did."
Krieg would finish the day 14 of 26 for 288 yards and a touchdown. He was not intercepted, and a majority of his completions came after he scrambled away from trouble.