To jump to a particular section of this game day report, click below!

Seahawks vs Panthers
Game Day | Lamar King | Autographs | Meet Pat! | The Game | The Stadium | Halftime | Trip Diary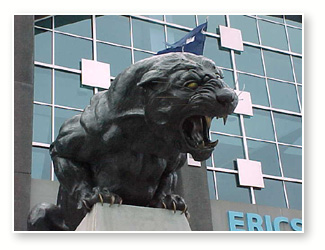 Is there a silver lining in the cloud that hung over the team that lost to the Carolina Panthers by 23 points? In the words of my friend Pat, "Oh yeah!"
Forget about the game. We know it was as ugly as the claws of the panther that attacked us. (Those were some UGLY claws!) We know the Hawks didn't show up from the first play of the game. We know we got called for too many penalties including an obscure one that the referees pulled out of the rule book just to humiliate us even further. FORGET IT!! All of it! Have I got a story for you!!!
I was in Charlotte this weekend for the game and I had the most incredible time!!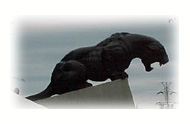 I flew in from Kansas City on Friday and met up with Pat, a die hard Seahawks fan from Raleigh, on Saturday morning. I had goosebumps as we drove around Ericsson Stadium, anticipating the excitement of Game Day on Sunday and feeling very fortunate to get to be at an away game!! I love football!! I love the Seahawks!! I could hardly wait to see the team run onto the field!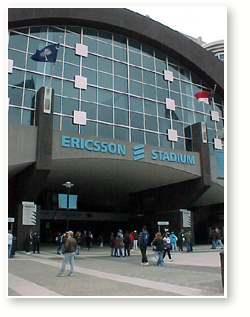 Ericsson Stadium is a beautiful stadium with huge panther statues posted at the entrances, eyes glowing! They're rather intimidating statues, especially after hearing the growl of the panther on the PA system throughout an entire game!
The stadium is located on the edge of the downtown area and is easily accessible on foot from all the major hotels in the downtown area. I was pleasantly surprised that the traffic wasn't as bad as I'd feared.
Neither Pat nor I had been to Charlotte before so we decided to spend a few hours walking around to see what the city has to offer. The weather was beautiful and the city lovely. Having such an appreciation for fine art, I particularly enjoyed the sculptures! :-) There were a lot of restaurants in the downtown area and very little shopping, which I found surprising.
It was Pat's idea to ask the doorman at the Marriott if the Seahawks were staying at the hotel and we were ecstatic when the answer was yes! Way to go, Pat!! The doorman also volunteered that the Hawks would be boarding the buses soon to head to practice! WA HOOOOO!!! Pat and I discreetly (well, sort of!) entered the lobby and staked out an area in which to wait. We weren't there long before players made their way through the hotel to the buses. I won't speak for Pat, but I know how excited I was to see them in person! I think the biggest thrill for me was to see Ricky Watters! I've seen a lot of the players before but this was the first time I've seen Ricky. He flashed a smile as he passed and it's almost as if his lively personality was spilling out all over the place! Some of the players are very solemn and serious as they prepare for the game or for practice, but that doesn't seem to be Ricky's style.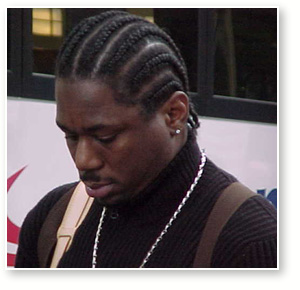 Another big thrill for me was to see Pete Rodriguez, Special Teams Coach. I have a lot of respect for Mr. Rodriguez and it was an honor to see him.
Other Seahawks we recognized were Pete Kendall, Jon "skinny legs" Kitna, Brock Huard, Cortez Kennedy, Sean Dawkins, Christian Fauria (wearing his flip flops!), Isaiah Kacyvenski, Shawn Springs, Shaun Alexander and Chad Brown. There were plenty more but it's so hard to identify them in street clothes when you're used to seeing them with helmets and in full pads. In any case, I can't tell you how thrilled I was!
When the players had left the hotel, Pat and I decided to grab a bite to eat in the hotel sports bar. We'd had lunch, talked, and watched a little football when Pat suggested that we walk around Charlotte again for a little bit. I'm telling you, he has perfect timing!! Just as we were leaving the hotel, the Seahawks came back from practice!!! We got to see them again!! It was awesome!! I smiled so much my cheeks were hurting!! Some of them signed autographs for a couple of collectors who were waiting in the lobby. I was particularly impressed with Pete Kendall who spent the most time signing. Thanks, Mr. Kendall! Fans appreciate your time and generosity.
Pat's a big fan of NCSU so we walked around till game time then settled in at another sports bar. I don't follow college football so this game was one of the first, if not the first, college game I've ever seen in its entirety! It was very exciting, coming down to the final minutes! Clemson won but NCSU made a good showing. I'm glad I got to see the game with Pat -- it was a lot of fun!

(Click on the arrow for more of the story!)