Don Clune was there!
And they're still trying to top his records at Quaker!
Pre-76
All-America honorable mention.
All-East selection
Drafted 1974 (Giants)
Seattle's Don Clune looking for place to play
By GENE GOMOLKA
Daily Times Staff Writer
Delaware County Daily Times
Saturday, December 11, 1976
Don Clune almost didn't make the plane from Seattle to Philadelphia Friday afternoon. Not that the former Cardinal O'Hara and University of Pennsylvania star was tardy. It's just that a week ago Clune lost his job as wide receiver with the Seahawks and his National Football League future was in limbo.
Forty-eight hours later, Clune was re-signed and, as a once-again member of the expansion team, will appear in Sunday's game against the Eagles at Veterans Stadium. But, then again, maybe he won't.
If this all sounds confusing to you, think how Clune must feel. After three years in the game, the name Clune has become synonymous with uncertainty.
Tomorrow, Clune may be in a Seattle uniform for the last time. He is playing out his option and unless he and the Seahawks get together before May, 1977, Clune will become a free agent.
Which may be the best that could happen for the Havertown resident. He has not seen much action lately although he did start earlier in the season. He's caught a total of four passes (none for touchdowns) for 67 yards while competing against two rookie receivers and veteran Sam McCullum who seem to have a lock on the position. It looks like Clune's future is with another club.
The last nine months have been rather upsetting for Clune. He was, after two years with the New York Giants, placed on the 'veteran allocation' list along with Other players who were considered expendable and available for draft by expansion teams Seattle and Tampa.
One of the reasons the Giants were ready to release Clune was because he had informed them he would be playing out his option year and very likely would make a deal with another team after the season.
In March, he became the property of the Seahawks who selected 39 NFL veterans. Seattle also drafted 25 collegians, including wide receiver Steve Raible out of Georgia Tech. The Seahawks then traded for Steve Largent, a rookie wide receiver from Tulsa who had been Houston's fourth-round draft choice.
Largent became a phenomenon while Clune watched from the sidelines. Largent, voted Seattle's rookie of-the-year and offensive player of-the-year, has caught 47 passes for 607 yards and three touchdowns. Raible has four for 126 yards, including an 80-yard touchdown. McCullum has four touchdowns among his 29 receptions for 495 yards.
'Clune's just not playing that much," said Seattle publicist Don Andersen. "He had a slight injury (groin) during training camp. But the real problem is that he's having trouble breaking into the lineup. We have some excellent receivers and Don is facing tough competition."
Last week Seattle brought in Brian Salter, a defensive back from Miami, and placed Clune on waivers. A few days later, Raible suffered a minor injury, Clune was recalled and Salter was sent packing to Baltimore.
Clune was technically a free agent for about 48 hours and his resigning with the Seahawks won't change his free-agent status in May, advises his father Bill Clune, a Havertown salesman who represents his son in NFL affairs.
"He may or may not sign with Seattle," Bill Clune said. "They want him but Don is looking for more action. He's the kind of guy who is wants to play football. He's been in the pros three years and he knows what can happen. He's anxious but not discouraged."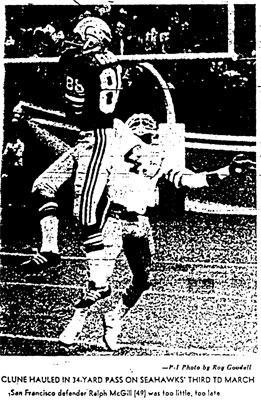 Pro Football 1976
by Larry Felser and Dave Klein Wide receivers aren't bad. The starters figure to be
Ahmad Rashad
and
Sam McCullum
, but two rookie picks,
Sherman Smith
and
Steve Raible
, and veteran
Don Clune
will fight for steady work.
John McMakin
and
Ron Howard
will battle young
Charles Waddell
for the tight end spot.
Rashad, obtained via the option-playout route, is a tried and true star. McCullum is experienced and could be a top receiver. McMakin, also experienced, is a strong blocker. Clune was a mystery with the Giants. Scouts and teammates say he should have played more; the coach didn't agree. Picard never realized his potential and will get his chance. Howard, another of Dallas' basketball players, showed promise. High draft picks Smith and Raible have enormous potential; one of them might even start. Waddell may be a find, too. The Chargers gamble leaving him unprotected.

Pro! The Official magazine of the NFL
Impressive in last week's 27-16 loss to Chicago was wide receiver Don Clune, former with the New York Giants. Clune caught five passes for 79 yards. In the pre-season opener, he caught Gary Hayman's "halfback pass" for a 34-yard gain.
Yes, this year's football team can put points on the board.
Source: Gazette
By David Porter
Breaking a long-standing school record may not have been the most important thing Rob Milanese did in the Quakers' thrilling win over Lehigh. That distinction would have to go to the block the lanky wide receiver threw on a Lehigh defender that helped spring Faulk for the touchdown that gave Penn a 17-7 lead at halftime.
On the play before Faulk's touchdown, Milanese caught a 24-yard pass from Mitchell that pushed him past Don Clune C'74 and into the No. 1 spot on Penn's all-time receiving yards list. Milanese, a Wyckoff, N.J., native, had 10 catches for 111 yards and a first-half touchdown, giving him 2,495 yards for his career. He needed 13 catches to surpass the career record of 200 catches held by Miles Macik C'96, a number he should have reached by the Quakers' October 10 game at Villanova. Milanese already holds the school's single-season marks of 76 catches and 936 yards, set in 2000.
Clune's record of 2,419 yards was the oldest career mark on the books. A fifth-round draft choice of the New York Giants in 1974 who played three years in the NFL with the Giants and the expansion Seattle Seahawks, Clune averaged 20 yards per catch in his three years for the Quakers, and still holds the single-game mark for receiving yardage with 284, set against Harvard in 1971.
Massage Therapy
Full body, partial, and chair massages now available to all Penn students, faculty/staff and Recreation members.
Don Clune has been in private practice for massage therapy in Media, Pennsylvania, since 1982. He is certified by the National Certification Board for Therapeutic Massage and Body Work and is an active member of the American Massage Therapy Association (AMTA). Don was the first massage therapist in Pennsylvania to be certified in sports massage by the AMTA. He worked with the Team Foxcatcher Wrestling Club from 1988 to 1996.
Don was an All-American at the University of Pennsylvania in football and track. After graduation in 1974, he played wide receiver in the National Football League with the New York Giants and the Seattle Seahawks. His background in athletics enhances his understanding of the body and the therapeutic benefits of massage therapy.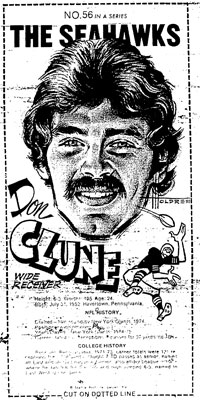 Collecting Don Clune?
Sorry - no Don Clune cards! But he did have a mini-poster from the Seattle Post-Intelligencer, #56.
The Pocket Book of Pro Football 1976
Edited by Herbert M. Furlow
Former Steeler starter
John McMakin
may be the best of the lot.
Ron Howard
is another tight end; he may try for the top job. He was on Dallas special teams. Don Clune was little used by the Giants but when given time did well; he has speed, but little experience.
Sam McCullum
also doubles as a kick returner. He hurt a shoulder in 1975.
Raible
, a rookie, hopes to break in.