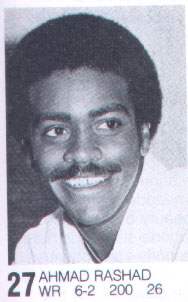 Ahmad Rashad was there!

Sort of!

The Seahawks traded receiver Ahmad Rashad to Minnesota in 1976 for a fourth-round draft choice. With that pick, Seattle selected receiver Larry Seivers in '77, but he never played a game with the Seahawks. Rashad played seven seasons with the Vikings.

And that's the way it goes!

"I crunched some other numbers and it also wasn't pretty: Ahmad Rashad has spent more time in my living room than all of my spouses combined."
-- Norman Chad, Washington Post, 1/3/05

Source:
Seahawks
by Doug Thiel
Sunrise Publishing Inc.
TRAINING camp, especially for a rookie team, is card shuffling time. The coaches hadnít worked together, the veterans came from many other pro teams, and the rookies and free agents came from everywhere.
Ahmad Rashad came five days early for a veteran. Thatís good news. Bob Bos walked out of camp even before it got started. Thatís bad news. Bos told coach Patera that he just didnít have the heart to put out what it took to be a professional football player.
To Patera, a man who had great expectations backed by hard work, that comment was, ď. . . a great disappointment any time a player comes to camp and doesnít even go on the field.Ē Rashadís comment, ďMan, Iím ready to go,Ē partially countered the disappointment of Bos.

The Story Of The Man Who Didn't Want To Be There
Source: Rashad: Mikes, Vikes and Something on the Backside, 1988, Viking Books
When training camps opened, I was a Seahawk. I was a good property for an expansion team - the local boy coming back to be the star of the new team in the league. It made for good press and local relations. I was young enough to endure the building years of a new franchise and still hope to play for a championship.
Being a new club, Seattle had no chemistry and no reputation around the league. As it turned out, the atmosphere soon reminded me of St Louis, and I felt like I'd been thrown out of heaven, back to hell again. Jack Patera, the head coach, was a disciplinarian. One day he told us to walk from one field to another during practice. Patera decided he didn't like our slow pace, so he told us to run laps until he blew his whistle, when we could stop.
So we started running laps. At one point, the track went by a highway. Here were all these nice people driving home, watching this group of adults doing punishment laps like some junior-high-school team. Man, that was embarrassing. I must have been lapped by the gung-ho guys about ten times. And the situation gradually got worse.
Once [Jerry] Rhome made us take a written test, with questions like "What do you do on a fifty-two play?" All these other guys were writing long essays for every answer, loading them up with all kinds of techincal mumbo-jumbo and stuff. I just wrote "A fifty-two - sure, that's a little ten-yard out." I finished the test in record time, let it flutter down on Rhome's desk, and walked out - with Rhome following, two inches behind me.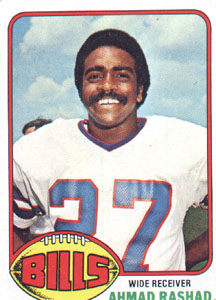 We had it out in the hallway. He accused me of pulling airs, walking around like some hotshot guy. A couple of guys through my career got in their heads that they wanted to cut me down to size. I may not be the best judge for whether it was their problem or mine, but I know for sure that it made for some unpleasant conversations. Coaches are funny that way: when good ones get fired up, their emotional speeches and diatribes get the players motivated. The bad ones get all emotional and they lose control - you never know what kind of crazy stuff is going to come flying out of their mouths.
My confrontation with Rhome quickly became a shouting match. The entire team must have walked by us in that hall before we finished hollering at each other. Finally, Rhome threatened to leave me behind when the Seahawks played their very first exhibition game.
...
But one day Patera called me into his office.
"I hate to tell you this," he said. "I know this is your hometown and you're real eager to play with the Seahawks, but we've just traded you to Minnesota."
Like the Cardinals two years earlier, Patera probably thought I would hate shipping out to a team that played in a cold northern climate.
Without missing a beat, I said, "You mean the Minnesota Vikings? The team that has Fran Tarkenton? The team that's been to the Super Bowl three times?"
"That's right. Their coach, Bud Grant, wants you to call him right away."
Patera pushed the phone towards me.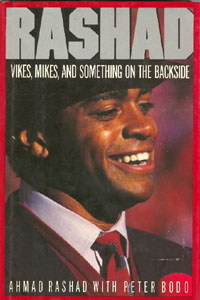 "That's okay, Coach." I jumped out of my seat. "I'll call him just as soon as I get home. I'll see you around."
For the second time in my life, I wound up being "the deal of the century."
First Cut of Seahawks' Roster May Come Today
By Don Fair
P-I Sports Writer
Meanwhile a couple better vets -- wide receiver Ahmad Rashad and quarterback Gary Keithley -- played catch on the sidelines in the afternoon. Rashad, whose operated-on knee may permit him to start with the rest of the veterans, made the art of pass receiving look so easy.
As general manager John Thompson watched Ahmad, he said with feeling, "There is a real thoroughbred."
The Seahawks general manager added, "I also told Keithley that we want to sit down to talk about his 1976 contract before he joins the camp Monday. My assistant, Mark Duncan, is handling these negotiotions.
Keithley and Neil Graff, the other veteran QB on the roster, are unsigned for this season but both have the option clause in their contracts.
EXTRA POINTS -- Barbara Hunter arrived from Los Angeles with a camera crew to do an interview with Patera which will appear either Tuesday or Wednesday on the Today TV show. She also took some live footage of Rashad and Keithley, calling them "just about the only ones here anybody knows."
Will you marry me?
Source: Football's Most Wanted: the top 10 book of the great game's outrageous characters, fortunate fumbles and other oddities
The 1985 Thanksgiving Day broadcast of the game between the Detroit Lions and the New York Jets is remembered primarily because broadcaster and former wide Receiver Ahmad Rashad proposed marriage on the air to Phylicia Ayers-Allen, star of the Cosby Show. Rashad nervously declared, "This is Thanksgiving Day and if she does not accept my proposal, I'll be the biggest turkey in the nation." To his relief, she accepted.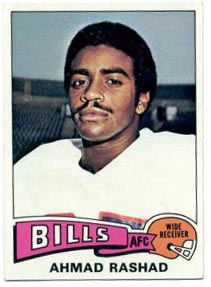 Pro Football 1976
by Larry Felser and Dave Klein
Wide receivers arenít bad. The starters figure to be Alamad Rashad and Sam McCullum, but two rookie picks, Sherman Smith and Steve Raible, and veteran Don Clune will fight for steady work. John McMakin and Ron Howard will battle young Charles Waddell for the tight end spot.
Rashad, obtained via the option-playout route, is a tried and true star. McCullum is experienced and could be a top receiver. McMakin, also experienced, is a strong blocker. Clune was a mystery with the Giants. Scouts and teammates say he should have played more; the coach didnít agree. Picard never realized his potential and will get his chance. Howard, another of Dallasí basketball players, showed promise. High draft picks Smith and Raible have enormous potential; one of them might even start. Waddell may be a find, too. The Chargers gamble leaving him unprotected.

Sports: Saturday, August 03, 1991
Nervous Night For Rashad -- TV Announcer Faces New Test: Play-By- Play
Craig Smith

SEAHAWKS TONIGHT
-- WHO: Seattle Seahawks vs. Phoenix Cardinals.
-- TIME / PLACE: 7:30, Kingdome.
-- TV / RADIO: Channel 5 (Ahmad Rashad, Steve Largent) and KIRO 710-AM (Pete Gross, Steve Raible).
-- NOTES: Kelly Stouffer will start at quarterback; Dan McGwire is the only other Seahawk QB expected to play. . . . Rookie John Kasay is scheduled to do all the place-kicking. . . . Ex-WSU Cougar Timm Rosenbach will start at quarterback for Phoenix.
-- INSIDE: RB Derrick Fenner agrees to one-year contract, B 3.
Probably the last time Ahmad Rashad was this nervous was in 1985 when he proposed - on network television - to his future wife, Phylicia, of Cosby Show fame.
Tonight when the Seattle Seahawks play Phoenix in an exhibition game at the Kingdome, Rashad - a color commentator and pregame host for NBC during the regular season - will try something new: play-by-play broadcasting at the local level. His partner in the Channel 5 booth will be Steve Largent.
That's two great pairs of hands, but Rashad's challenge won't require catching a football. The assignment is to call a game that will be played mostly by little-known players and do it in a fast, accurate and entertaining manner.
"This is one of the few things I've been nervous about," Rashad said from New York about his assignment, which is separate from his network duties.
"There are so many of the names and numbers that don't coincide with anything in my brain," he said.
Keeping an exhibition game interesting can be the Mount Everest of broadcasting assignments, but Rashad said he thinks his sense of humor will pull him through.
"I see the fun side of everything," he said. "I'll bring some fun to the game. Watching a preseason game can be deadly. They can play the whole game and score six points."
Rashad said the Seahawks' invitation to do play-by-play came "out of the blue" about two days after Dick Ebersol, president of NBC Sports, mentioned that play-by-play work might be something at which he would excel.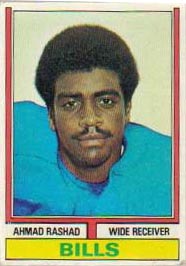 There was no promise of future network play-by-play assignments, but Rashad realizes nothing can boost his chances more than strong performances during Seahawk games this month.
He and Largent will work the first three exhibition games for Channel 5. A regular NBC crew will handle the Aug. 23 game against San Francisco, which will be shown nationally.
An exhibition game with a limited audience might seem like small potatoes to some of Rashad's colleagues, but it represents a new twist in his career.
"I think people are pulling for me," he said. "Michael Jordan told me he was excited and very proud because there aren't a lot of black play-by-play guys."
Rashad practiced his play-by-play at the Seahawks' scrimmage against Atlanta in Portland last Friday and spent yesterday afternoon on the Seahawk sideline at practice to familiarize himself with the team.
"I've still got butterflies," he said when he arrived at the Seahawk facility. "But at least they are flying in formation."
Rashad and Largent haven't teamed since 1976, when they played two exhibition games as Seahawks before Rashad was traded to Minnesota. Don't ask Rashad for any cherished memories of those games - his recollection was that Largent arrived the day he was traded.
Rashad doesn't overflow with sentiment about his time in the inaugural Seahawk camp. For one thing, he and receivers coach Jerry Rhome, now Cardinal offensive coordinator, didn't get along.
Rashad also wrote in his 1988 book "Rashad: Vikes, Mikes and Something on the Backside" that the 1976 Seahawks "looked pretty hopeless."
Tonight's game is another homecoming for Rashad, who grew up in the Tacoma projects as Bobby Moore, overcame a mysterious skin disease, and starred as a running back at Mount Tahoma High School and the University of Oregon.
Rashad, the fourth player taken in the 1972 draft, had an 11-year pro career as a wide receiver for St. Louis, Buffalo and Minnesota. His "Miracle Catch" with no time remaining to beat Cleveland and win a division title for the Vikings in 1980 has been ranked among the NFL's most exciting plays of all time.
Rashad played in four Pro Bowls before retiring in 1982.
These days, he seems to spend as much time in the air as anywhere. In the past two weeks he has been to Hawaii, Barcelona, Chicago, Portland and his home in the New York suburbs.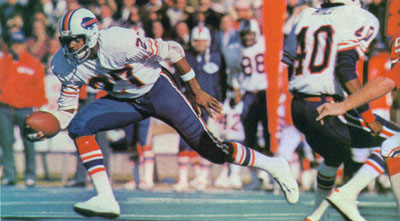 OJ seeks West Coast trade
Walla Walla Union-Bulletin
Sunday, June 13,1976
NEW YORK (AP) Ė Superstar running back O.J. Simpson said Saturday night he will only play professional football one more year, and he wants to end his career on the West Coast.

"This is my last year to play football." Simpson told The Associated Press by telephone from Las Vegas. Nev.. where he was attending an awards dinner. Simpson has two more years remaining on his present contract.

"It has nothing to do with money or a new contract. It has to do with a number of things, mainly wanting to stay near my family and not be separated for another football season."

Last season Simpson's wife, Marguerite, and their two children stayed in Los Angeles during the season. "There were rumors going around Buffalo this past season that my wife and I were going to be divorced, and when we were apart we did have problems," Simpson said.

Simpson, who will be 29 next month, denied 'published reports that his decision was influenced by the Bills' failure to re-sign wide receiver Ahmad Rashad who played out his option and signed with the expansion Seattle Seahawks.

"That's speculation on other people's part." Simpson said. "Al Cowlings was and is one of my closest friends. If I was going to react to a player being traded. I would have done it then," referring to 1973 when the Bills sent Cowlings, a defensive end. to the Houston Oilers.

"I am a player," he said. "What they (management) do upstairs doesn't affect what I do on the field."
Player Movement Is Common For Organizing Seattle Seahawks
BY RICK GOSSELIN
UPI Sports Writer
The Coshocton Tribune
Wednesday, Sept.8, 1976
The printers in Seattle must be making a mint on playbooks for the National Football League Seahawks. The first year Seattle franchise, which makes its NFL debut Sunday, has had better than a 20 per cent turnover on its roster the past two days, taking advantage of the wealth of talent with which the 26 established teams are cluttering up the waiver list in getting down to their 43-man rosters.

The Seahawks have made 27 separate player movements since Monday: waiving 14 players, putting two more on injured lists, trading veteran wide receiver Ahmad Rashad (the former Bobby Moore) and adding 10 newcomers from waiver claims and three trades.

The Seahawks, who acquired veteran quarterback Bill Munson in a trade with the Detroit Lions Monday, supplemented their backfield Tuesday by claiming running backs Hugh McKinnis from Cleveland. Ralph Nelson from Washington, Don Testerman from Philadelphia and Oliver Ross from Denver in preparation for their home opener Sunday against St Louis.


Collecting Ahmad Rashad?
1976 Topps #383