Charles Waddell was there!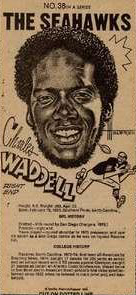 First Cut of Seahawks' Roster May Come Today
By Don Fair
P-I Sports Writer
It's hard to give rave notices off such early contact work but Patera did cite a few -- centers Art Kuehn and ex-Husky Al Kelso, plus tight ends Alvis Darby and Charles Waddell.
Patera likes look of receivers
Walla Walla Union-Bulletin
Wednesday, July 21, 1976
CHENEY, Wash. (AP) — Coach Jack Patera may not be decided on who will call the signals on the field for the Seattle Seahawks this season, but he knows he's got several qualified people for his quarterback to throw to.
Patera singled out tight ends Ron Howard, Charles Waddell, John McMakin and Alvis Darby for their performances Tuesday during a 35-minute scrimmage at the expansion team's training camp at Eastern Washington State College here.
"All four of our tight ends can play in this league," Patera said. "We may not have a Pro Bowl performer but then again we might."
"Howard has caught everything to him and so has Waddell. 'McMakin has played well in the NFL and we know it. And Darby is a very good looking rookie."
Street and Smith's Pro Football 1977
Charles Waddell, the ex-North Carolina All-America tight end, missed the season due to injury after coming from San Diego in the expansion draft.
Pro Football 1976
by Larry Felser and Dave Klein
Wide receivers aren't bad. The starters figure to be Alamad Rashad and Sam McCullum, but two rookie picks, Sherman Smith and Steve Raible, and veteran Don Clune will fight for steady work. John McMakin and Ron Howard will battle young Charles Waddell for the tight end spot.
Rashad, obtained via the option-playout route, is a tried and true star. McCullum is experienced and could be a top receiver. McMakin, also experienced, is a strong blocker. Clune was a mystery with the Giants. Scouts and teammates say he should have played more; the coach didn't agree. Picard never realized his potential and will get his chance. Howard, another of Dallas' basketball players, showed promise. High draft picks Smith and Raible have enormous potential; one of them might even start. Waddell may be a find, too. The Chargers gamble leaving him unprotected.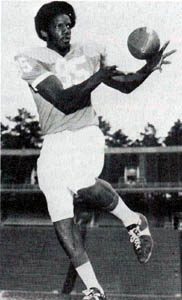 Hawks Howard Sheds Nickname
By Gil Lyons
Despite the loss of hard-luck Charles Waddell to knee surgery, the Seahawks are strong at tight end.
John McMakin was Pittsburgh's third-round draft choice four years ago and was named on at least one all-rookie team. He started for the Steelers that season.
Arvis Darby, a rookie who was converted from wide receiver, is an excellent prospect.
Pro!, The Official magazine of the NFL
Seahawks Edition
Aug. 14, 1976
When tight end Charles Waddell was placed on the injured reserve list it was the second straight year for such a move for the former North Carolina star. Waddell, a 6-5, 233-pounder who joined the Seahawks from San Diego via the veteran allocation, suffered a knee injury in the Seahawks' intra-squad scrimmage the week before the pre-season opener with San Francisco. Last year with San Diego, his first year as a pro, Waddell suffered a shoulder injury in the pre-season and was placed on injured reserve.

At the time of this writing, Charles Waddell is currently working as the Director of Marketing and Sponsorships for the Carolina Panthers!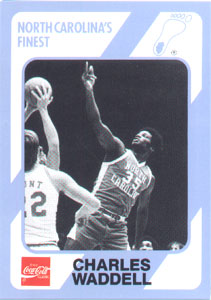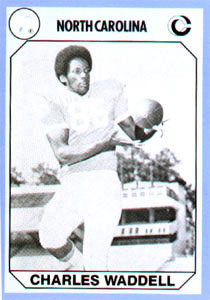 Four Receive Beech Awards At Black Alumni Reunion
Source: GAA Online
November 29, 2001
Being outstanding community leaders and giving back to society are two important values that many UNC alumni successfully achieve in their personal and professional life. During Alumni Weekend, the Black Alumni Reunion Committee awarded the Harvey E. Beech Outstanding Alumni Award to four alumni who have had immense success after graduation, both in professional and civic duties.
Constance Battle '77 of Raleigh, Kelvin Harris '82 of Gastonia, Patricia Timmons-Goodson '76 of Fayetteville and Charles Waddell '75 of Charlotte were honored with the award at a brunch on Nov. 11.
Started in 1981, these alumni awards are named in honor of Harvey E. Beech '52, UNC's the first black graduate who went on to become an accomplished lawyer. The award recognizes black alumni who help the development of the Black Alumni Reunion and who have been leaders in the University or community.
Battle practices obstetrics and gynecology in Raleigh and has been actively involved with the Black Alumni Reunion weekend for many years. In 1994, Battle and four other alumni donated $25,000 in a fund-raising effort for a freestanding Black Cultural Center. Battle also is a member of the UNC chapter of the Delta Sigma Theta sorority.
A Morehead scholar, Harris went on to become an obstetrician and gynecologist in Gastonia to provide much-needed care to women in poor, rural areas. He served on the GAA's Board of Directors and on the Wachovia Bank State Minority Advisory Council.
Timmons-Goodson was the first black woman to serve on the appellate courts of North Carolina when then-Gov. James B. Hunt '64 (LLBJD) appointed her to the N.C. Court of Appeals in 1997. She also has served on the GAA's Board of Directors and the UNC Board of Visitors.
Waddell is director of sponsorship and marketing for the Carolina Panthers, after spending many years playing professional football for the San Diego Chargers, the Seattle Seahawks and the Tampa Bay Buccaneers. He has served on the GAA's board and also is a board member of the Educational Foundation.
Past recipients of the award, in addition to Beech, are Kelly Alexander Jr. '70, Sibby E. Anderson '87, Kristy L. Blackman '77, Angela Bryant '73, Pamela C. Chisholm '73, Edith Mayfield Elliott '64 (MSW), Richard Epps '73, Carl R. Fox '75, Laura R. Foxx '75, Henry Frye '59, Rosalind Fuse-Hall '80, Vic Hackley '76 (PhD), Robyn S. Hadley '85, Brian Holiday '90, Allen Mask, Jr. '74, Reginald McAfee '75, Phillip McAlpin '75, Michael Moseley '74, Paula Newsome '77, Ernie Pitt '74, H.B. Renwick '66 (MED), Ellis Stanley Sr. '73, Johnnie Southerland '81, Melvin L. Watt '67 and Hubert Williamson Jr. '74
Lurtsema, five others released by Seahawks
Daily News-Miner
Fairbanks, Alaska
Wednesday, Sept. 14, 1977
SEATTLE (API—Veteran Bob Lurtsema and five other players were cut from the active roster Tuesday as the Seattle Seahawks reduced their National Football League team to the 43-player limit.
Tight ends John McMakin and Charles Waddell, running back Hugh McKinnis and cornerback Ernie Jones also were placed on irrevocable waivers Tuesday. Randy Coffield, linebacker, was placed on injured reserves with a knee injury, meaning he is out for the season.
Lurtsema, 34, an 11-year veteran, was obtained last year from the Minnesota Vikings and became a starter at defensive end. Unless he is claimed by another team, Lurtsema likely will be one of those signed to a new contract by the Seahawks when the NFL teams are allowed to sign two extra players later. The rosters will be increased lo 45, but only 43 will be permitted to suit up for the game.
Waddell was acquired in the veteran allocation last year but missed an entire season because of a knee injury. Jones and Coffield were 1976 draftees— Jones in the fifth round and Coffield in the tenth.
McMakin was waived late Tuesday after the Seahawks picked up tight end John Sawyer on waivers from the Houston Oilers. The release of McMakin leaves Seattle with only nine of the original 39 players the club selected in last year's veteran allocation.
Rolly Woolsey's now a Seahawk after expansion
The Idaho Free Press
March 1976
Only two quarterbacks were taken, both by Seattle. They were
Neil Graff
, the no. 3 man last year at New England, and
Gary Keithley
, a third stringer at St. Louis. The Seahawks also took the only three tight ends
Ron Howard
of Dallas,
John McMakin
of Detroit and
Charles Waddell
of San Diego.
Collecting Charles Waddell?
1976 Post-Intelligencer mini poster, #38