Cornelius Greene was there!
2 New Hawk Starters
Seattle Post-Intelligencer
August 28, 1976
It's official that the Seahawks' other new receiver, Cornelius Green now spells his last name without a final e. He explalined, "I have researched and found that some of my relatives spelled it 'Greene' and others 'Green' and the latter is correct."
Web Author's Note: And yet the articles continue to spell his name with the extra 'e'.
Although this story is pre-Seahawks, it's well worth reading!
Ohio State offense: A Greene machine
By GARY RAUSCH
Staff Writer
Wednesday, January 02, 1974
The Independent Don't tell Cornelius Greene anything about adversity. He's faced it all his life.
Being quarterback for Ohio State University, he spent most of his sophomore season handing the football to an armada of running backs.
Naturally, he was labelled a "poor passer." It was purely guilt by association.
Tuesday, Greene was asked to throw the ball to give the Buckeyes a chance to defeat Southern California in the Rose Bowl.
Cornelius successfully found the seams in the Trojans' heretofore impregnable pass defense six limes in eight attempts for 129 yards.
That opened a thrasing ground attack that pulverized the Trojans, 42-21. Greene added 45 yards afoot, scoring once more on one of his seven carries.
His flashing feet mesmerized USC tacklers as he dashed and darted for important yardage on third-and-long scrambles.
WHEN THE BALLOTS were tallied, the red-thin signal-caller had won player of the game accolades, the 20th quarterback so honored in 60 Pasadena classics.
"This is a big thrill," he acknowledged outside the Buckeyes' dressing room. "I'm proud of winning it most for my family and my city."
Greene is a modest young man of 19, who has been looking up all his life.
His father is blind. He has four sisters and three brothers helping his mother in a Washington, D.C., ghetto.
"I guess my mother's prayers were answered today," he smiled, thinking of the victory which avenged last year's 42-17 loss to most of these same Trojans.
Greene had little to do with that embarrassment, playing only 60 seconds — just time enough to return three kickoffs for 56 yards.
Before a throng of 105,267 shivering souls, Cornelius was nearly the whole show in this rematch. His Rose Bowl debut began in near disaster.
Three plays after taking possession on the OSU 31 yard line and looking at a 3-0 deficit after only three minutes of play, Greene threw an interception into the waiting hands of Trojan Danny Reece.
"WHEN THAT HAPPENED, all those things written in the newspapers about me passing poorly went through my mind," said Greene, remembering his line miscue of the day.
"Coach (Woody) Hayes called me over and gave me plenty of examples of players who had fumbled twice for him, but how he'd never lost his confidence in them. He told me just to forget it."
Three downs after USC's ensuing drive ended in a missed Chris Limahlu field goal from 47 yards, Corny hit tight end Fred Pagec for 22 yards and the first of many penetrations into Trojan territory. Greene missed on his next attempt but was four-for-four thereafter.
"We knew we had to pass to beat USC, but nobody seemed to think we could," admonished the 6- foot, 170-pounder. "We saw what they did to other strong running teams like Oklahoma and UCLA.
"When I hear people say we can't pass I take it as a reflection on. me because I'm the quarterback. But I don't believe everything I read in the papers," he smiled.
In guiding the Bucks to ?a 9-0-1 record and a Big Ten championship Greene attempted only 38 passes, completing a mere 14 for a .368 percentage. He threw for two scores but suffered six interceptions.
"I COMPLETED 188 PASSES in high school for over 1,400 yards and 25 TDs," said Corny, "so I wouldn't say I couldn't pass.
"When we're averaging 350 yards a game running and still scoring more than' 37 points, we don't need to pass. But today was different."
Greene ran for 116 yards and passed for 137 more in the spring game at Columbus, but began fall drills on the third team.
"I wasn't technically, sound when I came to Ohio State, but 1 never lost my confidence."
When the season began he had unseated senior incumbent and cocaptain Greg Hare to become Ohio State's first black quarterback.
He accepted the pressure and the criticism all season more like a senior than a sophomore.
"We were criticized for not passing more against Michigan (0- for-4), but my right thumb was. swollen twice its normal size and I couldn't grip the ball at all. I could have thrown better with my left hand," he said, showing one thumb still larger than the other.
But there were no handicaps Tuesday and OSU followed its game plan almost to the letter. Despite his passing ability, Greene was considered a scrambling quarterback at Dunbar High and this ability to avoid losses has added another dimension to the OSU offense.
EIGHTY SCHOOLS SOUGHT his talents, but Ohio State was the first major college "and they wanted me as a student as much as an athlete."
He spurned basketball offers (25-point average as senior) as well as a $25,000 bonus after being drafted by Baltimore.
"I was 30-2 as a pitcher and batted over .500. They wanted me as an infielder, but I wanted an education."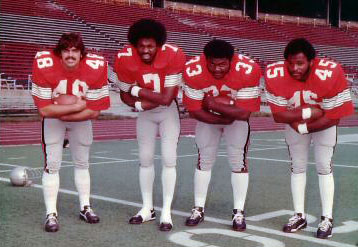 From: Ken Gordon
Sent: Friday, February 16, 2007 9:20 AM
Subject: cornelius greene
I'm working on a "where are they now" piece on Cornelius Greene and saw your request for more information. Don't know if you still need it, but here's what I know:
After Seattle released him, Cornelius briefly went to the Canadian Football league and then semi-pro ball in Columbus, Ohio before moving back to his hometown of Washington, DC in 1982. He lives there now, working for the city and managing a recreation center. He has two kids, one of which is playing basketball at the University of Vermont (Jason).
In 1998, he was inducted into the Ohio State Athletics Hall of Fame. He was the school's first black quarterback.
Hope that helps,
Ken Gordon
Sportswriter, Columbus Dispatch
Player Movement Is Common For Organizing Seattle Seahawks
BY RICK GOSSELIN
UPI Sports Writer
The Coshocton Tribune
Wednesday, Sept.8, 1976
The printers in Seattle must be making a mint on playbooks for the National Football League Seahawks. The first year Seattle franchise, which makes its NFL debut Sunday, has had better than a 20 per cent turnover on its roster the past two days, taking advantage of the wealth of talent with which the 26 established teams are cluttering up the waiver list in getting down to their 43-man rosters.
The Seahawks also released rookie wide receiver Cornelius Greene and veteran defensive end Bob Martin, while placing on waivers running backs Gary Hayman and James Ford, wide receiver Bob Picard and defensive tackle Jeff Lloyd. Seattle placed linebacker Ken Hutcherson on the injured reserve list and fullback Eddie Ray on injured waivers.