Gary Hayman was there!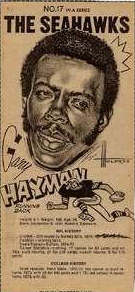 And so was the Seattle P-I with this early football card-style newspaper cut-out!
Pre-76
Led nation on punt returns in senior year (19.2 return average on 23 attempts)
Drafted 1974 (Buffalo)

Gary Hayman was O.J. Simpson's understudy when he was with the Bills, carrying only 10 times in the 1975 season.
Bills lose three in 1976 NFL Expansion Draft for Seattle and Tampa Bay
DE Pat Toomay and DB Frank Oliver were chosen by the Tampa Bay Buccaneers and RB Gary Hayman was taken by the Seattle Seahawks.
Thrill-a-Minute
Seattle Post-Intelligencer
By Royal Brougham, Associate Editor
September 1, 1976
They came of age Sunday afernoon.
Jim Zorn, the kid quarterback; Ron Howard, a re-cycled basketball player; the sometimes erratic place-kicker Don Bitterlich, hula-hips Gary Hayman; handy Andy Bolton and a rock-ribbed Seattle defense turned an error tainted free-for-all into a dramatic victory.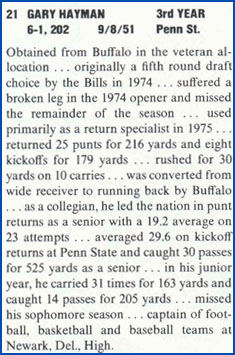 Seahawks
by Doug Thiel
Sunrise Publishing Inc.
There was excitement—Gary Hayman ran a kick back for 96 yards. The Seahawks scored first, and that had never happened before. The first score was also the first time the Hawks had ever led in a game. Records, records, records, and so young a team.
Seattle Draft: 'Good Job'
Seattle players choices were sent "welcome" telegrams from Patera yesterday. Later, all will receive personal telephone calls from the appropriate Seahawk assistant coach.
As a group, the newest Seahawks did not express disappointment or disgust at joining an expansion franchise.
Gary Hayman, Running Back, Buffalo -- "It's an opportunity, what I've been looking for. I've been behind O.J. Simpson for two years, and that's a rather remote position. I learned a great deal from that, but what's needed now is for me to play."
The Seattle Times
August 1, 1976
By Gil Lyons
The Seattle Seahawks will strive for a "first" today when the National Football League opens shop in the Kingdome.
No expansion team has ever won a first exhibition test, dating back to the Dallas Cowboys in 1960.
Seattle's long-awaited debut in the NFL will begin at 1pm against the rebuilding San Francisco 49ers before what should be a capacity crowd of nearly 65,000.
Seattle is short of quality running backs. Bill Olds is the only experience ball carrier in the ranks, although rookie Sherman Smith and Gary Hayman have shown promise at halfback, particularly coming out of the backfield as receivers.

Pro! The Official magazine of the NFL
Impressive in last week's 27-16 loss to Chicago was wide receiver Don Clune, former with the New York Giants. Clune caught five passes for 79 yards. In the pre-season opener, he caught Gary Hayman's "halfback pass" for a 34-yard gain.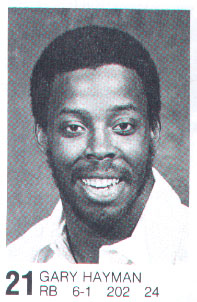 Pro Football 1976
by Larry Felser and Dave Klein
Had the Seahawks done as well offensively, Atlanta and New Orleans might have filed suit for damages. But they won't have to, since the offense will be Patera's major source of headaches.
The quarterbacks are abysmal—Gary Keithely, Neil Graff and rookies Steve Myer of New Mexico, a fourth- round draft choice, and free agent Jim Zorn, either of whom could wind up with the job.
There are no running backs, unless you count Bill Olds, Gary Hayman and Kerry Marbury. The draftees are better, especially fullback Larry Bates of Miami, Fla.
The Seahawks can't go into the season with this collection. The only experienced hand is Olds, and his forte is blocking, not ground gaining. Hayman has size and speed, but rarely played for the Bills. Marbury played a couple of years in Canada. Bolton has to make the transition from a small school. Bates could be a find.
Newarkers galore in Sports Hall of Fame
Source: Newark Post
By JOE BACKER
NEWARK POST STAFF WRITER
Newark-area athletes are well represented in the Delaware Sports Museum and Hall of Fame. Located along the first-base side of Frawley Stadium, on 801 S. Madison St. in Wilmington, the museum is filled with enough pictures, uniforms, trophies and other memorabilia to satisfy the voracious or casual sports fan.
Former Newark High football players include Conway and Gary Hayman. After a great career at the U of D, Conway played part of his pro career with the Houston Oilers, blocking for Earl Campbell, and after graduating from Penn State, Gary played for the Buffalo Bills.
Pro! The Official Magazine of the National Football League
Seahawks Edition
Detroit vs Seattle
October 24, 1976
Seattle Profile:
Tom Fermstad, Film Director
"The biggest problem is having a camera jam," he says. "You have to try and not miss any plays – coaches get upset when you miss a play and normally when you miss one it turns out to be a touchdown.
"I missed one play so far this year when I ran out of film and it turned out to be Gary Hayman's kickoff return for a touchdown."
The Pocket Book of Pro Football 1976
Edited by Herbert M. Furlow
Former Colt Bill Olds is a great blocker. But Joe Thomas doesn't make many mistakes at Baltimore, and he undoubtedly was turned off by Olds's meager production of 281 yards plus 30 pass catches for only 194 yards. Not fast, he's still tough, and if Seattle can get a big runner, Olds will be a help. He should start. Gary Hayman was a wide receiver in college, but was switched to kickoff and punt returns by Lou Saban at Buffalo and was used sparingly behind 0. J. He's questionable. Kerry Marbury has had two years in the league plus a sensational junior year at West Virginia. He was leading the nation in college rushing when he got hurt. A possible starter but at five-ten and 180 pounds is really too small and too light.
Player Movement Is Common For Organizing Seattle Seahawks
BY RICK GOSSELIN
UPI Sports Writer
The Coshocton Tribune
Wednesday, Sept.8, 1976
The printers in Seattle must be making a mint on playbooks for the National Football League Seahawks. The first year Seattle franchise, which makes its NFL debut Sunday, has had better than a 20 per cent turnover on its roster the past two days, taking advantage of the wealth of talent with which the 26 established teams are cluttering up the waiver list in getting down to their 43-man rosters.
The Seahawks also released rookie wide receiver Cornelius Greene and veteran defensive end Bob Martin, while placing on waivers running backs Gary Hayman and James Ford, wide receiver Bob Picard and defensive tackle Jeff Lloyd. Seattle placed linebacker Ken Hutcherson on the injured reserve list and fullback Eddie Ray on injured waivers.