Alvin Matthews was there!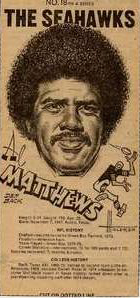 And so was the Seattle P-I with this early football card-style newspaper cut-out!
Street and Smith's Pro Football 1977
There was stability in the secondary, despite the 27 touchdown passes given up by Seattle. Ex-Steeler Dave Brown started all 14 games at free safety, ex-Packer Al Matthews did the same at strong safety and ditto ex-Ram Eddie McMillan at left corner.
From our readers
I spent 10 weeks of Basic Military Training with Al, and was looking on Facebook, to connect, but to no avail. Just wanted to see how he is doing, and to wish him the best, it states that he is working for Lexus, somewhere in Texas. It would really be nice for Al to have a facebook page so his friends and Fans could stay connected.
-- Ray Klausmeyer 01.25.13
Pro Football 1976
by Larry Felser and Dave Klein
Secondary? Patera has Dave Brown and Eddie McMillan on the corners, with Al Matthews, Rondy Colbert and Lyle Blackwood competing for the safety jobs. And rookie Don Dufek of Michigan will hit hard enough to make the club. He's a former Wolverine linebacker now projected as a strong safety.
Matthews can be a regular if he minds his mouth, which Patera will encourage. Colbert has the ability if not the size; he's a return specialist, too. Blackwood may have to play somewhere. Dufek was outstanding at Michigan as a roving linebacker.
Pro! The Official Magazine of the National Football League
Seahawks Edition
Detroit vs Seattle
October 24, 1976
The Seattle Seahawks call strong safety Al Matthews "Old Man" because he's the veteran of a young secondary.
An "Old Man" who won't be 29 until Nov. 7 when the Seahawks face the Atlanta Falcons, Matthews is in his seventh NFL season – one less than the other three starters combined.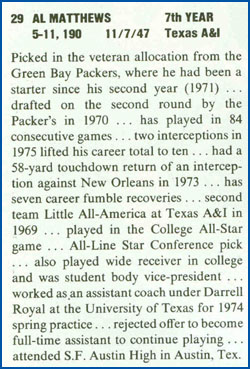 "I call him the dean of our secondary," says defensive coordinator Bob Hollway, who also coaches the defensive backs.
''Overall, he has a very good knowledge of the game and he's aware of what's going on out there,'' says Hollway.
"Al is very thorough and prepares himself for the games. He's a student of the game. "
Hollway also likes Matthews' mental approach to the game.
"He wants to be a leader," says Hollway. "He wants to help the team. Al is a positive player."
Matthews joined the Seahawks in the veteran allocation after six seasons with the Green Bay Packers.
He was drafted by the Packers on the second round in 1970 and going into today's game has played in 91 consecutive games.
Matthews played as a cornerback until 1972 when he was moved to strong safety.
During the off-season for a couple of years, Matthews worked as a an assistant football coach for Darrell Royal at the University of Texas during spring practice and rejected an offer to become a full-time assistant to continue playing.
However, Matthews' long-range objective is to become a coach.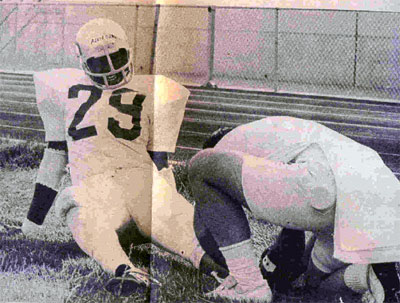 On what level would you like to coach?
I'd have to say it would be on the college or professional level. Money is not the main objective. My happiness is my main concern. There's not a lot of money in coaching, but I've enjoyed playing football and I want to continue to be around it after I retire.
Having a coaching background do you feel it helps you?
I think it helps me and hurts me. It can hurt me when I do too much thinking and not enough reacting – thinking about it instead of attacking. It helps from the standpoint that you learn from the opponent – what they're trying to do.
Has your playing career helped your future coaching career?
I treat my playing football as more or less on-the-job training. Just playing the game helps me. A lot of coaching is getting the most out of your personnel and by being a player you're around players and you're aware of their attitudes.
Can you learn from other coaches?
You learn something from all coaches. They've been around and have different ideas. You have to learn from experienced people.
Al Matthews File
Packer years:
1970-'75
Packer highlights:
Matthews was the primary starter for four years at strong safety after starting at right cornerback in 1971. He was known for his intelligence and physical play. During the 1974 off-season, Matthews returned to the University of Texas as a volunteer assistant, becoming the first African-American coach in the history of UT.
Jersey number:
29
Occupation:
Matthews is a consultant for Lexus of Austin in Texas.
Residence: Austin, Texas
Jay L. Johnson Memorial Celebrity Golf Tournament
Former UT footballers Keith Cash, Kerry Cash, Kwame Cavil, Peter Gardere, Rosevelt Leaks, Donnie Little, Jerry Sizemore; Former UT basketballers Bill Wendlendt, Travis Mays, Ron Baxter, baseballer Bruce Ruffin, golfer Aaron Sosa; Current and former UT coaches David McWilliams (football), Jerrit Elliot and Rob Pulliza (volleyball), Jeff Moore and David Snyder (tennis), Shannon Fisher and Greg Priest (golf); personality Ed Clements, and current and former NFL players Jason Belsar, Gale Gilbert and Al Matthews.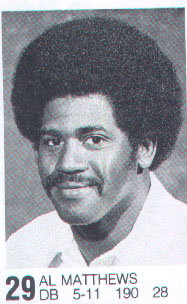 Phelps' passing reminds us of the road less traveled
The tragic passing of Dr. Don Phelps, a pioneer in the area of the voice and presence of African-Americans in universities and colleges, stirs memories - and pride of where we are now - of the metamorphosis of the African-American in the football coaching staff at The University of Texas.
Dr. Phelps, of course, was the chairman of the UT Men's Athletics Council, and he died Saturday (July 5) from complications following a heart procedure.
In his time, he had been a teacher, a principal, a professor and a driving force in the importance of community colleges in education.
And his place as chair of the athletics council is a statement of how far we have come in an area which once was a sensitive issue on campuses nationwide.
The year was 1972, and Darrell Royal was doing everything he could to make up for almost a century of posturing that prohibited African-American athletes from competing in big-time college football.
When the "color barrier" as it was called in those days, was dropped by the Board of Regents in the mid-1960s and the Southwest Conference agreed to allow African Americans to play, a Longhorns track walk-on named James Means became the first black athlete to participate for a Southwest Conference team. Longhorns basketball coaches tried hard to recruit an outstanding prospect from Fort Worth named James Cash, but he chose instead to go to TCU. When Jerry Levias played at SMU in 1966, he - along with a player from Baylor - became the first African-Americans to compete at the varsity level in football in the SWC.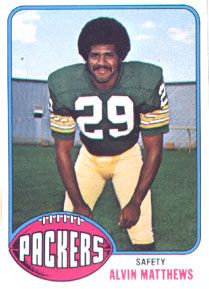 Early efforts to change the Texas image failed. John Harvey of Austin's old Anderson High School was perhaps the finest player to ever come out of the city, and he first signed to come to Texas, but things didn't work out academically. Leon O'Neal, a linebacker from Killeen, signed a letter of intent at UT and played on the freshman team in 1968, but it wasn't until 1970, when San Antonio's Julius Whittier completed the first of his three varsity years, that an African-American earned a letter in football at Texas.
Royal knew his challenge was great. Despite his personal commitment to acceptance of all people, his program was often attacked by rival recruiters.
Whittier had taken the first step to opening new doors for UT, and in 1971 the Horns successfully recruited the state's best running back in Roosevelt Leaks. But Royal realized that in order to serve the young men he was recruiting, it was important to have an African-American on staff.
The choice was critical, because it was one that could not afford to fail. Whomever Royal picked, the man would be scrutinized by lots of folks. It was truly a path-finding choice. Experience for African-American coaches at the college level, except at the traditionally black colleges, was almost non-existent--particularly in this part of the country.
So in February of 1972, Royal took a step that opened a door, and combined the best of all worlds.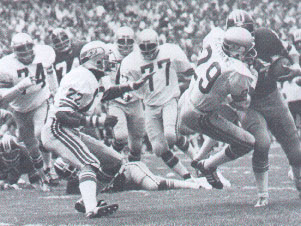 Alvin Matthews had been a star at Austin High School, and he had gone on to become an NAIA All-American at what was then Texas A&I (now Texas A&M-Kingsville). He was enjoying a successful stint as a defensive back with the Green Bay Packers, so he brought both respect and knowledge to the table. He wasn't ready to give up pro ball, but that didn't matter to Royal.
Royal and Matthews worked out a deal where Alvin became the first African-American coach in Longhorns history, and he also continued his pro career. Matthews would report to Green Bay in the summer, and though he would miss the Longhorns season, he was often back in time for a bowl game and all of the spring training.
That worked for two years, but in 1974 he signed a long-term pro contract and gave up his hopes of a coaching career for the time being. In his place, Royal hired a veteran high school coach and former Prairie View A&M star named Prenis Williams to coach receivers.
With Leaks earning All-America honors in 1972 and 1973 and the staff statement Royal had made, recruiting doors began to open. And the most famous of those was at the home of a great Tyler running back named Earl Campbell.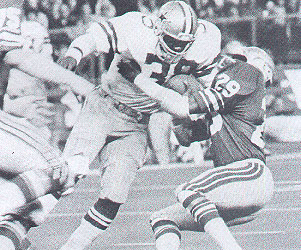 Progress continued in the area after Royal retired following the 1976 season, but no statement came close to that made during the current tenure of Mack Brown.
Cleve Bryant, who served as one of the nation's first African-American head coaches in Division I-A when he led his alma mater Ohio University, is the Associate Athletics Director for football operations. Arthur Johnson is the Assistant AD. Jeff 'Maddog' Madden serves as the Assistant Athletics Director for Strength and Conditioning.
Three members of Madden's staff are also African-American.On the coaching staff itself, Darryl Drake serves as Assistant Head Coach and receivers coach, Bruce Chambers tutors the tight ends and Michael Haywood is the new running backs coach. Jean Bryant, Cleve's wife, is in the academics area and is in charge of the life skills program.
But it is in the area of the student-athletes where the most powerfully significant stride has been made. Where people once talked of "quotas" and regularly checked the numbers, today nobody knows--or cares--how many players are "of color." Today, it is not about what color your skin is, it is about being a student-athlete, a player, and most of all a person.
Guys like Don Phelps and Alvin and Prenis helped make that happen. They were the pathfinders, seeking a way to teach and to care. Healers, helpers and builders, all at the same time.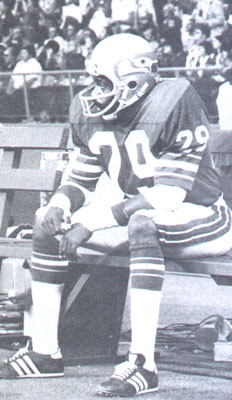 Source: Packer Plus

Super thoughts: Matthews remembers '72
By ROB REISCHEL
Special to Packer Plus
Last Updated: July 16, 2003
Most members of the 1972 Green Bay Packers believe they were a team of overachievers.
A group that maximized its talent in winning the NFC Central Division with a 10-4 record before bowing out to the Washington Redskins in the first round of the playoffs.
But Al Matthews isn't one of them.
To this day, it eats at the former Packer safety that the 1972 season ended when it did for Green Bay.
"I really felt we should have went to the Super Bowl that year," said Matthews, who's now a consultant for Lexus of Austin in Texas. "We had a really good team, and if we'd have beat Washington, we would have had Dallas at home. That still bothers me."
It's easy to see why.
Matthews played in Green Bay for six years after being selected in the second round of the 1970 draft out of tiny Texas A&I. And aside from the '72 campaign, the Packers had five losing seasons during the time Matthews donned the green and gold.
But the 1972 season was different. The defense became one of the league's best. The running game, powered by John Brockington and MacArthur Lane, was dominant.
Green Bay's Achilles' heel, though, was a sub-par passing attack. And it finally caught up with them in a 16-3 loss to a Washington team that eventually reached the Super Bowl, before falling to Miami's 17-0 team.
"I thought we had a great run in '72," Matthews said. "We did what we had to do on defense, but I thought we lacked direction on offense. We were a young team and we were missing one little piece."
The Packers never found that piece during Matthews' time in Green Bay.
But that didn't stop him from becoming one of the NFL's more respected strong safeties.
Matthews, who played both sides of the ball at Texas A&I, began his Green Bay career as a cornerback and started on the right side in 1971.
But his lack of speed was a major liability, and late in the 1971 season, the Dan Devine-led coaching staff moved him to safety. Matthews didn't mind the switch one bit. It's just that the timing could have been better.
"It was our last game of the year and we were playing the Dolphins," Matthews said of what would become a 27-6 loss to Miami. "And they sent me in to replace Willie Wood. Well, it was Willie's last game, and having to tell him to come out wasn't much fun."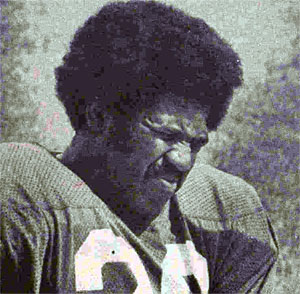 Fortunately for Matthews, things got easier. He became the permanent starter at strong safety in 1972, combining with cornerbacks Willie Buchanon and Ken Ellis and free safety Jim Hill to form a potent unit.
The 6-foot, 190-pound Matthews was a punishing hitter and a tremendous competitor who sparkled against the run. He enjoyed perhaps his finest year in 1974, when he intercepted three passes, finished among the team leaders in tackles and was mentioned prominently for the Pro Bowl.
"Not to toot my own horn, but I really did think I got the most out of my talent," said Matthews, who was born and raised in Austin, Texas. "I didn't always get recognized, but I held my own in the secondary.
"I was glad they moved me inside, because I was better against the run than the pass. But I think I was a really good leader and a good team player."
Matthews was also something of a pioneer. During the off-season in 1974, Matthews went to the University of Texas and served as a volunteer assistant coach for his good friend, head coach Darrell Royal.
Matthews, who worked with the wide receivers, became the first African-American coach ever at the University of Texas. And he also became just the second black coach in the history of the Southwestern Conference.
"I didn't feel any pressure at all," Matthews said. "Darrell and I were great friends and he had a great staff and they were all good with it. It was a good fit."
Following the 1975 season, the Packers decided Matthews was no longer a good fit for them. Coach and general manager Bart Starr left Matthews unprotected and Seattle took him in the expansion draft.
After playing the 1976 season with the Seahawks, Matthews was out of football most of the 1977 campaign. But late in the year, he was picked up by San Francisco. And fittingly, the final game of that season and of Matthews' career came against Green Bay at Milwaukee County Stadium.
"That was a neat way to finish up," Matthews said.
Most expected Matthews to pursue a career in coaching when his playing days ended. But instead, he returned to Austin and went into real estate, something he did during his playing days as well.
After spending some time in the construction business, Matthews became a sales manager at a Ford dealership in 1988 and is about to celebrate his 10-year anniversary at Lexus.
And while being in the heart of Cowboy country means encountering Dallas fans at every turn, Matthews loves playing devil's advocate.
"Hey, we all know the Green Bay Packers are the real America's team," he said. "The Green Bay Packers are a household name.
"I still go to restaurants and people will say, 'That's Al Matthews of the Green Bay Packers.' I still get something in the mail every day from people to sign.
"I cherish those days, all those great memories and all the great guys I played with. I mean, some of the guys in the locker room that I played with, it's just incredible.
"My only wish is we could have won some more games. But Green Bay is a great place and everywhere you go, everybody knows the Green Bay Packers."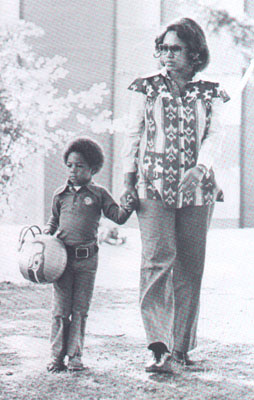 When a pro football player joins a new team he not only gets a new uniform but he has to paint his son's helmet.
Source: Pro! The Official Magazine of the National Football League
Seahawks Edition
Detroit vs Seattle
October 24, 1976
By Carolyn Andersen
"Sunday will never be the same."
As KIRO Radio proudly boasts to over 1,500,000 people in the metropolitan Seattle area, the Seahawks have given new meaning and life to Sundays. While Seattle's entry into the NFL has brought about many changes in the weekend schedule of local football fans, families of the men who suit up in the silver and blue each Sunday, find it "just another working day."
Although the public may view the life of a pro athlete as glamorous, few of the wives consider it to be any different than a dozen other professions.
On a Saturday afternoon when daddy was winging his way to Milwaukee, Wisconsin, three-year-old Marcus Matthews, son of Al and De Mille Matthews, proudly donned his blue and green Seahawks shirt, reached for his silver football helmet (recently converted from Green Bay gold) and planted himself in front of television's Baseball Game of the Week. College football, with the University of Texas vs. Oklahoma was due to follow, For mother, who is expecting her second child in February, being in Seattle with Al marks the first time she will have spent an entire season with her husband.
A second-round draft selection by the Green Bay Packers in 1970, Al spent six seasons with the Pack, but De Mille never spent longer than three months in the mid-western state.
Having met in junior high school in Austin, Texas, the couple dated during their high school and college days, but were not married until after Al was playing pro ball. Even after their marriage, De Mille spent her time in Austin where she obtained her college degree in physical education.
A lover of the outdoors, Mrs. Matthews is no stranger to the game of football, having been a player on a girls flag team in college. She was also a member of her college tennis team, and was pleased to find a court just outside her patio door here in her new surroundings. She hopes to pursue a career in recreation when her children are older.
Fishing at the Corpus Christi home of her parents is one of the family's favorite hobbies during the off-season. They also enjoy mixed-doubles tennis, playing cards and going to the movies.
In a townhouse complex in the Newport Hills area of Bellevue, it is not hard to find children hearing the names of Lurtsema, Demarie and Hoaglin playing together in the large grassy area between their respective homes.
The Pocket Book of Pro Football 1976
Edited by Herbert M. Furlow
Al Matthews, a pretty fair strong safety with Green Bay, is the main man right now.
Six vets ink Seahawk pacts Saturday
Walla Walla Union-Bulletin
Sunday, July 18, 1976
John Thompson, general manager, said fullback
Bill Olds
, defensive end
Dave Tipton
, center
Fred Hoaglin
, linebacker
Don Hansen
and defensive back
Al Matthews
had all signed multiyear contracts.
The six signings leave the Seahawks with seven players who have not agreed to 1976 terms. All contracts so far have been on make-good terms, but no one has a no-cut contract. The Seahawks are less than a week from their first dress rehearsal which will be Saturday night at Joe Albi Stadium in nearby Spokane.
Collecting Al Matthews?
1976 Topps #379