Fred Hoaglin was there!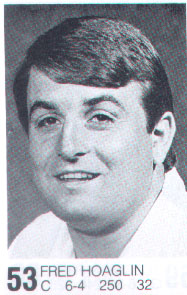 Fred Hoaglin
was there!
Pre-76
Drafted 1966 (Browns)
Signed by Colts 1973
Signed by Oilers 1974
Pro Bowl 1969
Seattle Draft: 'Good Job'
Don Kosterman, executive vice-president and general manager of the Los Angeles Rams, offered, "Seattle did an excellent job and got some veteran players who will be invaluable. For instance, (Nick)
Bebout
, (John) Demarie, (Rocky)
Rasley
, (Gordon)
Jolley
, (Fred)
Hoaglin
, (Norm)
Evans
, (Bob)
Penchion
are going to play to give the Seahawks an established offensive line.
Gil Brandt, who has spent 17 years discovering players as Dallas' vice-president in charge of personnel development, added, "Seattle made some excellent choices. They got a good blend of players like Hoaglin, McMillan, Curtis, Geddes that can come in and lead stability.
"And they got good young guys, like the two from us (tight end Ron Howard, cornerback Rollie Woolsey). They have good possibilities for the future."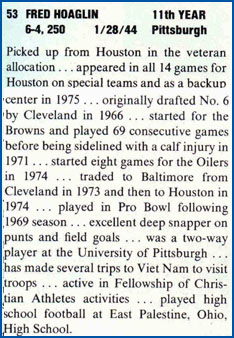 New Hawks Welcome Move
By Don Fair
Seattle P-I Sports Writer
Veteran center Fred Hoaglin, picked from Houston, said, "I'm looking forward to coming up there -- I have been in Seattle only once, an exhibition game when I was with Cleveland.
"I'm also looking forward to working with two Oiler coaches from last year (Sam Gogoshian, Larry Pecciatello). I'm kinda disappointed leaving Houston, a contender this year, and they should contend again next season.
"But there's a challenge in Seattle, trying to build a team from scratch. I've never been in a situation like that and look forward to it."
'Hawk Cuts Due Today
"Listen, there are a lot worse places to train. Ever been to Hiram, Ohio?
"It's located in a dry county which is bad enough. But it's surrounded by five more dry counties. At least it's not dry here. You have places to replace the fluids."
Guard John Demarie, a nine-year performer with the Cleveland Browns, made that perceptive observation yesterday.
What that means, most of all, is that the real scars-on-their-scars veterans are in the Seahawk training camp.
There is only one place in the city limits -- at least by sportswriter scouting -- which serves liquor by the drink. Another establishment which did the same is closed.
To Demarie's credit, he found that spot immediately. Which separates the veterans from the newcomers. They learn the territory.
"Hey, in Hiram it was so bad all we did was go down and count the oil cans," Demarie concluded with a sly smile.
"Or watch the one red light," added center Fred Hoaglin, a 10-year veteran who started with Cleveland.
MAN OF THE YEAR
Pro! The Official Magazine of the National Football League
Seahawks Edition
Detroit vs Seattle
October 24, 1976
Today is Ballot Day at the Kingdome for 1976 voting for the Dodge-NFL Man of the Year award, a unique competition that honors the leading "citizen-athletes" of the NFL.
The competition is unusual in that your votes honor not only an NFL player who has contributed to his team on the field and to his community of the field but they help deserving and qualified high school students earn college scholarships as well.
Eighty-one NFL players – three from each team – have been nominated for the 1976 award and the Seahawks nominees are Norm Evans, Ken Geddes and Fred Hoaglin.
Street and Smith's Pro Football 1977
The incumbent guards are Bob Penchion and Bob Newton, either of whom would lose his job to another rookie, Tom Lynch of Boston College. It isn't inconceivable, either, that veteran center Fred Hoaglin would lose a challenge to Idaho's John Yarno.
The backup tackles last year were Dave Simonson and Gordon Jolley. Jolley started four games. Guard John DeMarie started 8 games, but he's 32 and shows it. Ron Coder also is on the roster. Center Art Kuehn started as many games as the 33-year-old Hoaglin.
Pro Football 1976
by Larry Felser and Dave Klein
And if Patera really wants to stay up nights, he can think about his interior line. At the moment, the tackles will be
Nick Bebout
and
Norm Evans
. The guards are
John Demarie
and
Bob Penchion
.
Fred Hoaglin
is at center.
While this group is less than impressive, there is no passable depth. Randy Johnson is a 244-pound rookie guard from Georgia, Art Kuehn is a rookie backup (for now) center from the Redskins and Gordon Jolley is a tackle reserve.
Bebout didn't play well with the Falcons. Evans, once a Pro Bowl is a bit old and may not show his ability on a weak line. Demarie should have a few years left. Penchion played weill in spurts during his career. Hoaglin can play center and guard. Kuehn, one of George Allen's mystery names, played well at UCLA two years ago he never made the Redskins' active roster, joining the WFL instead. Johnson had good grades in college and could win a job. Jolley starting material.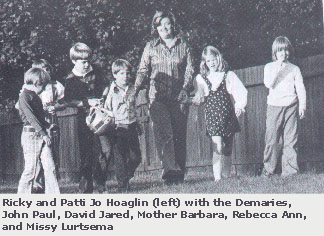 Pro!, The Official Magazine of the National Football League,
Seahawks Edition
Aug. 14, 1976
Seahawks center Fred Hoaglin has survived 10 years in the NFL, and feels his position accorded greater longevity than any other on the line.
"If I had guys like Joe Greene playing head-up on me every week, I'd have been out of the game by now," Hoaglin quipped.
The center, unlike tackles and guards, must charge as he snaps the ball. A commune error is to snap the ball and then charge.
Another common error, according to Hoaglin, is to think block first, snap second. "The exchange with the quarterback is the center's first obligation," he said. "When a center neglects this, the results are obvious. The other team usually ends up with the ball."
But how can an offensive lineman remain passive when a guy like Merlin Olsen is intent on turning him into a pound of hamburger?
"We have an edge," Hoaglin noted. "We know when the ball will be snapped."
When a pro football player joins a new team he not only gets a new uniform but he has to paint his son's helmet.
Pro! The Official Magazine of the National Football League
Seahawks Edition
Detroit vs Seattle
October 24, 1976
By Carolyn Andersen
"Sunday will never be the same."
As KIRO Radio proudly boasts to over 1,500,000 people in the metropolitan Seattle area, the Seahawks have given new meaning and life to Sundays. While Seattle's entry into the NFL has brought about many changes in the weekend schedule of local football fans, families of the men who suit up in the silver and blue each Sunday, find it "just another working day."
Although the public may view the life of a pro athlete as glamorous, few of the wives consider it to be any different than a dozen other professions.
Janet Hoaglin attended the University of Pittsburgh, where she was a nursing student and he (Fred) was in engineering. Because she worked on weekends, she didn't see him play in his college career.
Today, the mother of Patti Jo, 5, and Ricky, 6, is making Seattle her fourth "football home". The family spent seven years in Cleveland where Fred was originally drafted No. 6 by the Browns in 1966 and played in 69 consecutive games before being sidelined with an injury in 1971. During that time Jan taught at Kent State's School of Nursing in Cleveland and also worked in a clinic for unwed mothers in that city.
From Cleveland they spent one year in Baltimore and then two years in Houston where Jan was active in the community and enjoyed her leisure time on the tennis courts.
"I was very happy in Houston and the night I found out that we were coming to Seattle I was disappointed. Fred had given me a copy of Catherine Marshall's book 'Something More' and on that night I read it for the inner strength I needed. It worked and I love Seattle."
The Hoaglin schedule is much like all the others. While Jan prepares dinner so that Fred can get to 6 p.m. class, young Ricky comes looking for his Seahawks helmet. Dad is going to play football with the neighborhood kids. The helmet shows signs of wear and Fred explains that it started out orange for Cleveland, then was painted white and sported the recognizable horseshoe of the Colts, then re-painted white so that an oilwell could be added for Houston. Now it is silver and the blue and green Seahawk covers any sign of former allegiance.
Jan, who attends class one night per week at the University of Washington, plays bridge and takes two tennis clinics per week, says their lifestyle is pretty routine.
"The one advantage that professional football has given us has been the opportunity to travel." The couple visited Germany last year with the Army Chaplins Corps and Fred has also made several trips to Vietnam to visit troops.
In Houston, where the couple still owns a home, the family is active in outdoor recreation including water skiing, hiking, tennis and golf.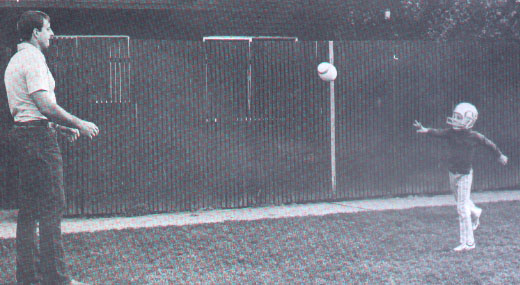 Sparano hired to coach Jaguars TEs
JACKSONVILLE, Fla. (Jan. 28, 2002) -- The Jacksonville Jaguars hired former Redskins assistant Tony Sparano as their tight ends coach Monday.
Sparano replaces Fred Hoaglin, who retired this month.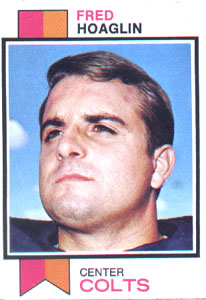 Just ask the Jaguars!
Fred Hoaglin, Tight Ends Coach NFL: 34th season Jaguars: 4th season
One reason that the Jaguars led the NFL in rushing in 1999 was their success running in two-tight end sets, behind the blocking of Kyle Brady and Damon Jones. Both are big players, and both have had their blocking skills honed by their position coach, Fred Hoaglin, who was one of the NFL's best offensive line coaches before joining the Jaguars in 1997 as tight ends coach.
Hoaglin has been around the NFL longer than any member of the Jaguars' coaching staff -- 34 years dating back to 1966 when he was a rookie center with the Cleveland Browns. He joined the Jaguars' staff from the New England Patriots on February 11, 1997. Now in his 23rd season as an NFL assistant coach, Hoaglin has been a member of three Super Bowl staffs, winning twice as the offensive line coach for the New York Giants in Super Bowls XXI and XXV.
In 1997, Hoaglin's first year in Jacksonville, he coached tight ends for the first time in his career after serving as an offensive line coach for the previous 19 years. That year, Jaguars tight ends combined for seven touchdowns, the third most of any NFL team's group of tight ends. In '98, Jaguars tight ends accounted for 46 receptions and six more touchdowns, and in '99, they totalled 51 catches (with both Brady and Jones setting career highs) and five scores.
Hoaglin was drafted in the sixth round by the Cleveland Browns in 1966, and he broke into the starting lineup as a rookie. A versatile player, he spent the majority of his 11-year career at center. In 1969, his peers elected him to the Pro Bowl, and he put together a string of 69 consecutive starts in the late 1960s. He played seven years in Cleveland before being traded to Baltimore in 1973. He spent the following two seasons (1974-75) with the Houston Oilers before finishing his career in 1976 with the expansion Seattle Seahawks.
After retiring as a player in 1976, Hoaglin was hired by the Detroit Lions in 1978, coaching there through 1984. In 1985, he was hired by Bill Parcells in New York and a year later the Giants won their first Super Bowl. Hoaglin remained with the Giants through 1992, coaching on a second Super Bowl championship team in 1990, along with Tom Coughlin, who was then the Giants' receivers coach. Hoaglin re-joined Parcells in New England in 1993, coaching the Patriots' offensive line for four seasons. The Patriots allowed only 102 sacks in Hoaglin's four seasons.
Hoaglin was a starter at both center and linebacker at the University of Pittsburgh and was selected to play in the North-South All-Star game his senior year. He also earned two varsity letters in golf while in college. He received a degree in industrial engineering in 1968. He was born January 28, 1944 in Alliance, Ohio. He and his wife, Janet, have two children: Patricia Compton (3/5/68) and George III (Rick) (9/23/70); a daughter-in-law, Jocelyn Hoaglin; a son-in-law, Derek Compton, and two grandchildren: Andrew (5/28/87) and Kristina Compton (4/11/89).
COACHING BACKGROUND: 1978-84 Detroit Lions, 1985-92 New York Giants, 1993-96 New England Patriots, 1997-2000 Jacksonville Jaguars.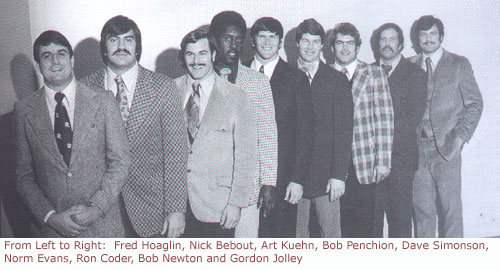 Presbyterian Men of the Church plan breakfast for November
The Presbyterian Men of the Church (First, Providence, Low Country) will hold its November breakfast at 8 a.m. Nov. 14 at First Church. Reservations are requested by Nov. 14 by calling Nancy at 681-3696. The cost is $7.
This month's speaker is NFL center Fred Hoaglin. Hoaglin has an engineering degree from the University of Pittsburg. He played 12 years, starting in 1966 in Cleveland, then for Baltimore, Houston, and Seattle. Once retired, he coached his position with the Lions, Giants, and Patriots, ending his career with the Jaguars as tight end coach.
Married with two grown children, the Hoaglins settled here on Hilton Head Island last spring. A longtime member of the Fellowship of Christian Athletes, Fred's talk is entitled: "Pro Football: A Christian athlete in the center of things."
The Pocket Book of Pro Football 1976
Edited by Herbert M. Furlow
The team's strongest segment. All-Pro Norm Evans still likes to play. His being dumped into the expansion pool has caused resentment among the Dolphins. Nick Bebout was the biggest man on the Atlanta offensive line last year, and sometimes started. John Demarie led Cleveland in its upset win over Cincinnati last November. A ten_year man, he can play both guard and center. Fred Hoaglin is a dedicated pro with 11 years. Last season he was the backup center at Houston and played on special teams. Bob Penchion started for the 49ers in 1975.
Life after football: No game, still pain
Source: Seattle Times
Sunday, December 17, 2006 - 12:00 AM
By Greg Bishop
Seattle Times staff reporter
Fred Hoaglin, 62, played center for three teams before he joined the original Seahawks in 1976. He had both knees replaced in 2002 and has undergone 10 total surgeries, including an angioplasty and a bypass surgery.
"We die," Hoaglin says. "We die off."
They know the averages, the short career lengths and reduced life spans. But they don't ask for sympathy, only understanding.
Six vets ink Seahawk pacts Saturday
Walla Walla Union-Bulletin
Sunday, July 18, 1976
John Thompson, general manager, said fullback
Bill Olds
, defensive end
Dave Tipton
, center
Fred Hoaglin
, linebacker
Don Hansen
and defensive back
Al Matthews
had all signed multiyear contracts.
The six signings leave the Seahawks with seven players who have not agreed to 1976 terms. All contracts so far have been on make-good terms, but no one has a no-cut contract. The Seahawks are less than a week from their first dress rehearsal which will be Saturday night at Joe Albi Stadium in nearby Spokane.
Collecting Fred Hoaglin?
1973 Topps #259