Dave Tipton was there!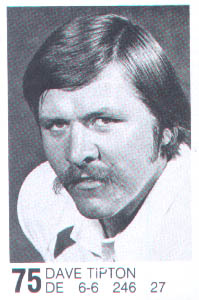 Seahawks
by Doug Thiel
Sunrise Publishing Inc.
The Seahawks were maidens no more. Now aggressive and now expectant sons of destiny, the defense put pressure on the 49er defense and defensive end Dave Tipton recovered a fumble on the 49ers 29 yard line. It was happening, the good guys were coming back.
New Hawks Welcome Move
By Don Fair
Seattle P-I Sports Writer
David Tipton, defensive end from San Diego capsuled his reaction as "shocked but very excited. I think Seattle is a fine area. My sister used to live there.
"At Stanford, I remember playing Washington in Seattle. And it rained the whole time. And that dome looks pretty nice."
Street and Smith's Pro Football 1977
There is room for improvement at end, where the incumbent starters are Dave Tipton and 35-year-old Bob Lurtsema. Behind them are Carl Barisish and Larry Woods.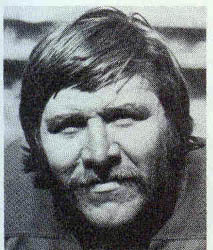 COLLEGE FOOTBALL: Stanford's Tipton joins rare class in Rose Bowl return
by Rick Eymer
Palo Alto Weekly
Friday Dec 31, 1999
As Stanford's recruiting coordinator, Dave Tipton has his hand in just about every aspect of the football program. On Saturday, Jan. 1, 2000, Tipton also will have a hand in history. Tipton becomes one of the rare few who played in a Rose Bowl (1971), then later coached in one for Stanford.
Stanford's Robert "Bones" Hamilton played in the 1934 and 1935 Rose Bowls, then coached in the 1941 Rose Bowl as the backfield coach.
"This has been a huge goal for me, getting back to the Rose Bowl as a coach," said Tipton, "and getting Stanford back to the Rose Bowl."
Tipton's career has come full circle. He's a native of Hollister and played defensive tackle for Stanford between 1967 and 1970. He went on to a pro football career with the New York Giants, San Diego Chargers and Seattle Seahawks before beginning a coaching career at United States International University in San Diego in 1977.
Tipton, who also coaches the defensive interior line, has been at Stanford longer than any other member of the coaching staff. This is his 11th season.
He was hired by Denny Green for the 1989 season, and stayed on through Bill Walsh and Tyrone Willingham.
He played for Hall of Fame coach John Ralston, who produced his own form of the English language when trying to motivate his troops.
"Sweat freely," Tipton said of one of Ralston's sayings. "What does that mean?"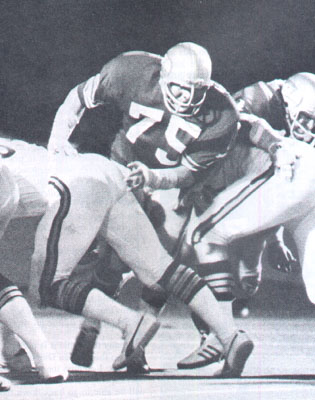 Ralston, who coached Stanford to Rose Bowl victories in 1971 and '72 behind quarterbacks Jim Plunkett and Don Bunce, left Stanford for a career in the NFL before returning for a final fling at San Jose State. He still maintains an office in the Spartans' media relations offices.
Tipton coached on the high school level, then at Oregon State and Cal State-Fullerton before settling in at Stanford.
In the 1971 Rose Bowl, he was one of the defensive stars, recording 12 tackles as Stanford, then known as the Indians, played its own version of bend, but don't break defense. Ohio State collected 439 total yards in the game, 380 on the ground, but could only manage 17 points, three in the second half.
"Ohio State hadn't played an offense like ours," said Tipton. "And Wisconsin hasn't faced an offense like ours."
Tipton was a member of the "Thunder Chickens," so named by former Stanford lineman Pete Lazetich, also on that 1971 Rose Bowl team. Tipton, in fact, was the inspiration for the name. He would run with his arms away from his body, almost like the dance craze of the 60s, "The Twist."
Lazetich said he named the group after a motorcycle gang in his hometown of Billings, Montana.
While the Thunder Chickens were part of the 1971 Rose Bowl lore, Tipton's coaching responsibities include the "Trench Dogs," so named by lineman Willie Howard, who will be unable to play in the 2000 Rose Bowl, yet will be remembered for giving the line it's nickname.
Instead of Howard, names like Andrew Currie, Sam Benner, Dorean Kass and Austin Lee will carry the banner of the Trench Dogs into the fray while the leader, Howard, remains on the sideline providing inspirational leadership.
Howard, who tore his ACL against Notre Dame, has put off surgery until after the Rose Bowl so that he could "walk around and have fun at the Rose Bowl."
Howard will be right there, beside Tipton, cheering his team on.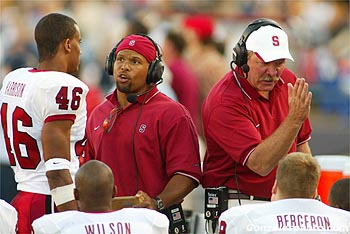 The veteran of the Cardinal coaching staff, Dave Tipton, is now in his 13th season on The Farm. Tipton, who was hired as part of Denny Green's staff on July 11, 1989, coached on Green's staff for three seasons (1989-91) and Bill Walsh's staff for three years (1992-94). He is in his seventh season as a member of Tyrone Willingham's staff.
Under Willingham, Tipton coaches the defensive interior line as well as taking on the responsibility as the program's recruiting coordinator. Under Green, Tipton coached the outside linebackers, while under Walsh, he moved over to coach the defensive line.
One of Tipton's pupils, DT Willie Howard was named First Team All-Pacific-10 Conference in both '99 and '00 and became only the fourth Cardinal defensive lineman to earn First-Team all-league honors in consecutive seasons. In 1999, Howard was also named winner of the Morris Trophy as the best defensive lineman in the Pac-10.
Tipton, born 4/23/49, was the defensive line coach at Oregon State in 1988. Prior to that stint, he was the defensive line coach and special teams coordinator at Cal State-Fullerton for four seasons (1984-87). While at Fullerton, he also served as the strength and conditioning coordinator.
From 1981 to '83, Tipton was the defensive coordinator at Sweetwater High School in National City, California. The '83 Sweetwater team recorded nine shutouts and won the CIF Championship. The '81 and '82 Sweetwater teams reached the CIF semifinals in the playoffs.
From 1978 to 1980, Tipton was the defensive coordinator at Bonita Vista High School in Chula Vista, California. His '80 squad was also a CIF semifinalist.
In 1977, Tipton was defensive line coach at United States International University in San Diego, California.
Tipton graduated from Stanford in May 1971 with a Bachelor of Arts degree in Political Science. He later received a Master of Arts degree in Education with an emphasis in Physical Education from Azusa Pacific University in August 1981.
While at Stanford, Tipton was named to the Coaches All-America team as a senior defensive tackle in 1970. He was also named All-West Coast and All-Pac-8. On January 1, 1971, while Jim Plunkett and mates were controlling the offense, Tipton and the remaining Thunderchickens were controlling the defense as Stanford defeated Big-10 Champion Ohio State, 27-17, to win the Rose Bowl.
Tipton, a native of Hollister, California, then began a six-year pro career when he was drafted in the fourth round by the New York Giants. He played three years with the Giants (1971-73), two years with the San Diego Chargers (1974-75), and one year with the Seattle Seahawks (1976).
Dave and his wife, Mia, have four children: Matthew (born 11/25/77), Megan (born 5/9/81), Will (born 8/14/84) and Amanda (born 7/16/87). Mia, Megan and Matt have sung the national anthem at Stanford football and women's basketball games. Matt, who graduated from Stanford in June, was a manager for the football team.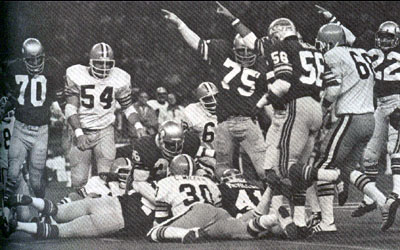 Name: David L Tipton
Email: dtipton@stanford.edu
Organization: University
Relationship: Academic staff
Position: Assistant Football Coach
Department: Men's Football Program
Work Phone: (650) 723-0896
Mail Code: 6150
Address: ATHLETIC ADMIN BLDG
Stanford, California, 94305-6150

Full Name: David Lance Tipton
Date of Birth: April 23, 1949
Hometown: Hollister, California
High School: San Benito
College: Stanford, 1971 (B.A., Political Science)
Graduate Degree: Azusa Pacific, 1981 (M.A., Education)
Wife: Mia
Children: Matthew,Megan,Will, Amanda
Playing Experience: DT, Stanford, 1967-70
DT, New York Giants, '71-73
DT, S.D. Chargers, '74-75
DT, Seattle Seahawks, '76
The Pocket Book of Pro Football 1976
Edited by Herbert M. Furlow
It might mean a rush line of Tipton, Owens, and Woods, but camp most likely will decide. No bargains were available in the expansIon draft. Woods was a backup with the Jets, and Tipton an occasional starter with San Diego; Owens used to start with the Saints, but he didn't in 1975. He's a pretty fair pass rusher, but he can be beat on the run. O'Neal might be a sleeper. He comes from Grambling and the Saskatoon Roughriders of the CFL, and he's a rush line end who likes to annoy quarterbacks. Baker and Barisich are possibles.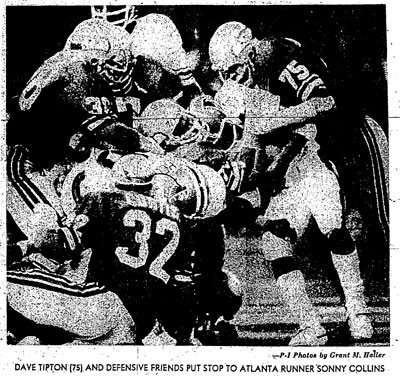 Six vets ink Seahawk pacts Saturday
Walla Walla Union-Bulletin
Sunday, July 18, 1976
John Thompson, general manager, said fullback
Bill Olds
, defensive end
Dave Tipton
, center
Fred Hoaglin
, linebacker
Don Hansen
and defensive back
Al Matthews
had all signed multiyear contracts.
The six signings leave the Seahawks with seven players who have not agreed to 1976 terms. All contracts so far have been on make-good terms, but no one has a no-cut contract. The Seahawks are less than a week from their first dress rehearsal which will be Saturday night at Joe Albi Stadium in nearby Spokane.
Collecting Dave Tipton?
1976 Post-Intelligencer mini poster, #24
1984 Topps USFL #7