Don Hansen was there!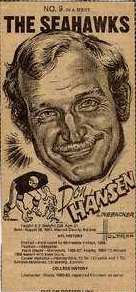 And so was the Seattle P-I with this early football card-style newspaper cut-out!
Pre-76
All-Big Ten selection
East-West, Hula Bowl and Coaches All-America all-star games
Drafted 1966 (Vikings)
Vikings' Rookie of the Year 1966
DNP 1968
Signed by Falcons 1969
Falcons' Player of the Year 1971
Held Falcons' fumble recovery record (11) in 1976

New Hawks Welcome Move
By Don Fair
Seattle P-I Sports Writer
The speaker was offensive tackle Norm Evans, 33, who has completed 12 National Football League seasons -- the last 10 with the Miami Dolphins, who have a championship history.
As he listened to the names of the players picked by Seattle, Evans commented, "Don Hansen (Atlanta linebacker), is that right? Son of a gun, how about that. Ken Hutcherson (Green Bay linebacker). Oh, he is a jewel. You'll love him."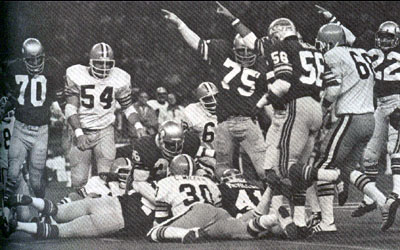 Seattle Draft: 'Good Job'
Seattle players choices were sent "welcome" telegrams from Patera yesterday. Later, all will receive personal telephone calls from the appropriate Seahawk assistant coach.
As a group, the newest Seahawks did not express disappointment or disgust at joining an expansion franchise.
Don Hansen, linebacker, Atlanta -- "I'm not disappointed, but I am surprised I was made available. I've never been to Washington and am looking forward to that. They've sold 59,000 season tickets? I hope the team is competitive enough to keep the fans there -- and it looks as if they have some good people on the team. If I had my choice of expansion teams, I wanted Seattle simply because I think I'll like the weather better."
Evansville Sports Hall of Fame
Graduate of Evansville's Reitz High School. Led Reitz' 1961 football team to an undefeated and un-scored upon season. All-Big Ten Conference linebacker at Illinois. Drafted by the Detroit Lions in 1965. During his 13-year career, he also played for the Minnesota Vikings, Atlanta Falcons and Green Bay Packers.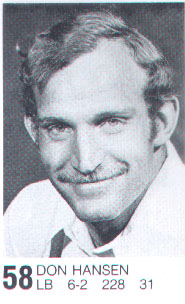 Pro Football 1976
by Larry Felser and Dave Klein
Source: August 1, 1976
First of all, Seattle had the right to choose 39 veterans from lists submitted by the established franchises. And Patera, for years the defensive line coach for the Vikings, was honestly surprised at the quality of players available, especially the defensive performers. Patera came away with linebackers, for instance.
Boy, did he come away with linebackers! His starting trio would appear to be Ed Bradley in the middle with Ken Geddes and Ken Hutcherson on the outside.
And behind them are former All-Pro Mike Curtis -- long-time Falcon starter Don Hansen and two rookies —Sammy Green of Florida and Randy Coffield -- of Florida State. It's a sound unit.
Bradley could have started for the Steelers if Jack Lambert wasn't there. Geddes did start, for the Rams, and he played championship ball. Hutcherson, a bit short but very quick and strong, will find a spot. Curtis, once All-Pro, will back up the middle and help the kids. Green, the No. 2 pick, will get into the thick of competition and could win a spot. Hansen, a veteran noted for meanness, will help. Jones made a big name for himself in college.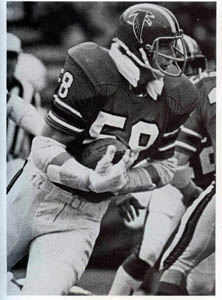 [Headline unknown]
August 1, 1976
The Seattle Times
By Gil Lyons
The Seattle Seahawks will strive for a "first" today when the National Football League opens shop in the Kingdome.
No expansion team has ever won a first exhibition test, dating back to the Dallas Cowboys in 1960.
Seattle's long-awaited debut in the NFL will begin at 1pm against the rebuilding San Francisco 49ers before what should be a capacity crowd of nearly 65,000.
Seattle's defense, led by such established players as Mike Curtis, Ken Geddes, Don Hansen, Eddie McMillan and Al Matthews, is rated fairly strong, although the pass rush is suspect. The top two rookies, Steve Niehaus at defensive tackle and Sammy Green at outside linebacker, will play.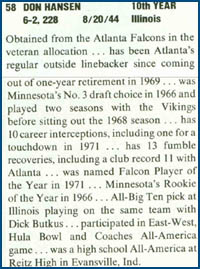 Sam, Mike and Will at Linebacker
By Don Fair
P-I Sports Writer
There there is the story of The Three Bears...Seahawks Version.
Their names are Sam, Mike and Will.
Goldilocks is any enemy trying to advance by run or pass.
The porridge?
That's the football.
Sam, Mike and Will are the names -- in Seahawks terminology -- for Seattle's three linebackers in the team's normal defensive setup.
Sam is the Strong Middle Linebacker.
Mike is the Middle Linebacker.
Will is the Weak Side Linebacker.
Or Sam for Strong, Mike for Middle, Will for Weak.
It also helps to know that the bears in this Seahawks saga will be clasd in uniforms numbered in 30s or 50s. And that's only when the defensive platoon is on the field.
Like a grizzly bear, linebackers should be strong as well as ferocious.
And they should be faster -- a lot faster -- than the average bear.
That sets the scene for the Seahawks' tale of The Three Bears.
As the Seahawks head into this, their first NFL season, their linebacker corps shapes up in this fashion:
First Unit -- Curtis at Mike, Hansen at Will, Geddes at Sam.
Second Unit -- Bradley at Mike, Hutcherson at Will, Riegel at Sam.
Green, the team's second-round draft choice, is a probable Mike. Coffield, another rookie, is working with Sam.
It's unlikely that those eight will survive to Seattle's counting league opener against St. Louis in the Kingdome on September 12.
"We'd like to keep six for the season," Peccatiello concluded, "but we can get by with five. And we're really pleased with the linebackers that we have, those we picked up in expansion in particular."
It's generally conceded this is the most solid position on the club, and Hansen, a nine-year veteran, is one reason.
"I've played all three positions -- Mike, Sam and Will," he said. "I started as a strong linebacker with Atlanta in 1969, but moved to the middle when our regular, Tommy Nobis was hurt. Back to strong in 1970, middle again in 1971 and a weakside a year later.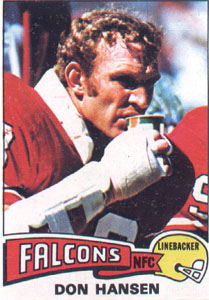 "I think Mike is the toughest. You face different blocking and you must drop off to either side to cover a pass. The strong or weakside linebackers drop off in only one direction.
"The Mike has more responsibility and it's more physical. More people are coming at you from the other team. And they are bigger men, the guards, the center and a tackle. Plus they get a running shot at you.
What about injures?
"Well, there is that," Hansen answered. "I've had just about everything hurt that could be hurt. I've had a number of knee injuries, andkles, a back, a jammed nerve in my neck, a concussion. But I've been fortunate too, in that I seldom missed more than two games."
In his career, Hansen has had 10 interceptions and 13 fumble recoveries. And, believe it or not, was a college teammate at Illinois with linebacker Dick Butkus. While the latter gained most of the publicity, Hansen has lasted longest in the NFL.
With people such as Hansen manning those Sam, Mike and Will spots, perhaps this story of The Three Bears will also provide many enjoyable moments for the Seahawks fanatics.
The Pocket Book of Pro Football 1976
Edited by Herbert M. Furlow
The backers may be the defensive guts of the Seahawks. Three were regulars last year, although Curtis had a knee problem at Baltimore. Geddes and Hansen both have starting experience. Bradley played be¬hind Lambert with the Steelers; Hutcherson was hurt most of last year. Rookie Green has top All-America notices.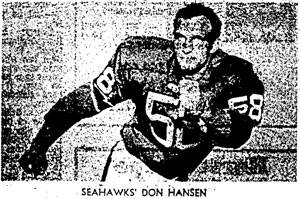 Seahawks cut three, including Bill Olds
Walla Walla Union-Bulletin
Wednesday, September 22, 1976
KIRKLAND, Wash. (AP) - The Seattle Seahawks have obtained their 45-man limit by cutting three players, including veteran running back
Bill Olds
, and trading linebacker
Don Hansen
to Green Bay Tuesday.
Coach Jack Patera of the National Football League expansion team said Olds, a starting fullback at Baltimore for several years before he was obtained in the veteran allocation draft, "didn't turn out for us."
"He hasn't improved," said Patera. "He's still making the basic mistakes."
Also cut were Alvis Darby, a rookie tight end, and defensive end Jim White, a veteran obtained from Houston. Patera said Darby "did a good job on special teams, but he was regressing on offensive play," while White asked to be released "because he thought we worked too hard here."
Hansen, obtained from Atlanta in the preseason, was traded to Green Bay for future considerations.
Six vets ink Seahawk pacts Saturday
Walla Walla Union-Bulletin
Sunday, July 18, 1976
John Thompson, general manager, said fullback
Bill Olds
, defensive end
Dave Tipton
, center
Fred Hoaglin
, linebacker
Don Hansen
and defensive back
Al Matthews
had all signed multiyear contracts.
The six signings leave the Seahawks with seven players who have not agreed to 1976 terms. All contracts so far have been on make-good terms, but no one has a no-cut contract. The Seahawks are less than a week from their first dress rehearsal which will be Saturday night at Joe Albi Stadium in nearby Spokane.
Wildcard
The Daily Northwestern
Mon., Oct. 18, 1976
By Tom Woodrow
Don Hansen, acquired from the Seattle Seahawks, has very quietly been doing one heck of a job at the position.
No one has called a lot of attention to it, but lately the opposition has not been running up the middle at will, has not been dumping the painful little passes over the middle, has not been able to zero in on a defensive weakness. It has been a quiet change, because that's the type of player the 10-year veteran Hansen is. Quiet, humble almost to a fault, and very professional. Hansen is not claiming his rightful share of the limelight for the simple reason that he believes he does not yet have the right to do so.
"It takes more than three games to become a member of the team," said the soft-spoken 32-year-old graduate of Illinois. "Typically, when a new guy comes in the other guys do more than their necessary part to help cover up. Our defensive line has been doing that. I can't imagine anyone having problems at my spot the way they've been playing.
"I was at a point in my career where I was happy just to be here, and I'll be happy with anything that happens to me," Hansen noted. "I will say this. I've been around long enough to know that the biggest part of winning is believing that you can win, and Green Bay had that winning attitude when I got here, even though they were 0-3.
"But like I said, nobody comes in and becomes a member of the family right away. Maybe at the end of the season."
Somebody really ought to tell Hansen, quietly if he prefers, that he is off officially accepted and respected as a member of the Packer family, because he has earned the recognition.
From the In-Box
From: Daniel J Wittig
Sent: Sunday, May 08, 2011 9:29 AM
Subject: Don Hansen
Hi,
Just came across you site while I was searching for former GB packer lb Don Hansen. I went to grade school with his daughter and was just thinking of the times I sat watching the packers of the 70's and early 80's while looking through all my autographs. They didn't win much, but I have some good memories of the Hansens.
Collecting Don Hansen?
Mini-poster from the Seattle Post-Intelligencer, #9.
1975 Topps #384