Bill Olds was there!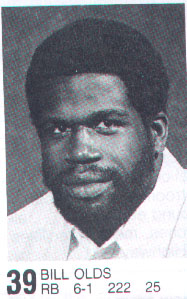 Seattle Draft: 'Good Job'
Joe Thomas, Baltimore general manager commented, "You got two fine people from us, Mike Curtis and fullback Bill Olds. Olds was a starter, but we had to expose some people. We did that because we have Roosevelt Leaks back along with Kim Jones and Ed Shuttlesworth, who played in Canada last year. We figured to get hurt least there."
Seattle players choices were sent "welcome" telegrams from Patera yesterday. Later, all will receive personal telephone calls from the appropriate Seahawk assistant coach.
As a group, the newest Seahawks did not express disappointment or disgust at joining an expansion franchise.
Of those contacted, Olds was the most disturbed. The man who spent last season blocking for Baltimore's top runner, Lydell Mitchell, said, "I'm not exactly happy. I hate leaving one of the most improving teams in the NFL. Seattle will take some rough knocks for five years. It'll be lean, but I'll have to live with it."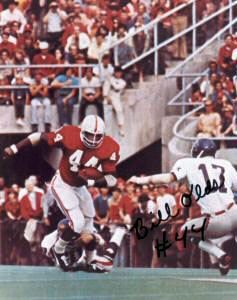 Seahawks
by Doug Thiel
Sunrise Publishing Inc.
Bill Olds, a running back who would be coming to Seattle from Baltimore with Curtis, didn't share the same idea about moving, "I hate leaving one of the most improving teams in the N.F.L. Seattle, as an expansion team, will take some knocks for five years. It will be lean. But it's one of those things. I'll have to live with it."
Some of the vets had trouble getting camp on time. Bill Olds, a fullback from Baltimore who really didn't want to leave his old team, arrived seven hours late.
Olds explained, "I got stuck in a traffic jam and got there (the airport) just in time to see the plane take off. They rescheduled me on another flight, but it was so tight I got there just as the plane was taking off again."
"The second time I called Seattle, but while I was on the phone they towed my car away." Olds got to pay a $12.75 towing charge an $10 ticket.
A number of the newly drafted vets knew little about Seattle except what they'd read or been told. You know all of those rumors: it rains all of the time; Indians attack irregularly but ferociously, and there are few means of transportation in or out of the cloudy wetness. In spite of the dismal environment which Seattlites are forced to face daily, by the end of the 1977 season 28 of a roster of 43 players had moved to Seattle. Strangely they wanted to live here.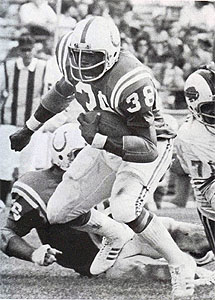 'Hawk Cuts Due Today
"Listen, there are a lot worse places to train. Ever been to Hiram, Ohio?
"It's located in a dry county which is bad enough. But it's surrounded by five more dry counties. At least it's not dry here. You have places to replace the fluids."
Guard John Demarie, a nine-year performer with the Cleveland Browns, made that perceptive observation yesterday.
What that means, most of all, is that the real scars-on-their-scars veterans are in the Seahawk training camp -- although full back Bill Olds may be slight ligher in the wallet. Olds was the last to of this 24-player contingent to report, arriving at 4 p.m. yesterday.
Under questioning, head coach Jack Patera admitted ll 24 were due in "by 9 o'clock this (Thursday) morning. No, missing flights is not a very good excuse."
What is Olds' penalty?
"We'll work it out," Patera said, "and keep it between...the players."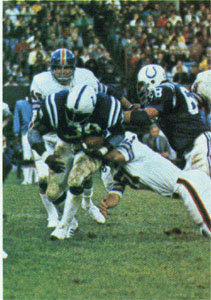 'Hawks Open Drills Today
By Don Fair
P-I Sports Writer
CHENEY -- While the Seahawks don't hold their first official National Football League practice until 9:30 a.m. today, they have already thinned their quarterback ranks from eight to seven.
And they switched their No. 2 college draft pick, Sherman Smith, from a wide receiver to a running back.
The Smith shift indicates the Seahawks are in a state of flux at running back. To use Patera's words, "The only back we have who was a regular is Bill Olds from Baltimore.
[Headline unknown]
August 1, 1976
The Seattle Times
By Gil Lyons
The Seattle Seahawks will strive for a "first" today when the National Football League opens shop in the Kingdome.
No expansion team has ever won a first exhibition test, dating back to the Dallas Cowboys in 1960.
Seattle's long-awaited debut in the NFL will begin at 1pm against the rebuilding San Francisco 49ers before what should be a capacity crowd of nearly 65,000.
Seattle is short of quality running backs. Bill Olds is the only experience ball carrier in the ranks, although rookie Sherman Smith and Gary Hayman have shown promise at halfback, particularly coming out of the backfield as receivers.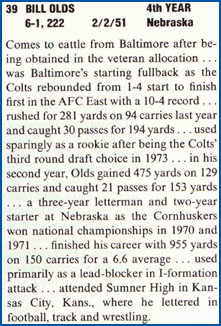 Pro!, The Official Magazine of the National Football League
Seahawks Edition
Aug. 14, 1976
"Like (Bill) Olds' problem. He was getting headaches from pressure on his jaw. So we removed the pressure on the mastoid area by putting in new cheek pads." - Harry Yalacki, Equipment Manager
Seattle Fans help Curtis Retain Zest
Source: Washington Post
16 September 1976
Paul Attner
Washington Post Staff Writer
The running back situation, however, is another question. Seattle has been starting veteran Bill Olds and rookie Andrew Bolton, the club's leading preseason rusher. But the Seahawks brought in four new running backs last week to challenge, including ex-Redskin Ralph Nelson.
Pro Football 1976
by Larry Felser and Dave Klein
Had the Seahawks done as well offensively, Atlanta and New Orleans might have filed suit for damages. But they won't have to, since the offense will be Patera's major source of headaches.
The quarterbacks are abysmal-Gary Keithely, Neil Graff and rookies Steve Myer of New Mexico, a fourth- round draft choice, and free agent Jim Zorn, either of whom could wind up with the job.
There are no running backs, unless you count Bill Olds, Gary Hayman and Kerry Marbury. The draftees are better, especially fullback Larry Bates of Miami, Fla.
The Seahawks can't go into the season with this collection. The only experienced hand is Olds, and his forte is blocking, not ground gaining. Hayman has size and speed, but rarely played for the Bills. Marbury played a couple of years in Canada. Bolton has to make the transition from a small school. Bates could be a find.
The Pocket Book of Pro Football 1976
Edited by Herbert M. Furlow
Former Colt Bill Olds is a great blocker. But Joe Thomas doesn't make many mistakes at Baltimore, and he undoubtedly was turned off by Olds's meager production of 281 yards plus 30 pass catches for only 194 yards. Not fast, he's still tough, and if Seattle can get a big runner, Olds will be a help. He should start. Gary Hayman was a wide receiver in college, but was switched to kickoff and punt returns by Lou Saban at Buffalo and was used sparingly behind 0. J. He's questionable. Kerry Marbury has had two years in the league plus a sensational junior year at West Virginia. He was leading the nation in college rushing when he got hurt. A possible starter but at five-ten and 180 pounds is really too small and too light.
Seahawks cut three, including Bill Olds
Walla Walla Union-Bulletin
Wednesday, September 22, 1976
KIRKLAND, Wash. (AP) - The Seattle Seahawks have obtained their 45-man limit by cutting three players, including veteran running back
Bill Olds
, and trading linebacker
Don Hansen
to Green Bay Tuesday.
Coach Jack Patera of the National Football League expansion team said Olds, a starting fullback at Baltimore for several years before he was obtained in the veteran allocation draft, "didn't turn out for us."
"He hasn't improved," said Patera. "He's still making the basic mistakes."
Also cut were Alvis Darby, a rookie tight end, and defensive end Jim White, a veteran obtained from Houston. Patera said Darby "did a good job on special teams, but he was regressing on offensive play," while White asked to be released "because he thought we worked too hard here."
Hansen, obtained from Atlanta in the preseason, was traded to Green Bay for future considerations.
Six vets ink Seahawk pacts Saturday
Walla Walla Union-Bulletin
Sunday, July 18, 1976
John Thompson, general manager, said fullback
Bill Olds
, defensive end
Dave Tipton
, center
Fred Hoaglin
, linebacker
Don Hansen
and defensive back
Al Matthews
had all signed multiyear contracts.
The six signings leave the Seahawks with seven players who have not agreed to 1976 terms. All contracts so far have been on make-good terms, but no one has a no-cut contract. The Seahawks are less than a week from their first dress rehearsal which will be Saturday night at Joe Albi Stadium in nearby Spokane.
Collecting Bill Olds?
1976 Topps #171