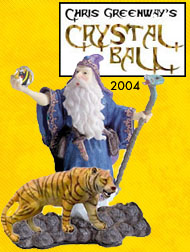 Throughout the 2004 season, Aussie Chris Greenway wrote his game predictions. They're all here! Round 1 | 2 | 3 | 4 | 5 | 6 | 7 | 8 | 9 | 10 | 11 | 12 | 13 | 14 | 15 | 16 | 17 | 18 | 19 | 20 | 21 | 22
Richmond V Collingwood Rd 1 2004 26/03/04 MCG (N)
And so it begins. After a long, hot Summer the first ball will be bounced in anger.
It is always difficult to pick a winner for any 1st round of the season. You don't have a lot to go on really. There can be a lot of departures and arrivals and other changes can happen at a club over the off season and that makes last years form a poor guide, pre season form really counts for very little when the real stuff starts.
Last season Collingwood were runners up and the Tigers wound up sharing space with the cellar dwellers. Very little changed at Magpieland during off season whilst down at Punt Rd the notable departure was versatile key position player Ben Holland to Melbourne and the acquisition of gun small forward and midfielder Nathan Brown from the Bulldogs. Holland had not returned well from a knee reconstruction and made only a small contribution in 2003 so should not affect team balance. Brown however had a sensational 2003 at the Bulldogs and his delivery should assist the tall forward line Richmond favours.
Neither the Pies or the Tigers have had a great preseason. Things started off brightly with a solid win over the Western Bulldogs, but went pear shaped after a shellacking from a fired up St Kilda and this brought the expected bucketing from the media along with a little extra sting from departing board member Tony Jewell. A narrow loss to the reigning premiers Brisbane in QLD was respectable, but something went badly wriong when Richardson kicked 6 against Carlton and we still lost that by over 30 points.
Collingwood have, if it is even possible, experienced an even worse preseason. The mother of all hidings against West Coast over at Subiaco and then unable to win a single game. They do have players out, but it just seems odd. I don't think they're foxing.
Now the injuries and outed players for Collingwood are important. They will be missing dual grand final players in former Brownlow medallist Shane Woewodin (hamstring) and also solid player James Clement (eye) and power forward Anthony Rocca (suspended) and their game plan will be affected, plus Josh Fraser will struggle against the deep Richmond big man department of Ottens, Stafford, Marsh and even Hall.
Richmond has pretty much a full list fit and ready to go. Hilton won't play, but he is unlikely to be missed, Matthew Rogers is in the same boat, but I can't see his presence making a great difference, I'd love for Duncan Kellaway to be fit to tag Nathan Buckley, but we'll have to go with Tim Fleming. On the plus side Darren Gaspar has come back well from a knee reconstruction, captain Wayne Campbell is recovered from an achilles tendon injury and unlike last year Brad Ottens is ready to rumble. Matthew Richardson's pre season form has been stunning with 13 goals in the last 2 practice matches and Nathan Brown's presence should add extra bite to a midfield boasting future champion Mark Coughlan and hardnut Kane Johnson.
Richmond really do match up well against this Collingwood line up and some people are tipping an upset. I'd love to, but I can't. We have the lineup, but we don't have the game plan. I'm tipping the Pies to fly over the line by 35 points.