Jeff Urczyk was there!
Seattle Picks Ex-Husky Quarterback
POCATELLO, IDAHO
SUNDAY, APRIL 11, 1976
IDAHO STATE JOURNAL
SEATTLE (AP.) - Others selected on the second and last day of the draft included
Bob Bos
of Iowa State, linebacker
Randy Coffield
of Florida State, punter
Keith Muehr
of Southwestern Louisiana, wide receiver
Ron Barnett
of Texas-Arlington, running back
Andy Reid
of Georgia and defensive back
Jarvis Blinks
of Northwestern Louisiana, and
Jeff Urczyk
of Georgia Tech.
Smith 'A Pleasure to Watch'
"Steve Raible (out with an injury) and Wayne Johnson (a free agent) have been the outstanding wide receivers. Raible and Sherman Smith dropped only one pass in the first five days of camp.
"Rookie guards Steve Duncanson (free agent) and Jeff Urczyk (16th round draftee) are among lower-ranked players who have a chance to stick a little bit longer."
Mike Berardino: Two Rudys share in legend of Irish
Web posted September 5, 1997
Source: Augusta Chronicle
By Mike Berardino
Sports Columnist
SOUTH BEND, Ind. -- Gather round, campers, it's time for an old football story. Call this one: A Tale of Two Rudys.
Surely by now you've heard of Rudy No. 1: Dan ``Rudy'' Ruettiger, the ex-Notre Dame walk-on who parlayed a 27-second football career into a one-man cottage industry.
It started with the 1993 movie Rudy, the uplifting story of one man's triumph over limitations and long odds. The movie, with Sean Astin in the lead, was popular. Then came the self-help books. Three of them, including Rudy's Rules: Game Plans for Winning at Life, which has sold more than 70,000 copies. Soon followed the motivational speeches.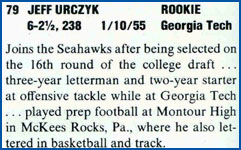 These days it's almost impossible to avoid the pint-sized Ruettiger, who incredibly enough has managed to elbow his way alongside ``Touchdown Jesus'' and ``We're No. 1 Moses'' and Rockne and Parseghian and Gipp in Fighting Irish lore.
About 21/2 years ago he moved with his wife to the Las Vegas area. Last year he made nearly 100 speeches around the world. This year he's scaled that back to 60. His speaking fee is $12,500. He has told his story in Germany, Italy, France and England. Australia is next.
Late next month you can catch him in Indianapolis at a day-long motivational seminar. He opens. Following him on the bill are Joe Montana, Christopher Reeve, George Bush and Colin Powell.
``I'm a common man who delivers a common message everybody understands,'' says the 49-yearold Ruettiger, who was 5-foot-61/2 , 185 pounds in his playing days. ``I have developed a way to deliver the power of the dream.''
Then there's Rudy No. 2. You probably haven't heard of him. Rudy Allen is his name, and the former Georgia Tech quarterback lives a quiet life in his hometown of Columbus, Ga. Now 43, he works as the human resources manager for Charbroil, a company that makes barbecue grills.
He, too, has seen the movie version of Ruettiger's life. His two sons, Justin and Rudy III, often beg him to rent it for them.
``Every now and then the boys and I will go get it and watch it,'' Allen says. ``They enjoy it. It's a great human interest story about a guy that had a dream and worked hard and it paid off.''
Folks still ask Allen about his role in the climactic scene. See, Allen was the unfortunate fellow the more famous Rudy sacked on Nov. 8, 1975 at Notre Dame Stadium. Allen was the man who made all of this - the movie, the books, the speeches - possible.
``Yep, I'm the other Rudy,'' Allen says with a sigh. ``He's a millionaire and I didn't get a penny.''
Allen chuckles softly. He's not bitter. Far from it. He just finds it sort of humorous that a human tackling dummy like Ruettiger could achieve sporting immortality while a legitimate, strongarmed, 6-4 quarterback like Allen is but a historical footnote.
They have never met, the Two Rudys, although they have come close several times.
Allen received an invitation to the Atlanta premiere of the movie but another obligation kept him from attending. Many years earlier, he had received a call from the men behind the movie - writer Angelo Pizzo and director David
Anspaugh, the same team that did Hoosiers. They asked him about the sack a little, tossed around some ideas about having him join the effort. But that was it. He never heard from them again.
``They must have heard the cash register ringing,'' Allen says.
Last fall, Ruettiger gave a speech at Auburn University. Afterward, a freshman approached.
``You know my uncle,'' Ronnie Pollard said. ``He says he made you famous.''
Ruettiger heard the name ``Rudy Allen'' and sent the freshman away with an autographed copy of his latest book.
The inscription read as follows: ``To Rudy. Thanks. Someday we will get together. God bless.''
Phone numbers were exchanged. Messages were left. But the Two Rudys have never hooked up, which is a shame.
They could be like Ralph Branca and Bobby Thomson, the old Brooklyn Dodger and New York Giant who combined for the Shot Heard 'Round the World in 1951. They could travel the country, do card shows, tell the story over and over. They are inextricably linked anyway, so why fight it?
Columbus Rudy could set the scene. Second-and-10 from the Tech 20. Clock winding down in a 24-3 loss. Time for only one more play, one last desperate heave downfield. He could throw in the part about the chant of ``Ru-DEE, Ru-DEE'' that kept growing louder and louder from the stands.
``I was thinking these people must be crazy,'' Allen says. ``Certainly these people can't be chanting for me.''
Vegas Rudy could describe how he lined up at right defensive end, replacing future NFL first-round pick Ross Browner. He could even demonstrate how he pawed at the turf, exploded at the snap and put a nifty inside move on Jay Garrett, Tech's backup left tackle. (Jeff Urczyk, the starter, had suffered a torn ACL in the first half, or the Two Rudys might never have had their moment.)
Columbus Rudy would mention how he had his back to the oncoming rusher, how he never even saw Ruettiger coming, and how Tom Crowley, the halfback, tried to throw a block but missed.
You know the rest. The famous Rudy makes a flying leap into immortality. He lands on top of the Rudy nobody knows. The final gun sounds, the game ends and the pint-sized hero is carried off the field on his teammates' shoulders.
That's our tale of Two Rudys. Their alma maters play here Saturday afternoon at newly refurbished Notre Dame Stadium, but neither man will attend.
Ruettiger has a speech to give in San Diego. Allen has some work to do around the house.