Andrew Bolton was there!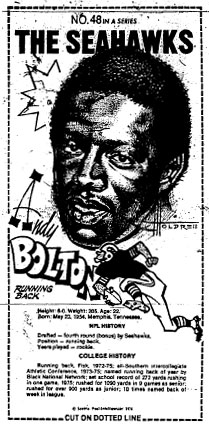 He led the Seahawks in rushing during the pre-season of 1976.
Pre-76
Rushed for 1,090 yards in 9 games in 1975
Drafted 1976 (Seattle)
First running back drafted by Seattle
1976
13 carries for 4 yards, no TDs
12 of the carries in week 1 against St Louis
Released after week 5 game against Green Bay
Thrill-a-Minute
Seattle Post-Intelligencer
By Royal Brougham, Associate Editor
September 1, 1976
They came of age Sunday afernoon.
Jim Zorn, the kid quarterback; Ron Howard, a re-cycled basketball player; the sometimes erratic place-kicker Don Bitterlich, hula-hips Gary Hayman; handy Andy Bolton and a rock-ribbed Seattle defense turned an error tainted free-for-all into a dramatic victory.
Seahawks
by Doug Thiel
Sunrise Publishing Inc.
In the 1976 college draft we also got
Jeff Lloyd
in the third round plus two third round bonus choices,
Rick Engles
and
Don Bitterlich
. In the fourth round Seattle chose
Steve Meyer
at quarterback;
Randy Johnson
, an offensive guard, was a bonus choice as was Andrew Bolton. In the fifth round
Don Dufek
,
Ernie Jones
and
Larry Bates
came to the Seahawks.
The other collegians drafted were Alvis Darby, Lodie Dixon, Larry Shipp, Bob Bos, and Randy Coffield.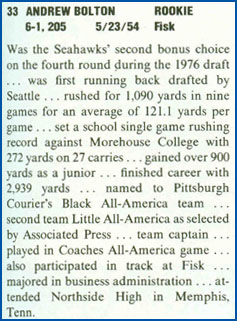 Players Sign With Seahawks
POCATELLO. IDAHO
SUNDAY, JUNE 20, 1976
IDAHO STATE JOURNAL
SEATTLE (AP) – Three more players—two draft choices and a free agent—have been signed by the National Football League Seattle Seahawks, General Manager John Thompson of the first-year expansion team said Friday.
The signees include running backs Andrew Bolton from Fisk University, a fourth-round bonus pick and the first running back drafted by: Seattle, and Sears Woods from North Texas State, a 12th-round pick, and free agent wide receiver Ron Barnett from Texas-Arlington.

Source: Unknown
Exhibition game - 1976: On first down Seattle lost 15 yards when Zorn was called for intentionally grounding the ball. But two plays later he hit Andrew Bolton with a 21-yard pass to the 15 and followed with an 11-yard pass to Sherman Smith at the three. Two plays later he hit Howard, a Pasco native who played basketball at Seattle University, with the TD.
16 September 1976
The running back situation, however, is another question. Seattle has been starting veteran Bill Olds and rookie Andrew Bolton, the club's leading preseason rusher. But the Seahawks brought in four new running backs last week to challenge, including ex-Redskin Ralph Nelson.
First Cut of Seahawks' Roster May Come Today
By Don Fair
P-I Sports Writer
Andy Bolton, first rookie running back drafted by Seattle, had two breakaway bursts into the secondary before Patera's whistle froze the action.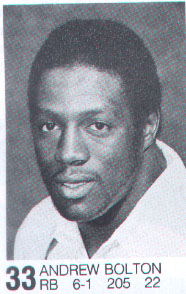 Pro Football 1976
by Larry Felser and Dave Klein
Had the Seahawks done as well offensively, Atlanta and New Orleans might have filed suit for damages. But they won't have to, since the offense will be Patera's major source of headaches.
The quarterbacks are abysmal - Gary Keithley, Neil Graff and rookies Steve Myer of New Mexico, a fourth- round draft choice, and free agent Jim Zorn, either of whom could wind up with the job.
There are no running backs, unless you count Bill Olds, Gary Hayman and Kerry Marbury. The draftees are better, especially fullback Larry Bates of Miami, Fla.
The Seahawks can't go into the season with this collection. The only experienced hand is Olds, and his forte is blocking, not ground gaining. Hayman has size and speed, but rarely played for the Bills. Marbury played a couple of years in Canada. Bolton has to make the transition from a small school. Bates could be a find.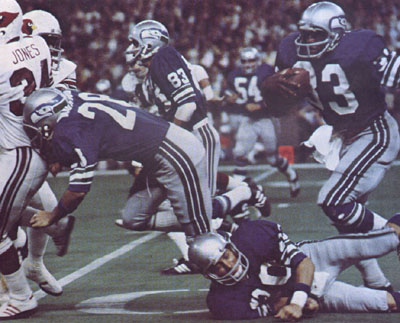 From: Walker, Chris D
Sent: Tuesday, November 08, 2005 10:14 AM
Subject: Question about a poster on Andrew Bolton's page
I am a writing an article on Andrew. The article is for our "Spotlight" on a Xerox employee and it will profile Andrew from NFL days to him being a Area Sales Manager in Atlanta.
It will speak to his success at Xerox and talk a little about his NFL experience. One notable is him being the first running back taken by the Seahawks in its inaugural year 1976. And from Fisk University no less.
I really like your "Spirit of 76" web site.
Thanks and God Bless.
Chris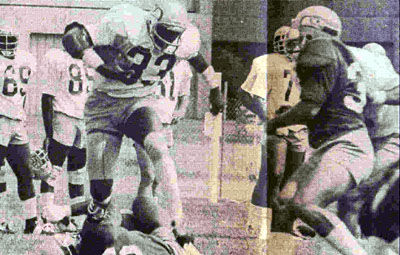 A Seahawk Blueprint: from expansion to contention
By Gary Huff
Source: Norm Evans' Seahawk Report
Oct. 29 – Nov. 4, 1979
The bulk of the Seahawks first team in 1976 came, of course, from the veteran allocations draft. Many of those drafted merely filled positions until the college draft could provide quality replacements. Only four of those expansion draftees,
Nick Bebout
,
Art Kuehn
,
Sam McCullum
and
Dave Brown
remain today.
The Hawks' first-year college draft, while tainted with a few drafting errors, added five quality players. The selection of Steve Niehaus, the team's initial first-rounder, must now be regarded as one of the team's larger draft mistakes. In the third and fourth rounds, where a team should come up with some fine down-the-road players, the Hawks bombed. Jeff Lloyd (DL) and Randy Johnson (OG) didn't survive training camp. Rick Engles (P), Don Bitterlich (K) and Andrew Bolton (RB) didn't last much longer. All of these players have had shots with other teams, but their careers are essentially over.
Despite these shortcomings, the `76 draft did produce some important members of the `79 team: Sammy Green, Sherman Smith, Steve Raible (all in the second round), Steve Myer (4th) and Don Dufek (5th).
Seahawks recall two players
The Berkshire Eagle
Friday, Oct. 15,1976
SEATTLE (UPI) – The Seattle Seahawks Wednesday announced the signing of two players who had been released earlier this season, cornerback
Ernie Jones
and defensive tackle
Larry Woods
.
To make room for Jones and Woods on the roster, the Seahawks placed rookie running back Andrew Bolton and first-year cornerback Ted Bachman on waivers.
Jones, a fifth-round draft choice from Miami (Fla.), was released prior to the season opener after playing with the Seahawks through the preseason schedule. A 6-3, 180- pounder, he started, against the Denver Broncos and saw action as a reserve in the five other exhibition games.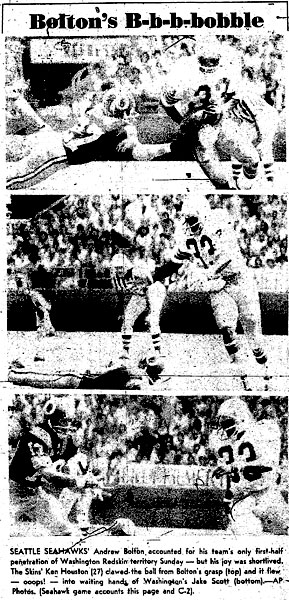 Collecting Andrew Bolton?
Sorry - no Andrew Bolton cards! But he did have a mini-poster from the Seattle Post-Intelligencer, #48.