Phil Clabo was there!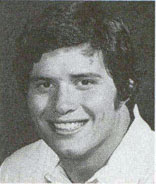 It was a short-term gig, but he was there!
1976
300-pounders invited to training camp: 0
Avg. starting O-lineman: 254
Resident heavyweight: Phil Clabo, 286-pound rookie from Tennessee cut before the season
Six vets ink Seahawk pacts Saturday
Walla Walla Union-Bulletin
Sunday, July 18, 1976
Also falling was the number of players. Twelve more were placed on waivers Friday, three of them college draft picks, as
Patera
trimmed his National Football League squad to 78 players — 31 less than when the training camp began last week at Eastern Washington State College. Patera handed walking papers to
Ron Barnett
, a wide receiver chosen in the 12th round;
Jeff Urczyk
, a guard picked in the 16th round, and 17th round choice
Chris Rowland
, a quarterback from Washington.
The cut list included free agents Sears Woods, running back; Phil Clabo. offensive tackle; Greg Den Boer, tight end; Ernie Richardson, linebacker, and Preston Roberts, wide receiver.
Tyson Clabo, who signed with the Broncos as a rookie free agent on April 26, is a big, powerful guard who can add valuable depth to Denver's offensive line. He earned first-team All-Atlantic Coast Conference honors his senior year at Wake Forest and was honorable mention the previous season. After moving into the starting lineup as a sophomore, Clabo started 37 of 46 career games played, including 36 consecutive. In additon to excelling on the field, Clabo twice made Wake Forest's Dean's List. A dual-sport athlete at Farragut High School, he earned six letters (three each) in football and basketball. He earned all-conference honors as a junior and senior in football and averaged a double-double-18 points and 10 rebounds per game-in basketball as a senior. His father, Phil, played football at the University of Tennessee from 1971-75, and his cousin, Neil Clabo, is a former NFL punter for the Pittsburgh Steelers and Minnesota Vikings. Clabo was born Oct. 17, 1981, in Knoxville, Tenn.