Greg den Boer was there!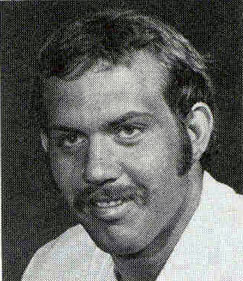 Drafted 1975 (Colts)
Pro!, The Official Magazine of the National Football League
Seahawks Edition
Aug. 14, 1976
Two players waived by the Seahawks have been picked up by other clubs. Running back Kerry Marbury was claimed by Cleveland and tight end Greg Den Boer signed with the NY Jets.
Wolverines in NFL Draft
With its outstanding football heritage, the University of Michigan has long been a source for the National Football League draft. Since the NFL's inaugural draft on Feb. 8, 1936, at the Ritz-Carlton Hotel in Philadelphia, 65 Michigan football players have been selected.
Michigan has had 31 first-round draft picks, beginning with former All-American Tom Harmon, who was the first overall selection in 1940 after winning the Heisman Trophy. In 1995, three Wolverines were chosen in the first round: tailback Tyrone Wheatley by the New York Giants, defensive back Ty Law by the New England Patriots and offensive tackle Trezelle Jenkins by the Kansas City Chiefs. In 1996, Tshimanga Biakabutuka was the draft's eighth player picked, Michigan's highest selection Desmond Howard was the fourth player picked in 1991 by the Washington Redskins.
1975 NFL
Rd. 8B Greg Denboer, TE
Baltimore Colts (187)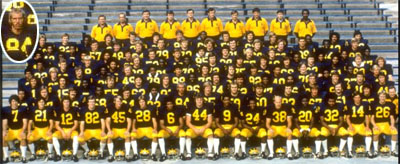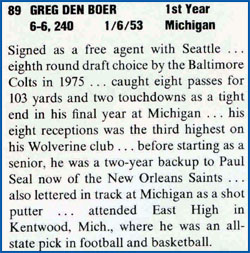 Michigan vs. Wisconsin
Bruising Football Series Sets Stage for Conference Season
by Bob Rosiek
Michigan Football Gameday Special Contributor
Source: MGo Blue
Oct. 19, 1974
Michigan 24, Wisconsin 20
at Madison, Camp Randall Stadium (78,911)
In one of the most exciting games in the history of the series, a record Camp Randall Stadium crowd watched an upset bid by a gritty Wisconsin squad come up just short. After Mike Lantry's 31-yard field goal put Michigan ahead 24-14, Wisconsin scored on a 26-yard pass from Gregg Bohlig to Jeff Mack with three minutes remaining in the game. The Badgers got the ball back, but the Michigan defense dug in to preserve the victory. The Wolverines got touchdowns from Chuck Heater (who also rushed for 101 yards), Greg DenBoer (on a pass from Dennis Franklin) and Gordon Bell. Michigan went on to win the conference title for the fourth straight season.
Six vets ink Seahawk pacts Saturday
Walla Walla Union-Bulletin
Sunday, July 18, 1976
Also falling was the number of players. Twelve more were placed on waivers Friday, three of them college draft picks, as
Patera
trimmed his National Football League squad to 78 players — 31 less than when the training camp began last week at Eastern Washington State College. Patera handed walking papers to
Ron Barnett
, a wide receiver chosen in the 12th round;
Jeff Urczyk
, a guard picked in the 16th round, and 17th round choice
Chris Rowland
, a quarterback from Washington.
The cut list included free agents Sears Woods, running back; Phil Clabo. offensive tackle; Greg Den Boer, tight end; Ernie Richardson, linebacker, and Preston Roberts, wide receiver.