Dwayne Crump was there!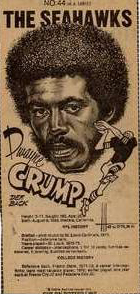 And so was the Seattle P-I with this early football card-style newspaper cut-out!
Pre-76
All-Pacific Coast Athletic Association selection 2 years
Worked as fashion consultant during college
Drafted 1973 (Cardinals)


Dwayne Crump played 42 consecutive games after being drafted by the Cardinals in 1973.
Fit to be tied
Most popular gift for men often doesn't suit them
Source: The Detroit News
By Nzong Xiong
Fresno Bee
Darrell Wong
Fresno Bee For years, grandfathers, fathers, brothers and sons have pasted on a delighted smile when accepting gift ties they'll likely wear only a time or two and only when the well-meaning people who gave them are present.
The ugly tie given as a gift has become a cliche, even though it probably happens less often than we joke about it. People who receive a lot of ties as gifts, however, have to learn how to handle the situation.
The Rev. Danny Jack, for example, receives a steady stream of ties as gifts from family, friends and members of his congregation at First Chinese Baptist Church in Fresno, Calif. So many ties, in fact, that he hasn't bought one in the quarter-century since leaving the seminary.
In those years, Jack has received ties with religious themes and others with cartoon characters. Some have been solid colors and others have had intricate designs woven into the silk.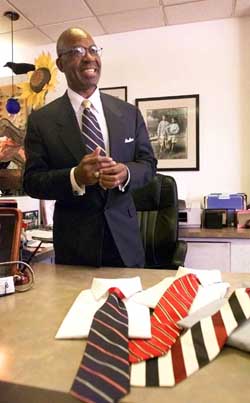 And some, of course, didn't quite suit his taste. "I've gotten ties that were odd colors," he says diplomatically and without singling out any ties or the people who gave them.
People remember their gift ties, though, so Jack says, "If it was a gift, I'll wear it once."
Same for certified public accountant Chris Ratzlaff of Fresno.
He recalls one tie he got as a Christmas gift that was "pretty bad." The light-colored tie "wasn't cut right and wrinkled."
He wore it once before hiding it away.
To avoid buying a tie someone doesn't want, tie sellers and wearers say you need to watch and listen to the person you intend to gift with a tie.
"It isn't necessarily that easy buying a tie, because a tie is such an expressive item and a visual part of a man's persona," says Gerald Andersen, executive director of the New York-based Neckwear Association of America.
Andersen advises people considering a gift tie to think not of themselves but of the person who will wear it.
Before you walk into a department store or men's specialty store, know what the person receiving the gift prefers in tie styles and colors.
"Pay attention to what they normally wear," says Ratzlaff, 31, who has more than 100 ties.
"If they wear expressive ties, don't get something too plain. If they're conservative, don't get something too expressive."
Most neckties are printed or woven silk with different patterns and weaves, including stripes, dots and small geometric shapes. Novelty ties have themes, such as wildlife, politics or cartoon characters.
With woven ties, the "weave is key," says Dwayne Crump, owner of Crump's, a men's specialty store in Fresno, Calif. It gives the tie texture, especially when it has several patterns.
"There's so much more to a tie than what the average eye sees," Crump says.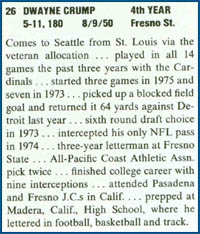 Ties usually are 53-57 inches long, but ties for taller men are 60-63 inches. Length is a fashion issue. Andrew G. Cochran's "Tying the Knot" (Abbottsford Publishing, $5.95) says the tip of the wide end of the tie, once the tie is knotted properly, ideally should reach the top of the belt buckle or waistband.
The experts say tie gift shoppers should know whether the man has a navy suit or a brown one and what color shirts he prefers when wearing a tie.
It's easier to match a tie with a suit or shirt than the other way around, says Ursula Croft, who works for Mulberry Neckwear in the men's department of Macy's.
If customers can obtain a shirt or jacket to bring in without arousing suspicion, that would help, she says.
Once customers are at the store, there are several things they should check for to ensure they get a quality tie.
"There's a lot of work that goes into a tie," says Greg Peterson, store manager of Rochester Big & Tall Clothing in Fresno.
He recommends that shoppers feel ties with their fingers.
If a tie's too thick, tying a tie might be more difficult, he says. But a thin tie can produce a knot that's unfashionably small.
By touching the tie, customers also can tell if it was made of good material, writes Cochran.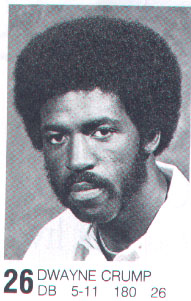 "The fabric should be smooth and almost slippery to the touch," he writes. "If it feels rough or catches on your fingers, the silk is probably inferior and should not be purchased. Lesser-quality silk is prone to fraying and puckering."
He suggests customers hold the tie at its midpoint and see if the ends twist.
If they do, don't buy it. The tie should be cut on the bias, across the grain of the fabric, in order to lie flat. And finally, people should turn the tie over to see if a bar tack, a short, staple-size stitching to help keep the tie from coming apart, is in place, he writes.
"When I go look at ties, I look for texture, for color," says the 31-year-old Ratzlaff, who has been buying his ties from Crump's for 10 years.
"Something that will draw a compliment."
Jack, who hasn't had to go shopping for ties in decades, gets gift ties on a steady basis. As of several months ago, the 49-year-old pastor had accumulated about 125 ties.
That's when his wife told him some had to go. They were taking up too much room, she told him. After a little spring cleaning, he donated about half of his tie collection to charity, leaving him with enough to go two months without repeating a tie.
"Some were narrow, some were really wide," Jack says of the ties with which he parted company. "I couldn't wait for them to come back into fashion."
Rolly Woolsey's now a Seahawk after expansion
The Idaho Free Press
March 1976
"Overall, we were a little surprised at some of the players available to us " said Patera, who swiped an excellent crop of linebackers in
Mike Curtis
,
Ken Geddes
, and
Ken Hutcherson
. "We may not have drafted 39 good football players but we have overall a very good nucleus."
The Seahawks not only drafted the nucleus of a good linebacking unit, but also Eddie McMillan from Los Angeles – former starters with their respective teams - plus Rondy Colbert from the New York Giants, Dwayne Crump from St. Louis and Dave Brown from Pittsburgh.
"The defensive backs and linebackers we came up with are very impressive " said Patera. "To have a good defensive you have to have experience and the only way to gel that is to get guys who have played. In Curtis, Geddes, Hutcherson Matthews and McMillan, we have guys which have played."
Seattle acquires Munson
The Daily Chronicle
Tuesday. September 7, 1976
Those cut from the Seahawk squad included veteran
Dwayne Crump
, who has started as right cornerback in the preseason games; defensive back
Larry Howse
; running backs
Ron "Po" James
,
Randy Johnson
and
Darwin Robinson
, and guards
Doug Payton
and
Rocky Rasley
. James and Rasley also are veterans.
Also cut was Billy Hardee. He played for Virginia Poly and is from Mulberry, Fla.
Collecting Dwayne Crump?
1976 Post-Intelligencer mini poster, #44