Randy Johnson was there!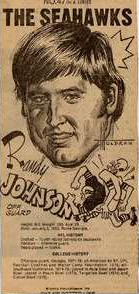 And so was the Seattle P-I with this early football card-style newspaper cut-out!
Pro Football 1976
by Larry Felser and Dave Klein
And if Patera really wants to stay up nights, he can think about his interior line. At the moment, the tackles will be Nick Bebout and Norm Evans. The guards are John Demarie and Bob Penchion. Fred Hoagin is at center.
While this group is less than impressive, there is no passable depth. Randy Johnson is a 244-pound rookie guard from Georgia, Art Kuehn is a rookie backup (for now) center from the Redskins and Gordon Jolley is a tackle reserve.
Bebout didn't play well with the Falcons. Evans, once a Pro Bowl is a bit old and may not show his ability on a weak line. Demarie should have a few years left. Penchion played well in spurts during his career. Hoaglin can play center and guard. Kuehn, one of George Allen's mystery names, played well at UCLA two years ago he never made the Redskins' active roster, joining the WFL instead. Johnson had good grades in college and could win a job. Jolley starting material.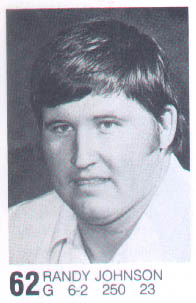 Seahawks
by Doug Thiel
Sunrise Publishing Inc.
In the 1976 college draft we also got Jeff Lloyd in the third round plus two third round bonus choices, Rick Engles and Don Bitterlich. In the fourth round Seattle chose Steve Meyer at quarterback; Randy Johnson, an offensive guard, was a bonus choice as was Andrew Bolton. In the fifth round Don Dufek, Ernie Jones and Larry Bates came to the Seahawks.
The other collegians drafted were Alvis Darby, Lodie Dixon, Larry Shipp, Bob Bos, and Randy Coffield.
Randy Johnson
Born: January 2, 1953 in Rome, Ga. High School: Pepperell (Lindale, Ga.) *** All-area at fullback and middle guard *** Finalist is state wrestling tournament's heavyweight division *** Letterman in basketball and baseball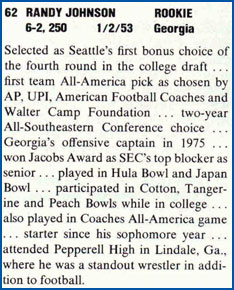 College: University of Georgia (1971-75) *** Consensus first-team All-America selection in 1975 at offensive guard (AP, UPI, Coaches, Walter Camp, Family Weekly, Kodak) *** Voted the Southeastern Conference's Most Valuable Player (among linemen) in 1975 by the Birmingham Quarterback Club *** Winner of 1975 Jacobs Blocking Award, given annually to the SEC's top blocker as determined by a vote of the league's coaches *** Atlanta Touchdown Club 1975 Southeast Area Lineman-of-the-Year *** First-team All-Southeastern Conference in 1975 *** First-team All-Southeastern Conference in 1974 *** Paved way for All-SEC tailback Glynn Harrison to rush for 959 yards in 1974 and 894 in '75 *** Cleared path for Bulldog backs to chalk up a school record 186 first downs on the ground and 3,267 yards rushing in 1975, the second most single-season yards in Georgia history *** Helped Georgia to 9-2 regular season mark and Cotton Bowl berth in 1975 *** Three-year starter for Bulldogs *** Member of bowl teams during all three of his campaigns *** Recepient of 1975 William K. Jenkins Award as Georgia's top lineman *** Winner of J.B. Whitworth Award, presented annually to Georgia's most outstanding lineman *** Took part in 1976 Hula Bowl and Japan Bowl *** Hall-of-Fame coach Vince Dooley says: "Of all the players I've had the priviledge of coaching, no one was more of a naturally-gifted blocker than Randy Johnson. He naturally had all of the basic fundamentals to be a great blocker and All-American, which he certainly was."
Professional: Tampa Bay Buccaneers (1977-1978)
A Seahawk Blueprint: from expansion to contention
Source: Norm Evans' Seahawk Report, Oct. 29 – Nov. 4, 1979
By Gary Huff
The bulk of the Seahawks first team in 1976 came, of course, from the veteran allocations draft. Many of those drafted merely filled positions until the college draft could provide quality replacements. Only four of those expansion draftees, Nick Bebout, Art Kuehn, Sam McCullum and Dave Brown remain today.
The Hawks' first-year college draft, while tainted with a few drafting errors, added five quality players. The selection of Steve Niehaus, the team's initial first-rounder, must now be regarded as one of the team's larger draft mistakes. In the third and fourth rounds, where a team should come up with some fine down-the-road players, the Hawks bombed. Jeff Lloyd (DL) and Randy Johnson (OG) didn't survive training camp. Rick Engles (P), Don Bitterlich (K) and Andrew Bolton (RB) didn't last much longer. All of these players have had shots with other teams, but their careers are essentially over.
Despite these shortcomings, the `76 draft did produce some important members of the `79 team: Sammy Green, Sherman Smith, Steve Raible (all in the second round), Steve Myer (4th) and Don Dufek (5th).
Seattle acquires Munson
The Daily Chronicle
Tuesday. September 7, 1976
Those cut from the Seahawk squad included veteran
Dwayne Crump
, who has started as right cornerback in the preseason games; defensive back
Larry Howse
; running backs
Ron "Po" James
,
Randy Johnson
and
Darwin Robinson
, and guards
Doug Payton
and
Rocky Rasley
. James and Rasley also are veterans.
Also cut was Billy Hardee. He played for Virginia Poly and is from Mulberry, Fla.
Collecting Randy Johnson?
1976 Post-Intelligencer mini poster, #47
1989 Georgia 200 best