Billy Hardee was there!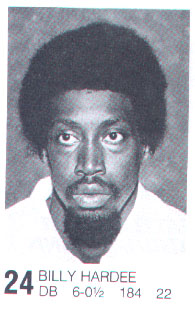 Pre-76
American Bowl all-star game
College letterman 3 years
Free agent

Source: Jogo, Inc. football card
Acquired during the regular season from the Toronto Argonauts for the playing rights to non-import linebacker Tim Berryman, Billy played the final 4 games of the season in a Rough Rider uniform.
This former Eastern All Star added strength and experience to the Ottawa secondary. Tied a club record with 3 interceptions in a single game (October 12 vs. Edmonton.)
Also came up with a key interception in the Grey Cup game vs. Edmonton...Contributed 13 solo tackles in 4 games...During his CFL career he has also seen action as a punt returner.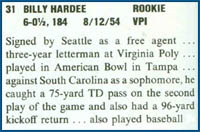 Stats From Total Football
BILLY HARDEE, Hardee, Abraham Bill, 6'0", 184, DB
Col: Virginia Tech HS: Mulberry (FL)
Birthdate
8/12/1954 Lakeland, FL
1976: Denver, 2 games
1977: NY Jets: 14 Games; Punt Returns 1 for 17yards; 17.0 yards total ; Kick Returns 7 for 148; avg. 21.1; Int 1 for 0 yards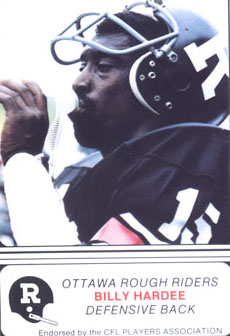 FHSAA initiates Student SID Program
By ROY FUOCO, News Chief
Source: Polk Online.com
HARDEE EARNS SCHOLARSHIP: Former Blue Devil Billy Hardee III has earned an athletic scholarship at Virginia Tech. Hardee, a standout defensive back at Winter Haven, began his college career at Florida Southern, but found he missed playing football. He transferred to Virginia Tech last year and walked on.. After an impressive spring, Hardee was given a scholarship. He is a redshirt sophomore and a backup free safety. Hardee's father is former girls basketball coach and assistant football coach Billy Jr., who was a former defensive back in the NFL and is a Virginia Tech grad.
From: E.M. Ribeiro
Sent: Wednesday, June 30, 2004 8:13 PM
Subject: Billy Hardee
Hello,
I just stumbled across your page on Billy Hardee. I'm sorry that I can not help you with any info on Billy. But I just wanted you to know that I am a huge fan of the Toronto Argonauts of the Canadian Football League. Mr Hardee was an excellent player for my beloved Argos back in the early 1980's. In fact, I recall him returning a missed field goal in Hamilton, for a touchdown. It was one of Billy's greatest moments with the Argonauts. If you would be as so kind to let him know, that the fans of the Toronto Argonauts want to wish him well. I would love to see Mr Hardee come up to Toronto one day, when the Argos have one of their Alumni games. All the best to you, and God Bless.
Regards
E.M. Ribeiro Die Hard Argonauts Fan
From: Joan Robinson
Sent: Monday, July 28, 2003 8:16 PM
Billy Hardee happens to be my uncle. this year we plan to have a special gift for his birthday. We want to have a football figure designed for him, but we are having trouble finding pictures and stats for him. If you have any additional info. on my uncle, I would be more than appreciative, and would gladly answer any questions you have about him, thank you
joan robinson
Seattle acquires Munson
The Daily Chronicle
Tuesday. September 7, 1976
Those cut from the Seahawk squad included veteran
Dwayne Crump
, who has started as right cornerback in the preseason games; defensive back
Larry Howse
; running backs
Ron "Po" James
,
Randy Johnson
and
Darwin Robinson
, and guards
Doug Payton
and
Rocky Rasley
. James and Rasley also are veterans.
Also cut was Billy Hardee. He played for Virginia Poly and is from Mulberry, Fla.
Collecting Billy Hardee?
1982 JOGO Ottawa #16