Larry Howse was there!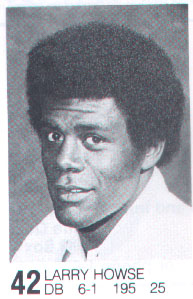 Pre-76
Free agent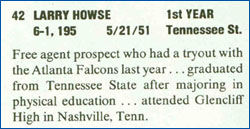 Seattle acquires Munson
The Daily Chronicle
Tuesday. September 7, 1976
Those cut from the Seahawk squad included veteran
Dwayne Crump
, who has started as right cornerback in the preseason games; defensive back
Larry Howse
; running backs
Ron "Po" James
,
Randy Johnson
and
Darwin Robinson
, and guards
Doug Payton
and
Rocky Rasley
. James and Rasley also are veterans.
Also cut was Billy Hardee. He played for Virginia Poly and is from Mulberry, Fla.
Note: We're looking for more information on Larry Howse! If you have any information to assist us, please drop us a line! It's our goal to eventually have stories on all the pioneers from the 1976 Seahawks!