Darwin Robinson was there!
First Cut of Seahawks' Roster May Come Today
By Don Fair
P-I Sports Writer
The fastest players by position were:
Darwin Robinson
, running backs;
Rolly Woolsey
, defensive backs;
Jerry (Horse) Lee
, defensive linemen;
Steve Duncanson
, offensive linesman;
Greg Gibson
,
Bill Lide
, wide receivers;
Rick Engles
, kickers; and
Scott Christman
, quarterbacks.
Seattle acquires Munson
The Daily Chronicle
Tuesday. September 7, 1976
Those cut from the Seahawk squad included veteran
Dwayne Crump
, who has started as right cornerback in the preseason games; defensive back
Larry Howse
; running backs
Ron "Po" James
,
Randy Johnson
and
Darwin Robinson
, and guards
Doug Payton
and
Rocky Rasley
. James and Rasley also are veterans.
Also cut was Billy Hardee. He played for Virginia Poly and is from Mulberry, Fla.
'The Play' made Trojans historic winners in 1971 Boot Hill Bowl game
September 16, 2011
Source: DSU Athletics
Darwin Robinson's 80-yard catch of a Daryl Fletcher pass with a little over five minutes left at the Boot Hill Bowl game on Dec. 4, 1971, along with a stiff defensive stand after that, gave Dakota State College a comeback 23-20 win over Northwestern Oklahoma State of Alva, Okla.
With that win at Dodge City, Kansas, DSC's Trojans became the first South Dakota college football team to win a postseason bowl game.
As 'The Big Play,' then quarterback Fletcher remembers it this way:
"We had a third-and-10 on the previous offensive series, and I threw a pass to Dan (Stratton). It went incomplete, but as I threw it, I saw that Darwin was open."
"Two Northwestern Rangers were guarding me at the time," added Stratton, a Wentworth native.
Fletcher goes on, "I told Darwin back on the sidelines after that series, I was going to him on the next series. Darwin was a swift runner and he caught the ball in stride (at the 45-yard line) on the first play from scrimmage."
"Darwin was damn fast when he scored," tacked on Stratton.
Coach Lee Moran remembers the play quite well.
"Both Daryl and Darwin could make things happen. We wanted to get the job done right then and there. Really, that play had worked for us all season," said Moran.
SDIC All-Conference PlayersNorthwestern Oklahoma State had a 20-3 lead at halftime. Dakota State's only score in the first half was a 30-yard field goal from Jim Ferguson.
The running of both Mike Reed and Fletcher, however, brought the Trojans back in the second half.
Early in the third quarter, Reed bullied his way into the end zone from four yards out. Late in the period, Fletcher raced 35 yards to pay dirt, cut NW Rangers' lead to just four points, 20-16.
At the end of the game, Fletcher was its Most Valuable Player. The Hartford, S.D. native ended up completing 15 of his 26 passes for 216 yards. Robinson, a former Redfield Pheasant, snatched eight of Fletcher's passes for 155 yards.
The win gave Dakota State a 9-2 mark, while Northwestern Oklahoma State settled for a 7-4 record.
After the season was over, Moran was named District 12's coach of the year and he was then selected as the NAIA's coach of the year.
These days you can catch Fletcher mowing lawns and playing golf in the Elk Point area. Last year, he retired from teaching and coaching in the Elk Point school system. He was a one-time president of the South Dakota Coaches' Association.
Both Robinson and Stratton gained shots at playing in the National Football League. Today, Robinson is the general manager of 10 insurance agencies in the West Fargo, N.D. area after a banking career in Redfield. Stratton is involved in agriculture. He has worked at the Chester Farm Service for nearly 10 years.
Coach Moran and his wife Maxine have lived in the Minneapolis area for the past few years. They have been involved in sporting goods sales for almost 35 years. They have operated Winning Edge Sales, focusing now in representing Cutters Performance Gloves.
DSU Historical Archives
Darwin Robinson - Athletic Hall of Fame Inductee 1995
Darwin Robinson, a 1974 graduate of Dakota State, is currently a Senior Vice President of Marketing and Operations at Community First Insurance in Redfield, South Dakota.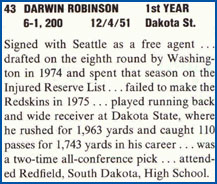 While at DSU, Robinson was a recipient of the Karl Mundt Scholarship. He was captain of the track team in 1973 and 1974. In 1972, Robinson was 4th in the NAIA Decathlon and was an NAIA All-American. He followed in 1973 with 3rd in the NAIA Decathlon and again was named All-American. He still holds the DSU Decathlon record of 6,637 points which he set in 1973.. In 1974, he was co-captain of the football team. He was All-Conference in 1972 and All-Conference and All-District football in 1973 and 1974.
In Robinson's senior year at DSU, he carried the ball 192 times for 1,018 yards for an average of 5.3 yards per carry. He was the first player to ever pass the 1,000 yard mark in one season. He led the Trojan team that year with 11 touchdowns and was the leading kickoff and punt returner. He holds DSU football records in most carries in a game, 46 vs. Huron; most catches in a game with 9 vs. DWU; and most catches in a career with 110. Robinson was a sophomore on the 1971 team that won the Boot Hill Bowl and became the first and only South Dakota college team to win a post-season bowl game.
In 1974, Robinson was drafted by the Washington Redskins in the eighth round. In 1976, he played for the Seattle Seahawks. Robinson was inducted into the South Dakota Intercollegiate Hall of Fame in 1987.
Where are they now?

Darwin has been in the insurance business since 1980. Over the years, he's enjoyed the relationships he's built with clients and companies.
Darwin grew up on a farm in central South Dakota. He graduated from Dakota State University. He has one married son and grandchild in Denver, C.O. He enjoys golfing, hunting, fishing and socializing with friends and family on his time off.
Bucket List: 1. Travel and play golf all over the country. 2. Go on a hunting trip in Africa.