Greg Gibson was there!
Pre-76
None
Free agent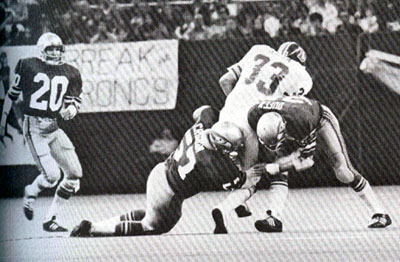 First Cut of Seahawks' Roster May Come Today
By Don Fair
P-I Sports Writer
The fastest players by position were:
Darwin Robinson
, running backs;
Rolly Woolsey
, defensive backs;
Jerry (Horse) Lee
, defensive linemen;
Steve Duncanson
, offensive linesman;
Greg Gibson
,
Bill Lide
, wide receivers;
Rick Engles
, kickers; and
Scott Christman
, quarterbacks.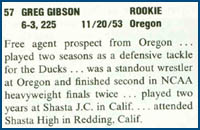 Opportunity knocked for one Marine Olympian. Now he is making sure it knocks for other U.S. Olympic hopefuls.
Source: US Marine Corps
By Cpl. J.J. Timmins, USMC Recruiting Command, Washington
Marine GySgt. Greg Gibson's favorite wrestling move is the "gut wrench" -- a difficult maneuver taking a lot of strength and skill. Today, however, the 1984 Olympic Silver Medalist has a different move -- promoting support of United States athletes headed toward the 1996 Olympics in Atlanta.
Gibson, a 17-year veteran of the Corps, was "recruited" by the U.S. Olympic Committee to help promote the sale of Olympic Coins, produced by the U.S. Mint, which is expected to raise nearly $57 million to support the Olympics and participating U.S. athletes. The coins, which are legal tender, come in gold, silver, and cupronickel and depict various Olympic events.
The Silver Medalist's unique temporary duty assignment provides him an opportunity to assist other young athletes on their way up the Olympic ladder and ties in with something he believes in -- helping young athletes.
"I had the advantage of getting a good foundation in wrestling knowledge from a coach in high school," Gibson explained. "But a lot of potential Olympic athletes can't make it without proper guidance, and when people purchase these coins, some of the money helps support training and coaching costs."
When Gibson, originally from northern California, came into the Corps in 1978 to be a corrections specialist, he didn't know the Marines would provide him the chance for Olympic glory. A wrestler and football player in high school and college, Gibson tried out for pro football with the Seattle Seahawks, the San Francisco 49ers and the Philadelphia Eagles. For a short time, he worked as a fireman. When he went to boot camp at Marine Corps Recruit Depot San Diego, his athletic prowess made him the subject of a base newspaper article after he broke the time record for completing the famous Marine obstacle course.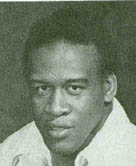 Gibson completed corrections school, and was assigned to Quantico, Va, home of the USMC wrestling team. Grateful for the opportunity he had, he made sure he was in "tip top shape."
"I felt like I was on a mission to do my best," Gibson said. "On the team, we had two hours of practice in the morning, two hours in the afternoon, and then individual training. Besides that, I did weightlifting and running, ate all the right foods, and went to sleep at 7:00 every night," he said.
His efforts were soon to pay off -- he competed in the 1980 World Cup wrestling tournament and became the first American ever to win a gold medal in the Greco-Roman wrestling style.
"That was one of my proudest moments," he said. "I pinned everyone in the tournament and beat a world champ in the finals." The grappler eventually claimed three Greco-Roman world cups.
Gibson's wrestling career, however, came in second to his mission as a Marine. In 1990, he deployed to Saudi Arabia to help build a corrections facility for U.S. forces. The only wrestling Gibson did in the Middle East was done in an air raid shelter with other Marines to thwart boredom.
Recently, Gibson took center stage during the half-time ceremony between the Washington Bullets-Atlanta Hawks game to present Olympic commemorative coins to members of the USA's National Women's Basketball Team.
Resplendent in Dress Blues, with his Silver Medal around his neck, Gibson calls his assignment a special one. "With this being the Olympics Centennial, the coins are especially worthy to hand down to children and grandchildren in the future," he said, "and it is a chance to pay back some special people. Wrestling is a science. It's not just being strong. You have to know how to wrestle, and the Marine Corps gave me the opportunity to learn and excel."
National Wrestling Hall of Fame
Greg Gibson
Wrestling Results
3-time USA Senior Freestyle champion
2-time USA Senior Greco-Roman champion
2-time NCAA Division I all-American
1984 Olympic Greco-Roman Silver Medalist