Rick Engles was there!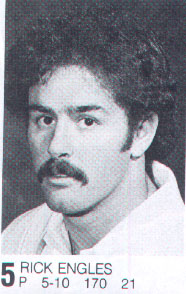 Pre-76
First team All-America selection (voted by The Sporting News)
All-Missouri Valley Conference selection
Drafted by Seahawks (3rd round)
Waiver Deadline May Help
Seattle Post-Intelligencer
August 24, 1976
Punter Rick Engles is officially moved in a new apartment with his wife after his dad, Elmer Engles, hired a U-Haul truck, towed Rick's car behind it, and drove the 2800 miles from Tulsa to Seattle in four days. The elder Engles arrived Sunday Night.
Street and Smith's Pro Football 1977
There were nine punters who finished ahead of Rick Engles' 38.3 average in the National Conference, where Seattle competed last year.
'Hawks Open Drills Today
By Don Fair
P-I Sports Writer
Punter Rick Engles is among the rookie candidates. Although he is to play for the College ALL-Stars, he won't report to that camp for a few days.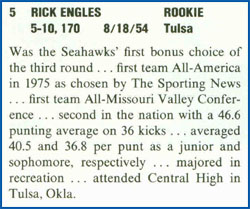 First Cut of Seahawks' Roster May Come Today
By Don Fair
P-I Sports Writer
The fastest players by position were:
Darwin Robinson
, running backs;
Rolly Woolsey
, defensive backs;
Jerry (Horse) Lee
, defensive linemen;
Steve Duncanson
, offensive linesman;
Greg Gibson
,
Bill Lide
, wide receivers;
Rick Engles
, kickers; and
Scott Christman
, quarterbacks.

Seahawks History
By Bob Pruitt
Source: Inside the Seahawks
Vol. 1, No. 14
November 7, 1986-November 13, 1986
Atlanta scored first, an 18-yard field goal, after Seattle quarterback
Jim Zorn
fumbled on the Seahawk 9 yard line. Then Seattle made its one "unassisted" scoring drive on the following kick-off.
Sherman Smith
capped the 80 yard drive by hauling in a 21 yard TD strike from Zorn. Zorn passed for another touchdown to
John McMakin
only seconds later, after
John Leypoldt
's kick-off was fumbled by Rick Byas on the Falcon 26.
The third quarter began with a Seahawk drive being stalled near mid-field. Rick Engles punted the ball to the Falcon 6, where Rolland Lawrence took it in and was forced to run for his life by the exceptional Seahawk coverage. With Don Dufek immediately in his face, he retreated laterally back near the end zone where he was caught by a pursuing Dave Brown, who nailed him for the safety.
The next two Seahawk touchdowns were results of great play by the defensive secondary. The first was the Matthews' interception return for 6 points. The other was a Sherman Smith breakaway touchdown run of 53 yards following Brown's second interception.
Seahawks 30-Falcons 13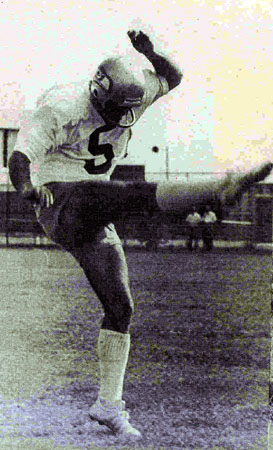 Raiders a real kick again on Day 2 as plenty of big names go late
After pulling the biggest surprise of the first round by choosing kicker Sebastian Janikowski with the 17th overall pick, the Raiders went for a punter in the fifth round Sunday when they took Shane Lechler of Texas A&M, who averaged nearly 47 yards per kick last season.
"This is something we needed to improve on," coach John Gruden said of his team's kicking game.
So he went out and took two kickers with his first four picks.
Believe it or not, the Raiders aren't the first team to spend relatively high picks on kickers. In 1976, its first year in the NFL, Seattle spent two third-round picks on kickers -- punter Rick Engles and place kicker Don Bitterlich.
The other 30 teams spent the second day of this draft improving in more conventional ways.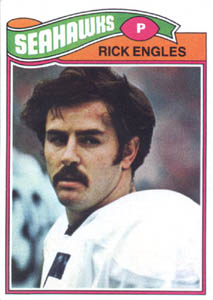 From the Unconfirmed Files:
Rick can be found in Tulsa, at Machinery Resources (where he is Owner and Salesman). He works hard and tries to make all of his customers feel like part of the MRI family.
Street and Smith's Pro Football 1977
1976 Leaders and AFC Ratings
Scoring - Leypoldt, 43 points on 19 XP, 8 field goals - 23rd
Rushing - Smith, 119 carries for 537 yards, 4.5 Avg, 4 TDs - 19th
Passing - Zorn, 208 of 439 attempts for 2571 yards, 12 TDs - 15th
Receiving - Largent, 54 for 705 yards, 4 TDs - 3rd
Interceptions - Brown, 4 for 70 yds, 17.5 Avg - 14th
Punting - Engles, 80 punts, 38.3 Avg., longest 55 yards - 10th
Punt Returns - Blackwood, 19 for 132 yds, 6.9 Avg - 13th
Kickoff Returns - Ross, 30 for 655 yds, 21.8 Avg - 11th
Source: Washington Post
March 4, 1979
Philadelphia Eagle Coach Dick Vermeil says he expects to lose a middle-round draft choice or to pay a sizeable fine for "stashing" punter Rick Engles last season. NFL Commissioner Pete Rozelle has received the results of an investigation of the incident from his security chief, Jack Danahy, a report that says the Eagles violated NFL rules. Rozelle has met several times with the Eagles, but has not yet reached a decision in the case, according to a league spokesman.
A Seahawk Blueprint: from expansion to contention
By Gary Huff
Source: Norm Evans' Seahawk Report
Oct. 29 – Nov. 4, 1979
The bulk of the Seahawks first team in 1976 came, of course, from the veteran allocations draft. Many of those drafted merely filled positions until the college draft could provide quality replacements. Only four of those expansion draftees,
Nick Bebout
,
Art Kuehn
,
Sam McCullum
and
Dave Brown
remain today.
The Hawks' first-year college draft, while tainted with a few drafting errors, added five quality players. The selection of Steve Niehaus, the team's initial first-rounder, must now be regarded as one of the team's larger draft mistakes. In the third and fourth rounds, where a team should come up with some fine down-the-road players, the Hawks bombed. Jeff Lloyd (DL) and Randy Johnson (OG) didn't survive training camp. Rick Engles (P), Don Bitterlich (K) and Andrew Bolton (RB) didn't last much longer. All of these players have had shots with other teams, but their careers are essentially over.
Despite these shortcomings, the `76 draft did produce some important members of the `79 team: Sammy Green, Sherman Smith, Steve Raible (all in the second round), Steve Myer (4th) and Don Dufek (5th).
Steelers sign Rick Engles
EL PASO HERALD-POST
Friday, December 16, 1977
PITTSBURGH (UPI) - Punter Rick Engles, who was with the Seattle Seahawks last season, was signed by the Pittsburgh Steelers Thursday following a tryout.
Engles is scheduled to work out with the team today prior to the Steelers' departure later in the day for San Diego, where they play the Chargers Sunday.
Engles was brought in for a tryout because a knee injury made Bobby Walden questionable for Sunday's game. The Steelers also could use quarterback Terry Bradshaw and kicker Roy Gerela to help with the punting duties.
It was expected Walden, 39, will retire after this year.
Engles, who played at Tulsa, was the Seahawks' third-round draft selection in 1976. In 14 games with the Seahawks last season he had a punting average of 38.3 yards.
PRO CHARTS
By Murray Olderman
The Albuquerque Tribune
Saturday, September 17, 1977
Seattle Seahawks Prospectus
In second year of existence, Seahawks opted for draft choices instead of chance at Tony Dorsett, who probably wouldn't have signed with them. Coach Jack Patera actually did good guiding expansion team to two victories in '76. Whole concentration is building on youth.
Had some pleasant surprises on offense. Now they need more bodies to weld the defense.
Kicking,Secondary: Just so-so with Rick Engles punting and John Leypoldt, who was dropped by Buffalo, doing the field goal booting. Lyle Blackwood and Oliver Ross, couple of journeymen have been handling the kick returns, Newly acquired Walter Packer, the third-leading runner In Southeast Conference history. Need some excitement. Rating-C
Prediction
The Seahawks have been settled into the AFC's Western Division, where the competition is exceedingly tough. Based on Jim Zorn's debut, they will be able to move the ball. But they'll be doing well if they can double the victory output. Fifth in AFC Western.
Collecting Rick Engles?
1977 Topps #112