Rolly Woolsey was there!
Source: Street and Smith's Pro Football 1977
Right corner should be a battle between Rolly Woolsey, who started 11 games, and pro sophomore Ernie Jones who started the other three. The subs are ex-Bengal Lyle Blackwood and Don Dufek, the ace of the special teams in his rookie season.
Hawk Fans to Eye Mercury
Seattle Post-Intelligencer
August 25, 1976
"I don't think we'll play Rolly Woolsey this week unless he's absolutely perfect," Patera said. "He's rusty now."
Smith 'A Pleasure to Watch'
Patera's analysis of some non-rookies after 12 practices: "Rolly Woolsey (injured) is the best defensive back in camp and Dave Brown has also been excellent."
Seattle Draft: 'Good Job'
Gil Brandt, who has spent 17 years discovering players as Dallas' vice-president in charge of personnel development, added, "Seattle made some excellent choices. They got a good blend of players like Hoaglin, McMillan, Curtis, Geddes that can come in and lead stability.
"And they got good young guys, like the two from us (tight end Ron Howard, cornerback Rollie Woolsey). They have good possibilities for the future."
Mansperger, who scouted college talent for the Cowboys prior to his Seahawk chores, added, "I particularly liked our selection of Howard, Woolsey and linebacker Ken Hutcherson. I know them closely and like all three because they can run, they're young, they have size and they want to play. You're not supposed to get those kind of guys."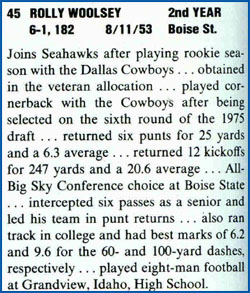 First Cut of Seahawks' Roster May Come Today
By Don Fair
P-I Sports Writer
The fastest players by position were:
Darwin Robinson
, running backs;
Rolly Woolsey
, defensive backs;
Jerry (Horse) Lee
, defensive linemen;
Steve Duncanson
, offensive linesman;
Greg Gibson
,
Bill Lide
, wide receivers;
Rick Engles
, kickers; and
Scott Christman
, quarterbacks.
Rolly Woolsey's now a Seahawk after expansion
The Idaho Free Press
March 1976
Rolly Wolsey, the former Boise State safety, won't be heading back to the Dallas Cowboys next year. Instead, when the time comes for the start of the National Football League training camps, he'll be training with the Seattle Seahawks.
Woolsey, who was a reserve cornerback last fall with the Super Bowl runner-up Cowboys, was one of eight defensive backs selected by the new Seattle franchise in Tuesday's expansion draft in which the Seahawks and the .NFL's other new club — the Tampa Bay Buccaneers - filled out their players. Both new clubs selected 39 players from the rosters of other NFL teams.
Woolsey said that he had mixed feelings about the deal. He's likely to get more playing time with Seattle than he did with the Cowboys, but it could be a while before the Seahawks make the Super Bowl.
In an interview just before the Super Bowl last January, the possibility of such an action came up and Woolsey did say at that time he'd rather go to Seattle than to Tampa Bay if taken in the expansion draft because Seattle was so much closer to the Boise area where Woolsey makes his home in the off season.
The 50 greatest sports figures from Idaho
Source: CNN:si
Roland Woolsey , Grandview
All-Big Sky safety at Boise State in 1974; had five interceptions in four-year career with four NFL teams.

From: Lyons Shane M
Sent: Tuesday, May 03, 2011 9:47 AM
Subject: Rolly Woolsey
Hello,
I came across your website…saw Rolly's name and thought..WOW! My name is Shane Lyons…I lived in Grandview, Idaho when I was young…my oldest brother was best friends with him and played football at Grandview High with Rolly. I can remember playing catch with him in our front yard, and him asking me if I was going to play football when I got older…. Do you know what ever happened to him?
From: William Steck
Sent: Tuesday, February 10, 2004 10:27 AM
Subject: Rolly Woolsey
Rolly is a successful retired business executive now residing in Boise, Idaho. His wife, Gayle, and three children recently moved to Idaho from Tallahassee, Fla. where Rolly was the Executive VP in charge of sales for a national company. My guess is that he purchased a ranch and is raising livestock and is still as tough as
Woolsey will be ready for Sunday
Idaho Free Press
August 24, 1976
SEATTLE (UPI) - Mike Curtis, an 11-year veteran who made the Pro Bowl team three times as middle linebacker, has been moved to a new position by the Seattle Seahawks.
Curtis, who came to Seattle from Baltimore in the expansion draft, will play outside linebacker for the Seahawks. Ed Bradley, drafted from Pittsburgh, has taken over the middle spot.
Seattle coach Jack Patera said it was discussed with Curtis before practices began and Patera experimented with that shift in two exhibition games before announcing the change was permanent.
After a drubbing by the Denver Broncos over the weekend, it wasn't surprising that the Seattle Seahawks returned to fundamentals in practice Monday.
Coach Jack Patera said the same basics would be emphasized in Tuesday's workouts and the team would begin Wednesday preparing for a game with the San Diego Chargers in the Kingdome Sunday.
Defensive back Rolly Woolsey, who suffered a knee sprain and then a shoulder injury in Seahawk workouts, is expected to be ready for the San Diego game.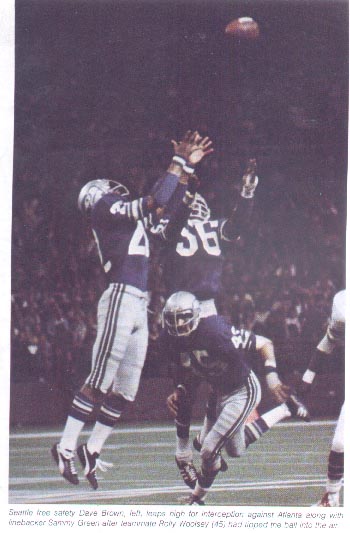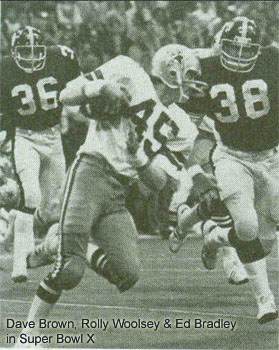 Smith due surgery
Union-Bulletin Tuesday
February 15,1977
Walla-Walla Union Bulletin
SEATTLE (AP) —
Sherman Smith
, the leading rusher of the Seattle Seahawks football team last season, undergoes knee surgery Thursday — thus becoming the third team member to have such an operation since the season ended in December.
Smith's left knee is the problem. He doesn't know when he hurt it, but says it began bothering him in the middle of the season. Smith rushed for 537 yards, gained another 384 yards on pass receptions and had 93 yards on kickoff returns, for a total offense of 1,014 yards. He is one of only three National Football League rookies to exceed 1,000 yards total offense last season.
Two other Seahawks who underwent knee repairs were punter Rick Engles, who had cartilage removed from his right knee Dec. 27, and cornerback Rolly Woolsey, who had cartilage removed from his left knee Jan. 14.
PRO CHARTS
By Murray Olderman
The Albuquerque Tribune
Saturday, September 17, 1977
Seattle Seahawks Prospectus
In second year of existence, Seahawks opted for draft choices instead of chance at Tony Dorsett, who probably wouldn't have signed with them. Coach Jack Patera actually did good guiding expansion team to two victories in '76. Whole concentration is building on youth.
Had some pleasant surprises on offense. Now they need more bodies to weld the defense.
DEFENSE
Defensive Line: The future rests with Steve Niehaus as the hub of defensive effort. Club's top pick, his first year was learning experience. Other men up front, like Bob Lurtsema, just stopgap. So traded for Bill Sandifer. Rating—C
Linebackers: Best stocked department on club, which enabled them to trade Ed Bradley for Sandifer. Mike Curtis, former all-pro, still has enough speed to play outside. Sammy Green made considerable progress as rookie in '76. Rating –B
Secondary; Has a professional look with people like Eddie McMillan, Al Matthews and Dave Brown. Rollie Woolsey, picked from Dallas in expansion, also thrived on corner with chance to play, tied with Brown as interception leader. Rating—B
Scott Slant: There would be no breakthrough…
January 18th, 2008
Source: KTIK.com
This Day In Sports…brought to you by THE ASHLEY INN OF CASCADE…just a scenic drive away!
January 18, 1976: A former Boise State Bronco plays in the Super Bowl for the first time, as Grandview's Rolly Woolsey, currently the president of the Bronco Athletic Association, suits up as a kick returner and backup cornerback for Dallas. Woolsey's Cowboys would fall to the Pittsburgh Steelers, 21-17—the game-clincher coming when Terry Bradshaw hooked up with Lynn Swann in the fourth quarter on a 64-yard touchdown. Bradshaw was knocked unconscious on the play and didn't know about the TD until he was taken to the locker room.
Rolly Woolsey Bio
Source: Boise State Hall of Fame
Please visit the website for some great photos.
Rolly Woolsey was a two-sport athlete at Boise State lettering in football and track. From 1971-74, Woolsey helped the Bronco football team to a three-year record of 27-9 including two appearances in the NCAA Division II playoffs. A defensive back, Woolsey earned first team All-Big Sky Conference honors hi senior season. In 1974 he was the team's third leading tackler with 72 and led BSU in interceptions with six for 92 yards. He also returned punts and kickoffs averaging 10.7 and 16.2 yards, respectively. As a member of the Bronco track team, Woolsey set school records in the 220-yard dash, the 440-yard dash and was a member of the record setting spring and mile relay teams. Following this career at BSU, Woolsey played for the Dallas Cowboys helping the team to the 1975 NFC title and an appearance in Super Bowl X. He has been a successful high school football coach winning two Washington State AAA titles during the period of 1978-87.
Collecting Rolly Woolsey?
1976 Post-Intelligencer mini poster, #10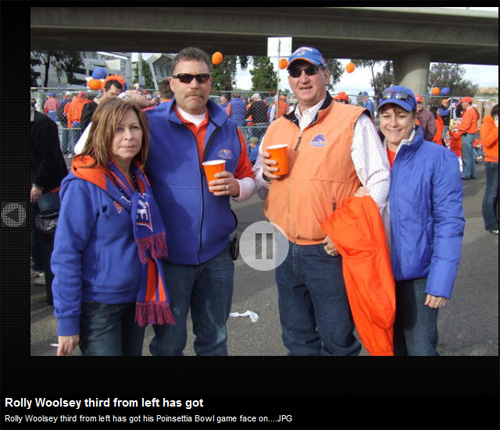 Source: BroncoSports.com
Linked In
Rolly Woolsey
Poker, anyone?
Just for a bit of fun ...
Source: PokerPages.com
Name: Rolly Woolsey
Location: Boise, ID, United States
Cashes:1
Total Winnings: $300 (Includes all tournament winnings)