Bill Munson was there!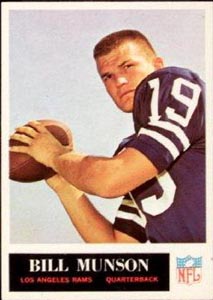 However he's no longer with us.
Bill Munson, Age: 58
Pro quarterback who played 16 years in the NFL with Los Angeles, Detroit, Seattle, San Diego, and Buffalo; first-round pick of the Rams in 1963; played 107 games, throwing for 12,896 yards and 84 touchdowns; He was found drowned in his swimming pool.
Died: Lodi, Calif., July 10
Seattle acquires Munson
The Daily Chronicle
Tuesday. September 7, 1976
SEATTLE (UPI) - The Seattle Seahawks picked up veteran quarterback Bill Munson from the Detroit Lions Monday in exchange for an undisclosed future draft choice and gave up another future pick in the draft to gain rookie guard Ron Coder from Pittsburgh.
"I didn't think someone of his (Munson's) caliber would be made available to us," said head Seahawk coach Jack Patera. "We don't look at Bill as a starter, but as a backup to our regular quarterback.
"I've known Bill since he was a rookie with Los Angeles, and he has done a remarkable job over the years. He has a fine arm and his experience will be a steadying influence."
The 6-2, 205 pound quarterback from Utah State was picked in the first round by Los Angeles in 1964. Now in his 13th NFL season, Munson has been with Detroit since 1968 and is the seventh leading passer among active quarterbacks.
Source: www.buffalopost.com
David Staba, editor of the Buffalo Post, has written a lovely memorial for Bill Munson. Excerpts are shown below. Please click the link if you'd like to read the entire article.
Thanks for the Memory
By David Staba, Editor
The Buffalo Post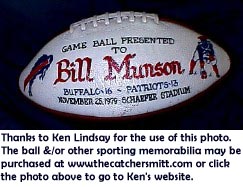 Munson's career ended before the onset of saturation sports coverage, so his death spurred a single, short wire story. His nephew found the 58-year-old's body in a swimming pool at Munson's home in Lodi, Calif. Authorities are treating Munson's drowning as accidental, pending an autopsy. The story lacked any career statistics or highlights. Well, I remember one.
Expectations for the Bills were modest, but Buffalo managed to fall well short of them on opening day. The Pittsburgh Steelers embarked on their second set of back-to-back Super Bowl seasons by splattering the Bills, and Ferguson, for three quarters.
I was in the stands that day, along with a couple of friends and their fathers. About the time our dads started talking about cutting out early to beat the traffic, a few of the drunks seated around us in the end zone started bellowing "We want Munson," more out of frustration than any belief that he could do more with for the Bills than he had for the Rams, Lions, Chargers or Seahawks.
On an afternoon when there was little reason to cheer at Rich Stadium, the chant spread through the crowd, which had apparently gotten tired of booing Ferguson.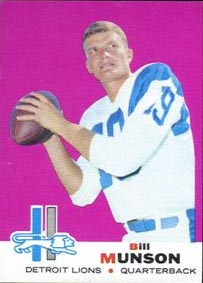 With his starter hobbling on a knee he had injured during training camp, Knox decided to give the fans their wish, as well as spare his quarterback a fourth-quarter beating by Mean Joe Greene, L.C. Greenwood and the rest of the Steel Curtain. Of course, a 10-year-old doesn't understand those subtleties, so I went home honestly believing that Knox had listened to us.
In came Munson, running Buffalo's offense for the first time in a regular season game and facing one of the best defenses ever. But while he never led the league in any major statistical category or earned All-Pro honors, Munson could always throw.
"Munson had one of the quickest releases I've ever seen," his first NFL coach, Harland Svare of the Rams, once said. "He was as quick with the ball as Dan Marino."
With the Bills down 21-0 when he entered the game early in the fourth quarter, Munson hit rookie running back Terry Miller, Simpson's replacement, with an 18-yard pass. That started the Bills toward their first score, Munson's 22-yard strike to Frank Lewis.
As a kid just learning about football, I didn't know anything about prevent defenses or teams letting up when a game was obviously won. I just knew that Munson was putting on a show, and the mighty Steelers were in full retreat.
Munson's throws later moved the Bills into range for a Tom Dempsey field goal, and after Pittsburgh put the game away with another touchdown, Munson capped another drive with a 3-yard scoring toss to Ruben Gant.
In all, Munson threw 16 passes in the fourth quarter of the Steelers' 28-17 win, completing 10 for 171 yards. One more statistical note -- he didn't get sacked once.
Munson never made more than a cameo appearance for the Bills or any other team again, throwing 34 more passes over the next two years and retiring after the 1979 season. Since those were the days when most home games weren't sold out and therefore weren't televised, I don't think I ever saw him play again. And I don't recall any quarterback controversy arising after his brilliant Buffalo debut.
But when we got home after the game, my friends and I spent the late afternoon playing with an undersized, white, rubber souvenir football my parents' yard, pretending to be Bill Munson.
I guess there are worse ways to be remembered.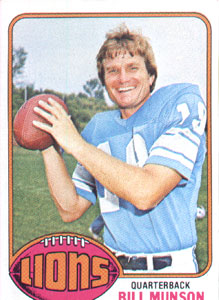 Jim Zorn, who played at Cal Poly Pomona, was the final cut made by Dallas last year. He didn't hook on with any team and was signed as a free agent by Seattle last spring. Although the Seahawks traded for Bill Munson, Zorn is expected to continue to hold down the No. 1 spot.
Street and Smith's Pro Football 1977
Ex-Detroit starter Bill Munson is the backup for Zorn, but he's no one to be running a rollout offense at his age, 36. Maybe he can be used in a trade before the deadline. The third quarterback is Steve Myers. The draft brings Sam Adkins of Wichita State.
NFL Clubs Conducting a Body Count
From News Dispatches,
Washington Post
November 15, 1977
It probably was coincidental and not the result of the unnecessary violence that commissioner Pete Rozelle warned against before the season, but the level of violence could have been measured in splints on Sunday in the National Football League. Quarterbacks Fran Tarkenton, Lynn Dickey and Bill Munson suffered broken legs and defensive end Elvin Bethea a broken arm. Tarkenton also suffered a broken thumb on a different play.
Seahawks Top Chargers, 17-9
Washington Post
August 6, 1978
The Seattle Seahawks defeated the San Diego Chargers, 17-9, Friday night on two touchdowns by running back Sherman Smith and four interceptions by the secondary in the exhibition opener for both teams.
Smith rushed from two yards out early in the second quarter to cap a 64-yeard Seattle drive and give the Seahawks a 7-0 lead. Seattle quarterback Jim Zorn hit three of five passes on the drive for 42 yards after Seattle cornerback Dave Brown intercepted Bill Munson's pass. Smith's second touchdown, a 4-yard run with 3:38 remaining, put Seattle in front 17.9. Smith also had runs of 10 and nine yards on the final Seattle intercepted a pass by San Diego's Cliff Olander.
Dan Fouts drove the Chargers 50 yards in 40 seconds to set up Rolf Benirschke's 35-yard field goal on the final play of the first half.
Benirschke also kicked second-half field goals of 22 and 30 yards to account for the rest of the Chargers points.
James Harris of the Chargers connected on passes late in the fourth quarter before fumbling deep in Seattle territory with 1:47 to go. The fumble was recovered by the Seahawks, who ran out the clock.
Lions 30, 49ers 20
Jefferson City Post-Tribune
November 5, 1973
Bill Munson started his first game in three years, fired a pair of first-quarter touchdown passes to Larry Walton, and led the Detroit Lions past the interception-prone San Francisco 49ers 30-20.
NFL Teams Shape Up Rosters, Cut Vets
The Salt Lake Tribune
Tuesday, September 7, 1976
By Hal Bock
AP Sports Writer
Veteran quarterback Terry Hanratty was cut by the Pittsburgh Steelers and signal caller Bill Munson sent from the Detroit Lions to the Seattle Seahawks Monday as National Football League teams continued to shape their rosters for the upcoming season.
Munson was shipped to the Seahawks in exchange for an undisclosed future draft choice in a deal that surprised Seattle Coach Jack Patera. "I didn't think someone of his caliber would be made available to us," he said.
Will Super Bowl Be Affected By Betting Probe?
By Will Grimsley Of the Associated Press
The Edwardsville Intelligencer
January 8, 1970
New Orleans
An edgy uneasiness bang's over the Super Bowl although both the pro football commissioner and the government insisted today there is no evidence linking any player with a broad probe of sports gambling.
Len Dawson, veteran Kansas City quarterback who leads his team against the Minnesota Vikings Sunday for the pro championship, admitted that his concentration had been affected by reports naming him among six football personalities to be questioned.
"I haven't slept too well the last month," he said. "The season's been that way."
In Miami, Joe Namath, quarterback of the New York Jets, greeted news that he also might be summoned for questioning with the terse remark: "Hell, a subpoena, that's nothing. That just means they want to talk to you."
Pete Rozelle, the pro commissioner, arrived in New Orleans Wednesday evening and called a press conference to announce that U.S. Atty. James Brickley in Detroit had assured him that no evidence had been uncovered linking a pro football player with gambling activities.
"The same is time of our own investigation," Rozelle said. Pro football has a 29-man security staff.
In Detroit, Brickley said he doubted there would be many more arrests — "maybe one or two" — before a grand jury is asked for indictments. A grand jury convenes Jan. 20.
So far, 14 persons from four states — Michigan, Nevada, New York and Mississippi — have been arrested on charges of violating federal wagering laws. More than $600,000 has been seized in cash and checks.
Asked whether pro football had been scarred by the developments, Rozelle said: "Well, it isn't healthy."
The National Broadcasting Company reported Tuesday that it had received information from an unnamed official that six prominent football personalities would be questioned. James Ritchie, head of the Justice Department task force handling the probe In Detroit, said Justice Department policy prohibits calling as a witness anyone who might be indicted.
Besides Dawson and Namath, those named by NBC were Bill Munson, quarterback of the Detroit Lions; Karl Sweetan, reserve quarterback of the Los Angeles Rams; Pete Lammons, end of the New York Jets; and Bob Devaney, coach of the University of Nebraska. Devaney issued a statement, saying: "I have never been involved in any activities that bring discredit to intercollegiate athletics."
Because of his appearance in pro football's blue-ribbon spectacle here Sunday, most of the attention centered on Dawson, a veteran of 13 years in professional football.
Upon learning of his possible association with the inquiry, Dawson called a Tuesday night press conference at his team's headquarters and disclosed that he had been acquainted for 10 years with a man "named Don Dawson (no relation) a restaurateur of Birmingham, Mich., who had been arrested on New Year's Day."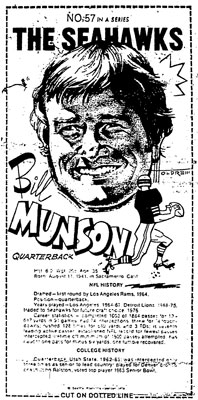 Player Movement Is Common For Organizing Seattle Seahawks
BY RICK GOSSELIN
UPI Sports Writer
The Coshocton Tribune
Wednesday, Sept.8, 1976
The printers in Seattle must be making a mint on playbooks for the National Football League Seahawks. The first year Seattle franchise, which makes its NFL debut Sunday, has had better than a 20 per cent turnover on its roster the past two days, taking advantage of the wealth of talent with which the 26 established teams are cluttering up the waiver list in getting down to their 43-man rosters.
The Seahawks have made 27 separate player movements since Monday: waiving 14 players, putting two more on injured lists, trading veteran wide receiver Ahmad Rashad (the former Bobby Moore) and adding 10 newcomers from waiver claims and three trades.
The Seahawks, who acquired veteran quarterback Bill Munson in a trade with the Detroit Lions Monday, supplemented their backfield Tuesday by claiming running backs Hugh McKinnis from Cleveland. Ralph Nelson from Washington, Don Testerman from Philadelphia and Oliver Ross from Denver in preparation for their home opener Sunday against St Louis.
Collecting Bill Munson?
1976 Topps #404
I'd like to alert viewers to a great website with vintage football cards. You won't want to miss this Norm Evans vintage card!
Thanks to Michael Thomas for providing these links to us and inviting us to share them. Please visit his site for more terrific cards.