Hugh McKinnis was there!
Street and Smith's Pro Football 1977
Don Testerman, a Philadelphia castoff, is the incumbent fullback. He gained 246 yards in 67 carries. Behind the starting backs are Ralph Nelson, Hugh McKinnis, and Oliver Ross. Duke's Tony Benjamin and Georgia Tech's David Sims were the drafted runners, but Larry Bates, who missed his rookie season due to injury, may slip in somewhere.
San Francisco vs. Seattle
Oakland Tribune
Thursday, September 23, 1976
DELVIN WILLIAMS vs.
KEN GEDDES
- Williams keys 49er running game and is one of most underrated and best runners in league. He gets the edge here, because Geddes is not his equal in open field and does not often receive the help he needs on sweeps from the corners.
RON HOWARD vs. SKIP VANDERBUNDT - Howard is Seahawks' top receiver with 10 receptions for 136 yards and has good hands. Zorn always looks to him in clutch situations. Howard, who only played basketball in college, has the edge here.
LAST MINUTE FACTORS - Johnson's availability because of a broken nose and tackle Keith Fahnhorst's availability from injury will affect 49ers both defensively and offensively, respectively. Also will Plunkett, after six Bear sackings, be as "poised" this time out. He was not sacked against Seahawks earlier. Seattle could be strengthened if Dave Tipton's neck injury responds and he can play. Also, an improved running game, simply because new backs (Ross and McKinnis or Testerman in particular) have been around to know system better, is possible for Seattle.
Original No. 37 Likes Hawks' Chances
By Chuck Stark
February 4, 2006
Source: Kitsap Sun
Norm Johnson, a Silverdale real estate agent, still holds most of the Seahawks' kicking records. Yet Johnson's lone Super Bowl appearance was in a Pittsburgh Steelers uniform.
Paul Skansi (featured in these pages Friday) played most of his career in a Seahawks uniform, but the former NFL wide receiver who now makes his home in Poulsbo was orginally drafted by the Pittsburgh Steelers.
And remember linebacker Bryan Hinkle? The Central Kitsap grad, who was part of the first class of inductees into the Kitsap Sports Hall of Fame last year, played his entire 12-year career with the Steelers.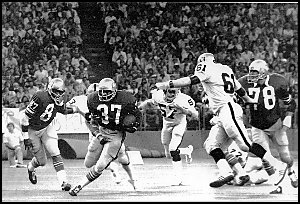 That brings us to Hugh McKinnis, one of the original Seahawks and a long-time Kitsap County resident. Currently an assistant football coach at Central Kitsap, McKinnis was wearing jersey No. 37 before Shaun Alexander was born.
McKinnis, a power-running fullback during an era when fullbacks actually carried the ball, never played for Pittsburgh, but he's a native of Farrell, Pa., a 60-mile drive from the Steel City.
Cleveland was only 70 miles from Farrell and its steel mills and McKinnis grew up a Browns fan. Former Arizona State coach Frank Kush, who also grew up in western Pennsylvania, convinced McKinnis to join him in the desert.
That's when the Sun Devils were playing in the Western Athletic Conference.
McKinnis lasted three years at ASU — playing behind All-American fullback Art Malone — before deciding to turn pro prior to his senior season.
"Art was still there and I was a junior doing what juniors do," McKinnis said. "I found out Calgary was looking for a running back, so I went to Canada."
He led the Canadian Football League in rushing with 1,135 yards his rookie year, 1970, and played in two Grey Cup championship games. The Stampeders beat Joe Theismann and the Toronto Argonauts 14-11 in the 1971 title game.
In addition to wearing one of the biggest smiles in Kitsap County, McKinnis still wears his Grey Cup ring. "I can't get it off my finger," he said. "It's stuck."
McKinnis stuck around Canada for three years, earning first-team all-CFL honors and rushing for 3,292 yards and 22 touchdowns. He made the jump to the NFL in 1973 after being selected in the eighth round by the Cleveland Browns.
"I guess I did enough to get noticed," he said.
McKinnis lasted three years with the Browns, gaining 514 yards in 1974 while sharing duties with Greg Pruitt as Cleveland's featured back. The soft-spoken McKinnis dislocated his elbow in 1975, and wound up being left unprotected in the expansion draft in 1976.
The Seahawks swooped in and grabbed the back who patterned himself after the likes of his idol, Jim Brown, and Franco Harris.
"They've taken the game away from the fullbacks today," he said. "All they do is block. They run or catch it once in a while."
His Seattle teammates in '76 included quarterback Jim Zorn, receiver Steve Largent, cornerback Dave Brown, linebacker Mike Curtis and the current voice of the Seahawks, broadcaster Steve Raible, who will be calling the Super Bowl in Detroit for 710 KIRO radio.
"I remember (Seattle) had highways to nowhere back then," said McKinnis. "The interstate wasn't finished. The other thing that struck me was the bridges were on water. I had to get used to that trick."
McKinnis started the Seahawks' opening game, a 30-24 loss to the Los Angeles Rams, but suffered a knee injury and wound up being used in short-yardage situations. He carried 46 times for 106 yards and four touchdowns.
"My second year I pulled my hamstring real bad twice and never really recovered from that and they put the old release on me," he said.
He played a couple games in Canada, for the British Columbia Lions, but returned to Seattle and was hired by Boeing.
When Boeing started laying people off, McKinnis "took a chance," and accepted a job with a local beer distributor on this side of Puget Sound. That job morphed into a career with Bremerton's Jennings Corp., where he worked 23 years before retiring.
"I'm an old Pittsburgh boy, but I like it here," said McKinnis, who still participates in Seahawks' alumni events and was part of a downtown rally in Bremerton on Friday.
"Everybody's so biased about the East Coast," he said. "All the talk's about Pittsburgh. They haven't sat down and watched these Seahawks. This is a defense with over 50 sacks. Everybody's forgetting about that part. They've got the MVP (Shaun Alexander) and those two linemen on the left side (tackle Walter Jones and guard Chad Hutchinson) ... and don't forget about the fullback (Mack Strong).
"I believe Seattle's going to win. It's going to be tight, like 20-14."
Bremerton Rallies for Super Seahawks
By Steven Gardner
February 4, 2006
Loud and proud, local fans — including an original Seahawk — got a chance to do some yellin' Friday at a rally for Seattle's Super Bowl Seahawks.
About 80 locals dressed in Seahawk garb raised their fists and yelled "Go Hawks" at the Roxy Theatre downtown as if they were in Qwest Field.
Among those leading the chants was Hugh McKinnis, who gave the Pittsburgh Steelers little chance of even scoring Sunday. After comedian Cris Larsen predicted a 27-19 win, Bremerton Area Chamber of Commerce Executive Director Silvia Klatman predicted a 47-9 Seattle romp.
McKinnis, Seattle's original number 37 as a running back, was having none of that.
"Why would we give the Steelers any points?" he asked, drawing an ovation from the crowd.
He then conceded a few.
"I'll give them some points, I'll give them three," he said. He predicted a 21-3 final score.
The event was organized by Bremerton City Councilman Adam Brockus, who joined a conga line that spilled out into the street about 20 minutes after the rally began.
McKinnis was the highlight of the event, telling his story about playing against Pittsburgh and by playfully asking, "Jerome who?" a reference to Pittsburgh's ample running back Jerome Bettis.
Gary Pheasant, a Bremerton School District employee who attended the rally, had a clear conviction about what would happen Sunday.
"The Hawks are going to be Super Bowl champions," he said.
For McKinnis, it wouldn't be enough.
He urged the crowd: "Let's do this again next year."
Farrell's McKinnis played pro football
The Herald
Sharon, PA
January 14, 1998.
Hugh L. McKinnis Jr. is one of the elite Mercer County athletes ever to make it to the professional ranks.
His athletic career was honed at Farrell High School where he was a star in football and track from 1965-67. In football he has All-Midwestern Athletic Conference, All-State and a member of the Pa. Big 33 Team. At running back he had the unstoppable combination of great power and great speed. He and lightning-quick Adrian Capitol gave the Night Riders one of the top backfield tandems in the illustrious history of the school.
Hugh's speed showed in track where he was district champion in both the high and low hurdles. He was a member of the 880-yard relay team that placed third in the state finals in 1966.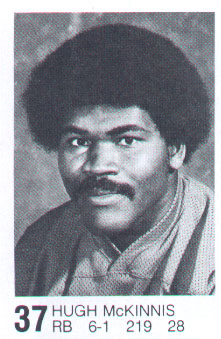 Hugh attended Arizona State on a football scholarship, but cut his collegiate career short to move on to the pros. He first went to the Canadian Football League and played with Calgary and Ottawa.
He was All-CFL first team in 1970 and was the league rushing champion with 1,135 yards. He played in two Grey Cup championship games, his team winning the title in 1971. His liftime rushing mark in the CFL was 711 attempts, 3,293 yards for a 4.6 yards-per-carry average. He tallied 22 touchdowns.
Hugh then moved to the National Football League where he played with the Cleveland Browns from 1973-75 and the Seattle Seahawks in 1976. With the Browns in 1974 he was the second leading rusher (519 yards) behind Greg Pruitt, and he was the leading receiver in 1974.
In his current hometown of Bremertown, Wash., he coached semi-pro football and coached pee-wee football for three years.
Lurtsema, five others released by Seahawks
Daily News-Miner
Fairbanks, Alaska
Wednesday, Sept. 14, 1977
SEATTLE API—Veteran Bob Lurtsema and five other players were cut from the active roster Tuesday as the Seattle Seahawks reduced their National Football League team to the 43-player limit.
Tight ends John McMakin and Charles Waddell, running back Hugh McKinnis and cornerback Ernie Jones also were placed on irrevocable waivers Tuesday. Randy Coffield, linebacker, was placed on injured reserves with a knee injury, meaning he is out for the season.
Lurtsema, 34, an 11-year veteran, was obtained last year from the Minnesota Vikings and became a starter at defensive end. Unless he is claimed by another team, Lurtsema likely will be one of those signed to a new contract by the Seahawks when the NFL teams are allowed to sign two extra players later. The rosters will be increased lo 45, but only 43 will be permitted to suit up for the game.
Waddell was acquired in the veteran allocation last year but missed an entire season because of a knee injury. Jones and Coffield were 1976 draftees— Jones in the fifth round and Coffield in the tenth.
McMakin was waived late Tuesday after the Seahawks picked up tight end John Sawyer on waivers from the Houston Oilers. The release of McMakin leaves Seattle with only nine of the original 39 players the club selected in last year's veteran allocation.
Player Movement Is Common For Organizing Seattle Seahawks
BY RICK GOSSELIN
UPI Sports Writer
The Coshocton Tribune
Wednesday, Sept.8, 1976
The printers in Seattle must be making a mint on playbooks for the National Football League Seahawks. The first year Seattle franchise, which makes its NFL debut Sunday, has had better than a 20 per cent turnover on its roster the past two days, taking advantage of the wealth of talent with which the 26 established teams are cluttering up the waiver list in getting down to their 43-man rosters.
The Seahawks have made 27 separate player movements since Monday: waiving 14 players, putting two more on injured lists, trading veteran wide receiver Ahmad Rashad (the former Bobby Moore) and adding 10 newcomers from waiver claims and three trades.
The Seahawks, who acquired veteran quarterback Bill Munson in a trade with the Detroit Lions Monday, supplemented their backfield Tuesday by claiming running backs Hugh McKinnis from Cleveland. Ralph Nelson from Washington, Don Testerman from Philadelphia and Oliver Ross from Denver in preparation for their home opener Sunday against St Louis.
The Seahawks didn't slight their defense any, adding defensive end Al Cowlings from Los Angeles, linebacker Greg Collins from San Francisco and defensive back Ted Bachman from Cleveland.
Seahawks having better luck on basketball floor
The Seattle Seahawks are undefeated? Who are you trying to kid?
Believe it or not, the basketball version of the Seattle Seahawks has been more successful in the win column then the first year team was on the football field. The Seahawks were 2-12 in their initial National Football League campaign and through Monday had posted a 5-0 basketball record.
Among those Seahawks making the trip will be former Pasco High and Seattle University standout Ron Howard. Howard didn't play football in college, instead being an instrumental force in Seattle U ' s basketball success. Others making the trip will be Don Testerman, Eddie McMillan, Sherman Smith, John McMakin, Hugh McKinnis Dave Brown, Sam McCullum, Dave Simsonson and Greg Collins.
"I hope nobody gets the idea we should give them a return game on the football field," Ingram said. There will be autograph sessions before the game, at halftime and after the game.
Collecting Hugh McKinnis?
1976 Topps #407