Oliver Ross was there!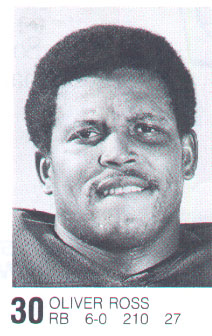 Street and Smith's Pro Football 1977
Don Testerman, a Philadelphia castoff, is the incumbent fullback. He gained 246 yards in 67 carries. Behind the starting backs are Ralph Nelson, Hugh McKinnis, and Oliver Ross. Duke's Tony Benjamin and Georgia Tech's David Sims were the drafted runners, but Larry Bates, who missed his rookie season due to injury, may slip in somewhere.
1976 Leaders and AFC Ratings
Scoring - Leypoldt, 43 points on 19 XP, 8 field goals - 23rd
Rushing - Smith, 119 carries for 537 yards, 4.5 Avg, 4 TDs - 19th
Passing - Zorn, 208 of 439 attempts for 2571 yards, 12 TDs - 15th
Receiving - Largent, 54 for 705 yards, 4 TDs - 3rd
Interceptions - Brown, 4 for 70 yds, 17.5 Avg - 14th
Punting - Engles, 80 punts, 38.3 Avg., longest 55 yards - 10th
Punt Returns - Blackwood, 19 for 132 yds, 6.9 Avg - 13th
Kickoff Returns - Ross, 30 for 655 yds, 21.8 Avg - 11th
San Francisco vs. Seattle
Oakland Tribune
Thursday, September 23, 1976
DELVIN WILLIAMS vs.
KEN GEDDES
- Williams keys 49er running game and is one of most underrated and best runners in league. He gets the edge here, because Geddes is not his equal in open field and does not often receive the help he needs on sweeps from the corners.
RON HOWARD vs. SKIP VANDERBUNDT - Howard is Seahawks' top receiver with 10 receptions for 136 yards and has good hands. Zorn always looks to him in clutch situations. Howard, who only played basketball in college, has the edge here.
LAST MINUTE FACTORS - Johnson's availability because of a broken nose and tackle Keith Fahnhorst's availability from injury will affect 49ers both defensively and offensively, respectively. Also will Plunkett, after six Bear sackings, be as "poised" this time out. He was not sacked against Seahawks earlier. Seattle could be strengthened if Dave Tipton's neck injury responds and he can play. Also, an improved running game, simply because new backs (Ross and McKinnis or Testerman in particular) have been around to know system better, is possible for Seattle.
Player Movement Is Common For Organizing Seattle Seahawks
BY RICK GOSSELIN
UPI Sports Writer
The Coshocton Tribune
Wednesday, Sept.8, 1976
The printers in Seattle must be making a mint on playbooks for the National Football League Seahawks. The first year Seattle franchise, which makes its NFL debut Sunday, has had better than a 20 per cent turnover on its roster the past two days, taking advantage of the wealth of talent with which the 26 established teams are cluttering up the waiver list in getting down to their 43-man rosters.
The Seahawks have made 27 separate player movements since Monday: waiving 14 players, putting two more on injured lists, trading veteran wide receiver Ahmad Rashad (the former Bobby Moore) and adding 10 newcomers from waiver claims and three trades.
The Seahawks, who acquired veteran quarterback Bill Munson in a trade with the Detroit Lions Monday, supplemented their backfield Tuesday by claiming running backs Hugh McKinnis from Cleveland. Ralph Nelson from Washington, Don Testerman from Philadelphia and Oliver Ross from Denver in preparation for their home opener Sunday against St Louis.
PRO CHARTS
By Murray Olderman
The Albuquerque Tribune
Saturday, September 17, 1977
Seattle Seahawks Prospectus
Kicking,Secondary: Just so-so with Rick Engles punting and John Leypoldt, who was dropped by Buffalo, doing the field goal booting. Lyle Blackwood and Oliver Ross, couple of journeymen have been handling the kick returns, Newly acquired Walter Packer, the third-leading runner In Southeast Conference history. Need some excitement. Rating-C
Collecting Oliver Ross?
No known card or poster