Ralph Nelson was there!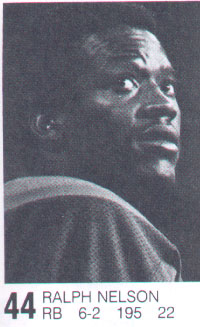 His very own quarterback didn't know him from a receiver but he was there just the same!!!
The Washington Post
12 September 1976
Zorn, a 6-foot-2, 200 pounder, with a year of pro experience, had to scratch his head in the locker room trying to recall the name of one of his receivers and finally made a stab: running back Ralph Nelson.
He was wrong, but no matter. With 292 passing yards and 17 completions in 37 tries it doesn't really matter who catches the ball.
Maybe next time
HEC HANCOCK
Herald Sports Editor
Monday, October 4, 1976
TRI-CITY HERALD
With quarterback
Jim Zorn
passing on target and
Don Testerman
and
Ralph Nelson
running like veterans, the Seahawks have never looked better on offense.
They even had the audacity to increase the lead to 13-0 on the Super Bowl runnerup of last season.
Street and Smith's Pro Football 1977
Don Testerman, a Philadelphia castoff, is the incumbent fullback. He gained 246 yards in 67 carries. Behind the starting backs are Ralph Nelson, Hugh McKinnis, and Oliver Ross. Duke's Tony Benjamin and Georgia Tech's David Sims were the drafted runners, but Larry Bates, who missed his rookie season due to injury, may slip in somewhere.
1976
The running back situation, however, is another question. Seattle has been starting veteran Bill Olds and rookie Andrew Bolton, the club's leading preseason rusher. But the Seahawks brought in four new running backs last week to challenge, including ex-Redskin Ralph Nelson. Nelson said yesterday that he is looking forward to coming back to Washington. "I definitely want to play in this game," he said. "I'd like to show them I can play. They were messing with my mind back there, putting me on second team special teams and then on the inactive list. It wasn't a nice situation."
Before he can meet the Redskins, Nelson first has to survive another cut. The Seahawks must reduce their squad from 49 to 43 today. "If I don't make it, I can live with it," he said. "I'm only 22, and there are other teams around. I'll just pack my bags and go home to L.A. and get a job.
"But I think I can help this team. They never gave me a chance in Washington. That's all I want here."
7) Washington's No. 1 pick in '95, wide receiver Michael Westbrook, got off to a great start. Westbrook's 58-yard touchdown on a reverse against the Cards in the 1995 opener was the longest run from scrimmage by a 'Skins' receiver. He also became the first Washington rookie to score in a season opener since running back Ralph Nelson in a 41-3 victory over the Saints on Sept. 21, 1975.
Player Movement Is Common For Organizing Seattle Seahawks
BY RICK GOSSELIN
UPI Sports Writer
The Coshocton Tribune
Wednesday, Sept.8, 1976
The printers in Seattle must be making a mint on playbooks for the National Football League Seahawks. The first year Seattle franchise, which makes its NFL debut Sunday, has had better than a 20 per cent turnover on its roster the past two days, taking advantage of the wealth of talent with which the 26 established teams are cluttering up the waiver list in getting down to their 43-man rosters.
The Seahawks have made 27 separate player movements since Monday: waiving 14 players, putting two more on injured lists, trading veteran wide receiver Ahmad Rashad (the former Bobby Moore) and adding 10 newcomers from waiver claims and three trades.
The Seahawks, who acquired veteran quarterback Bill Munson in a trade with the Detroit Lions Monday, supplemented their backfield Tuesday by claiming running backs Hugh McKinnis from Cleveland. Ralph Nelson from Washington, Don Testerman from Philadelphia and Oliver Ross from Denver in preparation for their home opener Sunday against St Louis.
The Seahawks didn't slight their defense any, adding defensive end Al Cowlings from Los Angeles, linebacker Greg Collins from San Francisco and defensive back Ted Bachman from Cleveland.
PRO CHARTS
By Murray Olderman
The Albuquerque Tribune
Saturday, September 17, 1977
Seattle Seahawks Prospectus
In second year of existence, Seahawks opted for draft choices instead of chance at Tony Dorsett, who probably wouldn't have signed with them. Coach Jack Patera actually did good guiding expansion team to two victories in '76. Whole concentration is building on youth.
Had some pleasant surprises on offense. Now they need more bodies to weld the defense.
OFFENSE
Quarterback: On porous team, a QB needs to run for life. Southpaw Jim Zorn can do that, and then some. He had valuable year of experience. Nice to have Steve Myer behind him. Rating—B.
Receiving: Steve Largent proved to be brilliant pickup (from Houston). He's precise pattern receiver. Sam McCullum is other wide threat. Ex-Cowboy Ron Howard blossomed as tight end with 37 catches. Larry Seivers is rookie. Rating —B.
Running: Originally projected as receiver, Sherman Smith, a college QB, made impressive switch to running back. Seahawks picked up fullback Don Testerman on waivers, and he stepped into starting role. Ex-WFLer Ralph Nelson serves in relief. Rating- C
Collecting Ralph Nelson?
No known card or poster.