Alvis Darby was there!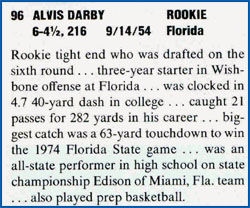 Pre-76
All-State selection (Florida) in high school
Drafted by Seahawks (6th round)

Patera likes look of receivers
Walla Walla Union-Bulletin
Wednesday, July 21, 1976
CHENEY, Wash. (AP) — Coach Jack Patera may not be decided on who will call the signals on the field for the Seattle Seahawks this season, but he knows he's got several qualified people for his quarterback to throw to.
Patera singled out tight ends Ron Howard, Charles Waddell, John McMakin and Alvis Darby for their performances Tuesday during a 35-minute scrimmage at the expansion team's training camp at Eastern Washington State College here.
"All four of our tight ends can play in this league," Patera said. "We may not have a Pro Bowl performer but then again we might."
"Howard has caught everything to him and so has Waddell. 'McMakin has played well in the NFL and we know it. And Darby is a very good looking rookie."
Meanwhile, a team spokesman said that rookie running back Larry Bates, who returned to Seattle earlier this week for further diagnosis of an old knee injury, will not have to undergo surgery.
"The old injury was puffing up on him a little and it just needs some rest," the spokesman said. He said it might be three to four weeks before Bates will be able to resume contact drills.
First Cut of Seahawks' Roster May Come Today
By Don Fair
P-I Sports Writer
It's hard to give rave notices off such early contact work but
Patera
did cite a few -- centers
Art Kuehn
and ex-Husky
Al Kelso
, plus tight ends Alvis Darby and
Charles Waddell
.
Patera labeled the 6-4, 220-pound Darby, a sixth-round draft choice from Florida "a pleasant surprise. He was a wide receiver in college and now he looks like a tight end."
Hawks Howard Sheds Nickname
By Gil Lyons
Despite the loss of hard-luck
Charles Waddell
to knee surgery, the Seahawks are strong at tight end.
John McMakin was Pittsburgh's third-round draft choice four years ago and was named on at least one all-rookie team. He started for the Steelers that season.
Alvis Darby, a rookie who was converted from wide receiver, is an excellent prospect.
From: Jay Couture
Sent: Tuesday, June 07, 2005 3:17 PM
Subject: Sammy Green and Alvis Darby
Hi,
I found your '76 Seahawks site while doing an internet search for
Sammy Green
. I am trying to find him and Alvis Darby for my autograph collection. I am attempting to collect the autograph of every Florida Gator who has played in the NFL. Do you have any idea where I can write to them? I also need some other Gators/Seahawks who were not on the '76 team - Tony Green, Henry McMillian, Alonzo Mitz, and Del Speer. Any help you can provide will be greatly appreciated. Thanks!
Jay Couture
From Karen, June 2003
I attended the University of Florida with Alvis. He was a super friend. Like a brother. I met him my freshman year. After graduating we never kept in touch.
Seahawks cut three, including Bill Olds
Walla Walla Union-Bulletin
Wednesday, September 22, 1976
KIRKLAND, Wash. (AP) - The Seattle Seahawks have obtained their 45-man limit by cutting three players, including veteran running back
Bill Olds
, and trading linebacker
Don Hansen
to Green Bay Tuesday.
Coach Jack Patera of the National Football League expansion team said Olds, a starting fullback at Baltimore for several years before he was obtained in the veteran allocation draft, "didn't turn out for us."
"He hasn't improved," said Patera. "He's still making the basic mistakes."
Also cut were Alvis Darby, a rookie tight end, and defensive end Jim White, a veteran obtained from Houston. Patera said Darby "did a good job on special teams, but he was regressing on offensive play," while White asked to be released "because he thought we worked too hard here."
Hansen, obtained from Atlanta in the preseason, was traded to Green Bay for future considerations.

Click article above to read more.
Collecting Alvis Darby?
Sorry - no Alvis Darby cards! But he did have a mini-poster from the Seattle Post-Intelligencer, #52.