Part 1: Kirkland | Part 2: Seahawks Stadium | Part 3: Road Trip to Cheney | Part 4: Opening Day in Cheney | Part 5: Seattle, then home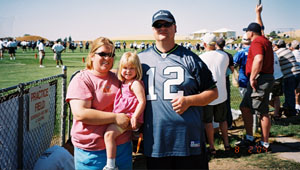 PART FOUR: OPENING DAY IN CHENEY
By Moses

(Editor's note: This part is a LONG ONE…. Be patient!)

We awoke early in the Motel 8 on Highway 90 Monday morning and got ready to venture back to Cheney for our first training camp. I supplied a wake up call to Neil, placed my authentic MOSES jersey on, and after a continental breakfast, we were on our way.

We arrived to the entrance of the practice field about 7:00 a.m. We joined two other Seahawkers that we had also met in Cincinnati who had driven up from Seattle at 1:30 am just for practice.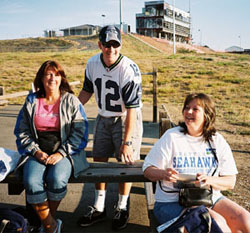 We were told that we missed Koren Robinson, but we stood in front of his car (with a big gold '81' on the front).
I waited patiently, Seahawk autograph book in hand… Soon, the players began to come in. I asked all of them to please sign my book, told them we traveled all the way from Indiana to see the practice, and thanked them very much for their time.
The first player I saw was Steve Hutchinson. He was HUGE, even without pads. He thanked me for coming out.
Next was Jerry Wunsch. He wished me and my family a safe trip back to Indiana.
Then there was Antione Burns, Damien Robinson, Michael Boulware, Chris Terry, Robbie Tobeck, and Dennis Norman…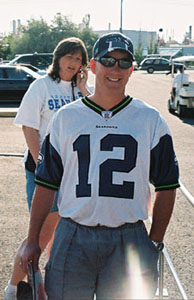 When I saw Niko Koutouvides, I told him I was from Indiana and that I had a lot of Purdue fans back home who are friends ( I do) that would KILL ME if I did not get his autograph. He laughed and said, "Then you better get THAT GUY," and pointed behind him to fellow Purdue alum Craig Terrill.
When I told Ken Lucas I came all the way from Indiana to see the practice, he asked if I was kidding. Then, he looked at me and said, "You are a MANIAC." I thanked him for the compliment.
I told Isaiah Kacyvenski that as a teacher I put up his sign "Let no one outwork me today" in my classroom (I do), and he seemed generally surprised and proud.
Trent Dilfer was on the phone, so I did not say much. It seemed he had a difficult time getting sleep the night before, and it made me think he was still trying to deal with the loss of his son.
Matt Hasselbeck signed my book when I was holding my 3 year old daughter. More on him later in this story.
Brock Huard said, "You're lying" when I told him I came out from Indianapolis. I insisted and he said "Wow. That's awesome!"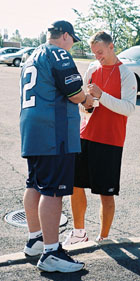 I told Shaun Alexander I grew up near his hometown (I did), and he recognized the town name. I also threw out I used to hang out at "Florence 'Yall", and got a grin from him. In Shaun's hometown of Florence, Kentucky the Florence Mall was not allowed to advertise on the watertower, so they changed the M to a Y and turned "Florence Mall" into "Florence Yall".
Next were Marcus Trufant and Grant Wistrom. More on these two later as well.
We headed out to the practice facility and my wife and my daughter headed towards the NFL Experience set up for kids. There are a lot of games and things for kids to do. They got in line, and I watched from outside the fence waiting to take a picture of my daughter.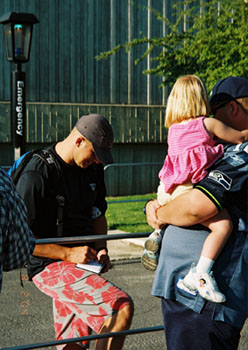 While I was waiting for her to get through the line, I heard someone behind me say, "Hey Moses!" I said, "What!" and turned around…
TO FIND MATT HASSELBECK STANDING RIGHT NEXT TO ME!!!
He said, "You can't go in there Moses. Those games are for kids!"
I laughed and said, "Yeah, I know. I am just doing the father thing and taking pictures," and held up my camera.
He said, "She's cute (my daughter). How old is she?" I told him three. He said, " I got a 2 ½ year old myself." We both grinned that fatherly grin and I said, "Yeah, she was rough flying out in a plane," and he smiled and went on out to practice.
As I started to walk towards the practice field myself, I noticed that next to me was someone headed the same way. I turned to my right, and there was DEFENSIVE COORDINATOOR RAY RHODES! I said, "Mr. Rhodes?" He looked over. I said "Have a great season." He grunted "Thank 'ya, sir."
Neil and I later joked that I got more of a response from Ray Rhodes that most of the Seattle press over half of last season!
Watching practice was interesting. It was light (as first days I am sure should be). We heard big pops from the offensive linemen, particularly Steve Hutchinson who leveled someone on a drill with a big pad.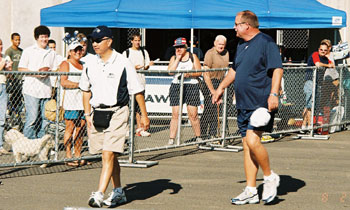 Watching the defensive drills, I noticed that Grant Wistrom, although injured and not able to perform, stayed in VERY close contact with the defensive linemen. Even though he could not lead the drills, I thought his leading of example by being there was very cool.
It was not long before Rhodes found something and/or someone to scream about, and watching Holmgren and Rhodes together waving their arms made me snicker to myself. School was indeed back in session.
After the practice, two things really stood out to me. One was Matt Hasselbeck (again). He had to go into the media tent following the morning session. Neil and I noticed that right after leaving the media tent he ran right over to the crowd at the fence and started signing away…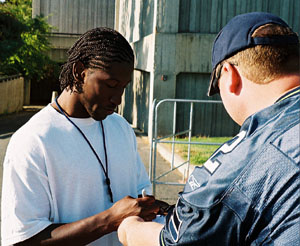 There were many players who signed after the morning session, but NO ONE spent more fan time than Marcus Trufant. He spent close to over TWENTY MINUTES signing stuff, posing with children, talking to the crowd. The people kept coming up to him and he NEVER STOPPED SIGNING. For all we know, he is STILL THERE signing stuff!
At one point, with my video camera in hand (after about twenty minutes), I called out "Marcus, is your hand hurting yet?" He looked up with that big grin and said, "Nah, not even close." I commented to him that we had been watching him signing away and we thought it was very nice of him and he said, "It's all for the fans."
Truer words never spoken by a young man who looks like he respects the position of professional athlete. He acts well above his age, and I dare anyone to challenge his humbleness and generosity.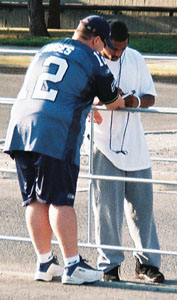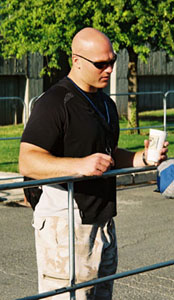 After talking to Marcus, Neil and I headed back towards the locker room to watch the players leave the field. On the way, Neil introduced me to Paul Johns, the Seahawk Assistant Director in their Community Outreach department. Johns was also a former Seahawk wide receiver.
Mr. Johns was a very upbeat and personable man to talk to. He really seemed interested in talking with me, and he seemed so happy to share time with us. Mr. Johns said that he was sorry that I would not get to hear the REAL 'pop' of a practice in full pads on the first day.
While waiting for the players to head for the locker rooms, I looked for my daughter, and she was out on the field in line for more player autographs! She was SO BRAVE standing in line with her father's autograph book all by herself. She got autographs from Offensive Line Coach Loveroni, Alex Bannister, DJ Hackett, Terreal Bierria, Walter Bernard, Rocky Bernard, Solomon Bates, Shaun Alexander, Niko Koutouvides, and Gale Nyenhuis.
We then decided we should head back to Seattle, and as we left Cheney, my head was spinning. All the smiles, the conversations, the autographs… It seemed like a dream come true. I think I could have flown back to Seattle!
THE FIFTH AND FINAL PART COMING SOON!!!