Part 1: Kirkland | Part 2: Seahawks Stadium | Part 3: Road Trip to Cheney | Part 4: Opening Day in Cheney | Part 5: Seattle, then home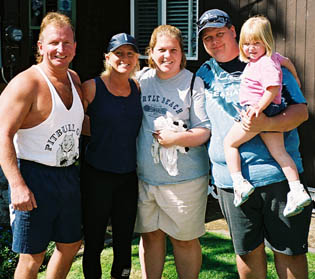 PART THREE: ROAD TRIP SEATTLE TO CHENEY
By Moses

On Sunday morning, we met up with Neil "Kiltman" Hart for a road trip eastward from Seattle to Cheney.

Neil "Kiltman" Hart is the 2003 Visa Hall of Fame fan representative of the Seattle Seahawks. He and I met last October during the Seattle/Cincinnati game and festivities held through the Midwest Seahawker Fan Club in Cincinnati. He and I had met via the Internet at the SeahawkSal.com site before that, and at Cincinnati we met face to face and hit it off quite well.

When I had emailed him and told him we were headed to Seattle, he was MORE THAN WILLING to help us out with all of the "Seahawk" portion of our trip. I then talked him into traveling with my family to Cheney for the Monday morning practice on August 3rd.

Before we left the area, Neil asked if it was okay to stop by Jeff and DeDe's to drop something off.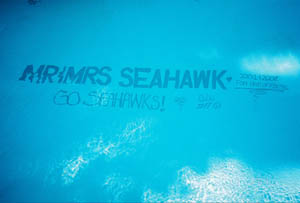 Jeff and DeDe are better known as "Mr. and Mrs. Seahawk". They were the 2001 Visa Hall of Fame Seahawk fans. They were married before a Seahawk game in the Kingdome (a game the Seahawks won), and they have always been my idea of the PERFECT SEAHAWK FANS when I see them on TV.
So, did I mind visiting them? OF COURSE NOT!
We came to Jeff and DeDe's, and they showed us all around the inside of their house. It is COMPLETELY COVERED INSIDE with Seahawk memorabilia (DeDe jokes that Jeff won't let her put stuff on the ceilings yet, but she has already started to inch out from one corner of the living room). Every room. Every corner. Every inch of the house a shrine to the Seahawks…. I REALLY FELT AT HOME THERE!
Alexis was taken by their big beautiful cat (named "Blitz"). Soon, she was following Blitz EVERYWHERE. DeDe was taken by my daughter ( and I can't blame her).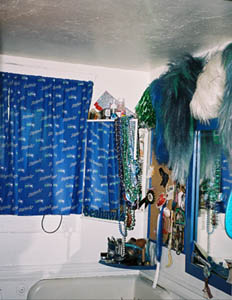 Before I knew it, DeDe had taken Sally and Alexis over to look at their flower garden and Neil, Jeff, and I were sitting around the pool talking about music. Then, we were invited to jump into their pool and DeDe is handing me a beer.
I remember thinking, "I never would have dreamt that I would actually hang out with the best Seahawk fans in the world, yet here I am! I am surrounded with the cream of the Seahawk fan crop!"
After a while, we said our long goodbyes and headed off to Cheney. I was in a bit of Seahawk shock. Did I really just hang out with all of these great Seahawk fans that I often see screaming at the stadium for our beloved Seahawks? Was it all a dream?
On the way to our motel in Spokane, we sang children songs (which made my daughter happy) and passed none other than…. MOSES LAKE! Even though Neil begged, I refused to raise my hands and split the lake down the middle. I was on VACATION!!
When we arrived to the Cheney exit, we stopped for dinner. Then, we drove over to the practice facility to see if there were any Seahawk players floating around the place. We came up empty handed that evening, but I did get some great shots of the place before the practicing started.
I remember thinking as I laid my head on my pillow that night, " This trip could NOT get any better…."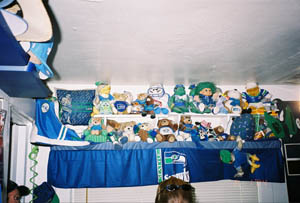 Of course, I was wrong. It got BETTER and BETTER, as you shall read in PART FOUR: OPENING DAY IN CHENEY.