Part 1: Kirkland | Part 2: Seahawks Stadium | Part 3: Road Trip to Cheney | Part 4: Opening Day in Cheney | Part 5: Seattle, then home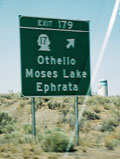 PART FIVE: BACK TO SEATTLE, then home
By Moses

As we left Cheney, all of us in the car knew that we had quite an experience in Cheney. Sally and I also knew that our vacation was unfortunately winding down to a finish. In 18 short hours, we would be boarding a plane and heading back to Indianapolis, which seemed like a world away.

But for now, we glided along Highway 90 westward headed towards Seattle. And our adventures were not quite done.

Neil had Marcus Trufant sign a Washington State pennant for a friend of his, and after Marcus signed it, Neil signified to me that we had "A FREE PIZZA COMING OUR WAY."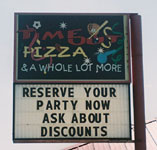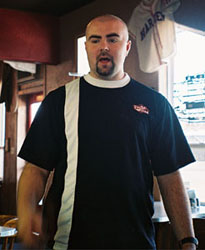 We stopped at a little Washington town called Ephrata where a little pizza place called "Time Out Pizza" was owned by a pretty die hard Seahawk fan. In fact, the owner has an entire wall FILLED with Seahawk memorabilia. Even one of his tables looks like a football field with Seahawk end zones at each end!


The owner had told Neil if he could get Marcus Trufant's autograph on his pennant for his wall, he would give us all a free meal. He delivered on his promise. The pizza was great, the breadsticks were SPECTACULAR, and the Seahawk filled atmosphere was memorable!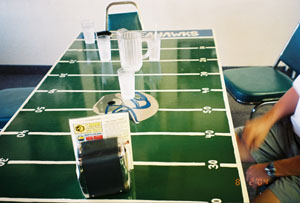 Following our free meal, we continued to head for Seattle. But the good time we were making was brought to a grinding halt about 25 miles outside of Seattle. Suddenly, three lanes of westbound Highway 90 closed into ONE LANE. We were at a dead stop on the highway for around an hour or so.
My daughter is completely toilet trained. She does very well, and I am proud to say that she has not had an accident all summer long. As we sat in stopped traffic miles away from any sign of civilization, my daughter uttered the phrase that every parent stuck in traffic dreads…."I have to go potty…"
We were stuck. And poor Alexis was patient. Finally, she got this look on her face like, " I hate to be a bother, but I don't know how much longer I can hold out…" Sally said, "Enough of this," got out, took Alexis to the side of the road, and….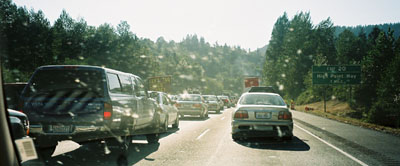 Well, let's just say that there is a small area of grass on the side of westbound Highway 90 that may not grow anymore….
Upon getting back to Seattle, Neil joined us for a dinner from Jack in the Box (we were rewarded with 4 extra tacos that we did not order). Neil then headed home to prepare for work and we prepared for our trip back home.
As we flew out of Seattle and saw Mount Rainier poke above the clouds, it looked like we had just visited a place that was in the clouds itself. And as I look back on our trip to Seattle, I still think it was all a great big dream…

We did so much more than Seahawk related trips in Seattle. We spent a lot of time at the Seattle Center, going to museums, rode a car ferry, took two tours of the beautiful waters in the Pacific Northwest, the Space Needle, Pike's Place Market, the Seattle Aquarium, and many other wonderful things. But for me, it was those Seahawk related excursions that set this vacation a little bit apart from other family vacations. Those excursions made this family vacation a little extra memorable to me.

I would also like to thank Neil, Will, Chad, Garrett, Mike Flood, Mr. and Mrs. Seahawk, and SO MANY MORE of those who helped to make this family vacation so memorable.
Last but not least, I really want to thank Becky Selm for editing my trip down and displaying my memoirs and pictures on her web site. She did an incredible job making these little sections and I am forever grateful to her outstanding work! Thanks a million, KANSAS!