Part 1: Kirkland | Part 2: Seahawks Stadium | Part 3: Road Trip to Cheney | Part 4: Opening Day in Cheney | Part 5: Seattle, then home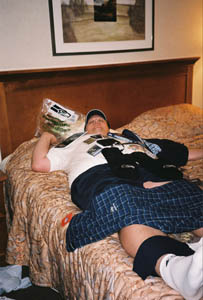 PART TWO: SEAHAWK STADIUM
By Moses

(Editor's note: I am well aware that the REAL name of Seahawk Stadium is Qwest Field. However, when we visited the stadium, "SEAHAWK STADIUM" was still on the roof, so I will refer to that place as SEAHAWK STADIUM.)

Our next family Seahawk adventure placed us at Seahawk Stadium. We arrived at noon so that we could meet a couple of fellow Seahawk friends Neil "Kiltman" Hart and Will "Shadowhawk" Harrison for lunch down by the stadium. We ate at a place called the "Pyramid", and it was a nice comfy little pub. It was so refreshing to talk Seahawks face to face with someone for a change. Neil and Will are two great guys and I am very grateful to have the chance to meet them face to face.

Following our meal, we ventured to the Seahawk Pro Shop where I wondered around like a little fat kid in a candy store. There was simply too much to buy. I could have dropped four digits easily. However, I resisted and ONLY bought $160 worth of stuff.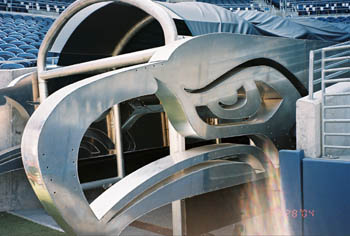 Following the spending spree, we went on the stadium tour. An older gentleman named John (a ticket holder since 1976) escorted us as well as 6 others around the stadium telling us all of the interesting points of the stadium…

My first real view of the stadium came ENTERING THE FIELD RIGHT WHERE THE SEAHAWKS TAKE THE FIELD between the two silver Seahawks at the tunnel. It was truly magical. We also visited the 12th Man Suite, the luxury boxes, the media rooms, and the visitor's locker room and facilities among other places of interest.

Plenty of pictures and film was taken. I had to pinch myself a few times to realize that I had FINALLY made it to the home of my beloved Seahawks.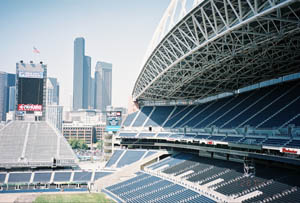 It had been quite a first full day in Seattle for us. We visited the Seahawk headquarters Wednesday morning, then lunch and the stadium in the early afternoon. All in all, it was one of the best days of vacation I had ever spent…. Until the road trip to CHENEY!!!!

Stay tuned for part three!!!!