Larry Bates was there!
Well, he would have been had he not been injured in training camp!
Pre-76
Two-time junior college All-American
Drafted 1976 (Seattle)
Injured most of his career at Miami. Played only four games before surgery in 1975. Rushed for 349 yards on 71 carries in his two-year career.
1976
1976 Injured knee in training camp, DNP
Pro! The Official magazine of the NFL
Also on the injured reserve list for Seattle is rookie running back
Larry Bates
, a fifth round draft choice from Miami.
Patera likes look of receivers
Walla Walla Union-Bulletin
Wednesday, July 21, 1976
Meanwhile, a team spokesman said that rookie running back Larry Bates, who returned to Seattle earlier this week for further diagnosis of an old knee injury, will not have to undergo surgery.
"The old injury was puffing up on him a little and it just needs some rest," the spokesman said. He said it might be three to four weeks before Bates will be able to resume contact drills.
Street and Smith's Pro Football 1977
Don Testerman
, a Philadelphia castoff, is the incumbent fullback. He gained 246 yards in 67 carries. Behind the starting backs are
Ralph Nelson
,
Hugh McKinnis
, and
Oliver Ross
. Duke's Tony Benjamin and Georgia Tech's
David Sims
were the drafted runners, but
Larry Bates
, who missed his rookie season due to injury, may slip in somewhere.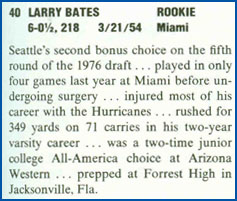 Pro Football 1976
by Larry Felser and Dave Klein
Had the Seahawks done as well offensively, Atlanta and New Orleans might have filed suit for damages. But they won't have to, since the offense will be
Patera
's major source of headaches.
There are no running backs, unless you count Bill Olds, Gary Hayman and Kerry Marbury. The draftees are better, especially fullback Larry Bates of Miami, Fla.
The Seahawks can't go into the season with this collection. The only experienced hand is Olds, and his forte is blocking, not ground gaining. Hayman has size and speed, but rarely played for the Bills. Marbury played a couple of years in Canada. Bolton has to make the transition from a small school. Bates could be a find.
PAST AND PRESENT PLAYERS TAKE PART IN UNCF FUNDRAISER
The NFL Players Association is pleased to have taken part in the 9th Annual "Chefs for UNCF" on Sunday, March 14, 2004 at the DoubleTree Hotel in San Jose, California. This event featured many local chefs from the Bay Area and Northern California as well as culinary students who showed their talents. The highlight of the evening was the "Best Chef" award given in four categories and one honorable mention. The NFLPA recruited some of its own to serve on the panel of celebrity judges. They included Tyrone Wheatley (Oakland), Ray Brown (unrestricted free agent), Anthony Adams(San Francisco), Guy McIntyre (former player and current Player Development Director, San Francisco) and
Larry Bates
(former Seattle Seahawk). The event is one of the major fundraising activities of UNCF in the Bay area.
Collecting Larry Bates?
Sorry - no
Larry Bates
cards! But he did have a mini-poster from the Seattle Post-Intelligencer, #45.