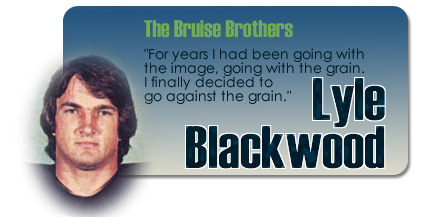 Lyle Blackwood was there!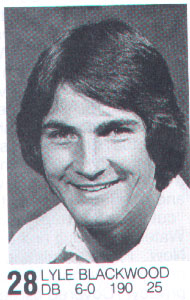 He and his brother were nicknamed "The Bruise Brothers"!
Pre-76
All-Southwest Conference 1971, 1972
North-South all-star game 1972
Drafted 1973 (Denver)
Signed by Cincinnati 1973
1976
Blocked 2 field goals
Returned 19 punts (longest return 45 yards)
1 reception on offense
Street and Smith's Pro Football 1977
Right corner should be a battle between
Rolly Woolsey
, who started 11 games, and pro sophomore
Ernie Jones
who started the other three. The subs are ex-Bengal
Lyle Blackwood
and
Don Dufek
, the ace of the special teams in his rookie season.
Source: Street and Smith's Pro Football 1977
1976 Leaders and AFC Ratings
Scoring - Leypoldt, 43 points on 19 XP, 8 field goals - 23rd
Rushing - Smith, 119 carries for 537 yards, 4.5 Avg, 4 TDs - 19th
Passing - Zorn, 208 of 439 attempts for 2571 yards, 12 TDs - 15th
Receiving - Largent, 54 for 705 yards, 4 TDs - 3rd
Interceptions - Brown, 4 for 70 yds, 17.5 Avg - 14th
Punting - Engles, 80 punts, 38.3 Avg., longest 55 yards - 10th
Punt Returns - Blackwood, 19 for 132 yds, 6.9 Avg - 13th
Kickoff Returns - Ross, 30 for 655 yds, 21.8 Avg - 11th
Brothers who played in the NFL
Blackwood **
Glenn - DB - 1979-87 Miami Dolphins
Lyle - DB - 1973-75 Cincinnati Bengals, 1976 Seattle Seahawks, 1977-80 Baltimore Colts, 1982-86 Miami Dolphins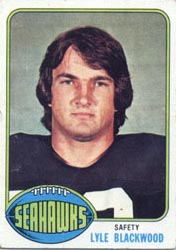 Football's Most Wanted: the top 10 book of the great game's outrageous characters, fortunate fumbles and other oddities
Wronged Husband!
Rookies are often the butt of practical jokes. Lyle Blackwood, a DB for the Seahawks, Bengals, Colts and Dolphins from 1973 to 1986, loved to pull the "wronged husband" routine on unsuspecting rookies. During a game, he would point out a beautiful woman in the stands. He would tell the gullible player that the woman had a crush on him and wanted to arrange a rendezvous. The only problem was that the woman was married. Blackwood offered to act as a go-between. When the unsuspecting Romeo arrived for his meeting with the mystery woman, her "husband" jumped out from behind the bushes with a shotgun and fired blanks. Victims of the joke ran for their lives. One terrified player ran for five hours before being found.
Pro Football 1976
by Larry Felser and Dave Klein
Secondary?
Patera
has
Dave Brown
and
Eddie McMillan
on the corners, with
Al Matthews
,
Rondy Colbert
and
Lyle Blackwood
competing for the safety jobs. And rookie
Don Dufek
of Michigan will hit hard enough to make the club. He's a former Wolverine linebacker now projected as a strong safety.
Matthews can be a regular if he minds his mouth, which Patera will encourage. Colbert has the ability if not the size; he's a return specialist, too. Blackwood may have to play somewhere. Dufek was outstanding at Michigan as a roving linebacker.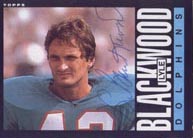 Where are they now?
Source: www.coltpower.com Lyle Blackwood -- Lyle is living in Dallas and is president of a technology company that evaluates athletic performance and consults with athletes. (Baltimore Sun, 5/01)
Glenn Blackwood is the kid brother who was drafted by the Dolphins in 1979. Lyle Blackwood, who owns a manufacturing company in Dallas, Texas, and is six years older, toiled for five other NFL teams before signing with the Dolphins as a free agent in 1981. On a Monday night game against Buffalo in 1981, Glenn at strong safety and Lyle at free safety ganged up to put some heavy hits on the Bills' players, prompting a Miami sportswriter to dubbed them "The Bruise Brothers." The moniker stuck and today, the Blackwoods are still Dol-Fan favorites.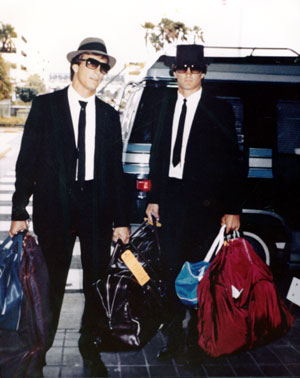 Lyle Blackwood's Biggest Victory Was Over Alcohol
By David Remnick, Washington Post Staff Writer
January 27, 1983
NEWPORT BEACH, Calif., Jan. 26, 1983 -- Miami safety Lyle Blackwood staggered back to the huddle with his face smeared with blood, his nose smashed and splintered after colliding with Buffalo's Roosevelt Leaks.
"Rub the blood out of my eyes," Blackwood remembers telling a teammate, and he continued to play. Later, on the sidelines, a doctor set Blackwood's nose and the 31-year-old safety helped lead the Dolphins to a 9-7 victory, their second win this season. "To play professional football, you have to withstand some pain," Blackwood said today.
A broken nose has been the least of Blackwood's pain. These days Lyle and his 25-year-old brother Glenn are the starting safeties for a Super Bowl team and the league's newest nicknamed defense, the Killer Bees. A rosy, familial picture.
But before Lyle came to the Dolphins this year after being cut by the Giants, his vision was perpetually blurred, his life a wreck.
Lyle Blackwood was a heavy drinker, an outrageous bar-hopper who amazed his teammates and opponents with his ability to stand, much less play football, after drinking until dawn. Blackwood began drinking occasionally in high school and heavily at Texas Christian University.
"Back then I didn't think I had a problem," he said. "In college, you'd go down and have a few beers with the guys. Then maybe later have a screwdriver. Then when you were really tanked up you'd go and have some tequila to show you're a real man.
"I never went to get help from anybody. I never really thought of myself as physically addicted, but I was psychologically addicted. It was something I needed to be a regular guy, an extrovert."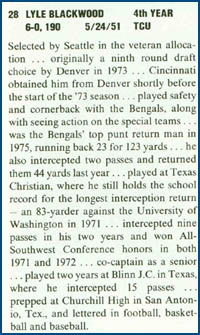 In 1973, the Denver Broncos drafted Blackwood in the ninth round, but waived him before the start of the regular season. The Cincinati Bengals signed him and used him on special teams.
While Blackwood was exacting little attention in the NFL record books, he may well have led the league in late, drunken nights.
"I was outrageous and I thought that was what an NFL player was supposed to be like," said Blackwood. "You see all the beer commercials on television. You look at a movie like 'North Dallas Forty.' You see that image. And when you go to practice, afterwards people will say, 'Let's go to the bar.' Two or three drinks and you're lit. You see guys going over the wall in training camp. It's the first thing you see."
The Seahawks acquired Blackwood in the 1976 expansion draft, and after a year in Seattle, he was traded to the Colts. In his first season with Baltimore, Blackwood had a remarkable year, leading the league with 10 interceptions. In one game against the Jets, he intercepted three passes.
Yet Blackwood's problems persisted: "I was making two or three times what my father made. I led the league in interceptions for Baltimore. Everything that the world says makes you happy, I had. But I wasn't happy. I was miserable."
Blackwood' marriage was troubled and his drinking continued, even while he played well. He finally decided to quit drinking and live up to an altered image of the pro football player.
"For years I had been going with the image, going with the grain," he said. "I finally decided to go against the grain."
Blackwood steadily cut down on his drinking. His marriage improved while his reputation as a carouser waned.
After the 1980 season, Blackwood was dealt another joker: The Colts traded him to the Giants.
Blackwood balked. He has a Texan's distaste for New York and in training camp, he gave a noncommittal performance. The Giants cut him. Blackwood, his wife Suzanne and two daughters returned to Texas. In Austin, he worked in Rooster Andrews' sporting goods store--the same store in which Blackwood's father had worked. His pro football career seemed at an end.
Glenn, a more straightlaced person, was beginning his third season with the Dolphins. The Blackwoods had played against each other two years earlier and the confrontation nearly ended Glenn's career. On a punt return, Glenn avoided Lyle's block but in doing so, he tore the ligaments in his left knee.
Glenn returned the favor by recommending his brother to the Miami coaches after cornerback Don McNeal tore a hamstring early in the 1981 season. Three weeks after arriving, Lyle replaced Don Bessillieu at free safety and for the rest of 1981 and all of 1982 the Brothers Blackwood have been part of the league's top-rated defense.
"We work well together, but there's no telepathy or whatever that junk is," said Glenn.
"We just love to hit people," said Lyle.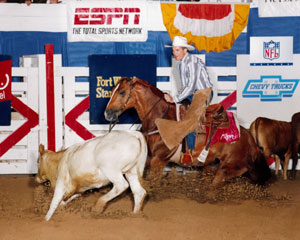 On the plane to Los Angeles Monday, Lyle and Glenn--who often wear jeans and sports shirts--dressed in baggy black suits, fedoras and shades. The "Bruise Brothers" upstaged the in-flight movie.
Lyle Blackwood is convinced he will not go back to another "Saturday Night Live" act that he once played to excessive, frightening degrees. It was an act that almost ruined his life.
"I was the 'wild and crazy guy,' " he said. "But I was more than crazy."
News Services
September 2, 1986
The National Football League's annual final cutdown day brought the release yesterday of a number of veteran players, including quarterback Lynn Dickey and tight end Paul Coffman of the Green Bay Packers and Kim Bokamper, Lyle Blackwood and Jay Brophy, all defensive starters on the Miami Dolphins' 1984 season Super Bowl team.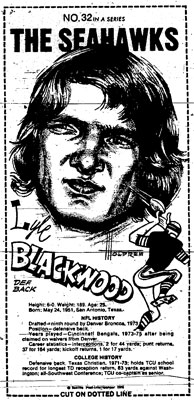 Collecting Lyle Blackwood?
1976 Topps #347 Lyle Blackwood
1978 Topps #89 Lyle Blackwood
1979 Topps #299 Lyle Blackwood
1980 Topps #116 Lyle Blackwood
1983 Topps #311 Lyle Blackwood
1985 Topps #304 Lyle Blackwood
2004 Topps Fan Favorites #55 Lyle Blackwood
2004 Topps Fan Favorites Chrome #55 Lyle Blackwood