Sammy Green was there!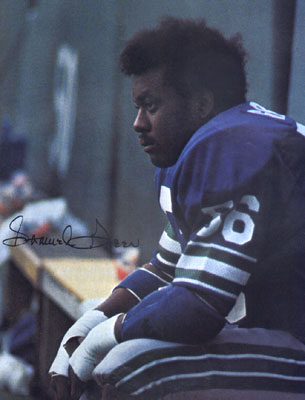 Nickname "Odd Job"
Pre-76
First team All-America selection on some votes
All-America honorable mention (UPI)
All-Southeastern Conference selection
College letterman 4 years
Drafted by Seahawks (2nd round)

Seahawks
by Doug Thiel
Sunrise Publishing Inc.
So many honors for one person, but the Seahawks' first second-round choice, Sammy Green, was also chosen an All-American by many of the same groups of selectors. At the University of Florida Sammy, too, lettered for four years, started for three years, and led the team in tackles with 202.
Giants hand Tampa first loss, 17-14
Monday, October 08, 1979
Frederick, Maryland
The News
SAN FRANCISCO (AP) –
Sammy Green
, who ran 91 yards for a touchdown, and
Dennis Boyd
made interceptions in crucial situations, leading the Seattle Seahawks to a 35-24 victory over the winless San Francisco 49ers Sunday.
Offensively, the Seahawks got two touchdown runs from Dan Doornink, one from Sherman Smith and another from quarterback Jim Zorn in the final minute of the National Football League game. Earlier, Zorn completed nine of his first 10 passes as his team built a commanding lead.
Doornink ran 13 and 3 yards for his touchdowns in the first quarter and San Francisco's O.J. Simpson scored in between on a 3-yard run. The 49ers were at the Seattle 19-yard-line late in the second quarter when linebacker Keith Butler and defensive lineman Boyd combined on the first key defensive play of the game.
Players who played in the USFL
Sammy Green, LB, BIR, Seahawks '76-79; Oilers '80

Nine Inducted Into UF Hall of Fame
Source: Contents copyright 2003 GatorCountry.com
Date: Saturday 12 April @ 08:32:20
From: UF Sports Info.
Gainesville, FL - The hard work and accomplishments of nine former University of Florida athletes and staff members were recognized as they were inducted into the University of Florida Athletic Hall of Fame Friday evening at the University of Florida Hotel and Conference Center Hotel. This years' inductees include: Alvin Cowans (football), Sammy Green (football), Dudley Hart (golf), Michael Holloway (track and field), Lynn McDonnell Keefe (gymnastics), Pat Patchen (football), Lisa Raymond (tennis), Huey Richardson Jr. (football) and Alfred Warrington (Honorary). This year's class brings a total of 296 inductees into the Hall of Fame.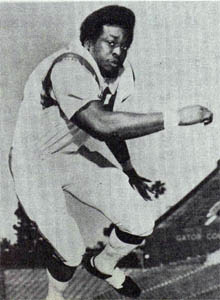 Inductees are voted in three different categories which include: Gator Great, Distinguished Letterwinners and Honorary Letterwinners. Gator Greats are individuals who are letterwinners from UF and have brought recognition and prominence to the University and themselves by athletic accomplishments as an undergraduate. Distinguished Letterwinners are athletes who have made major contributions to the University athletic program for many years through personal time, effort and interest. Honorary letterwinners are individuals, coaches, athletic officials, staff members and other University officials who were not letterwinner, but have had many years of outstanding service to the athletic program through personal time, effort and interest.
Sammy Green was inducted as a Gator Great and also was a letterwinner in football from 1972-1975. Green was a linebacker and nose guard while at UF. During his career he averaged eight tackles per game, including 13 per game during 1975 when he received All-America honors. Green went on to play in the NFL for the Houston Oilers and Seattle Seahawks.
Most Memorable Drafts in Seahawk History
1976 | The Seahawks' first draft was a forgettable one. They selected 25 players, but were only able to land starters in linebacker Sammy Green and receiver
Sherman Smith
. Even first-round choice
Steve Niehaus
failed to make much of an impact. After playing in just 36 games, he was traded in 1979 for an eighth-round pick.
Street and Smith's Pro Football 1978
Terry Beeson made the all-rookie team last year and Sammy Green has been starting since he was a rookie. Pete Cronan is also a promising kid. Veteran
Ken Geddes
started last year.
Pro Football 1976
by Larry Felser and Dave Klein
First of all, Seattle had the right to choose 39 veterans from lists submitted by the established franchises. And Patera, for years the defensive line coach for the Vikings, was honestly surprised at the quality of players available, especially the defensive performers. Patera came away with linebackers, for instance.
Boy, did he come away with linebackers! His starting trio would appear to be Ed Bradley in the middle with Ken Geddes and Ken Hutcherson on the outside.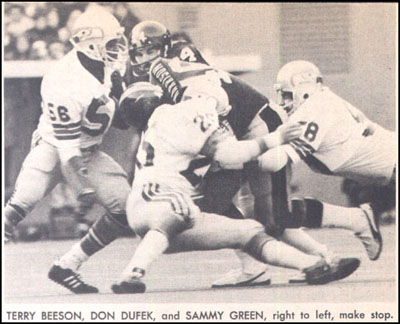 And behind them are former All-Pro Mike Curtis -- long-time Falcon starter Don Hansen and two rookies - Sammy Green of Florida and Randy Coffield -- of Florida State. It's a sound unit.
Bradley could have started for the Steelers if Jack Lambert wasn't there. Geddes did start, for the Rams, and he played championship ball. Hutcherson, a bit short but very quick and strong, will find a spot. Curtis, once All-Pro, will back up the middle and help the kids. Green, the No. 2 pick, will get into the thick of competition and could win a spot. Hansen, a veteran noted for meanness, will help. Jones made a big name for himself in college.
From: Jay Couture
Sent: Tuesday, June 07, 2005 3:17 PM
Subject: Sammy Green and Alvis Darby
Hi,
I found your '76 Seahawks site while doing an internet search for Sammy Green. I am trying to find him and Alvis Darby for my autograph collection. I am attempting to collect the autograph of every Florida Gator who has played in the NFL. Do you have any idea where I can write to them? I also need some other Gators/Seahawks who were not on the '76 team - Tony Green, Henry McMillian, Alonzo Mitz, and Del Speer. Any help you can provide will be greatly appreciated. Thanks!
Jay Couture
From: David M Tossie
Sent: Sunday, January 03, 2010 4:09 PM
Subject: Sammy Green "76"
Hello, I'm trying to get in touch with Samuel Green, he and I attended the same Elementary school in the 60's before his family moved away, we were really good friends. If you have contact with him please give him my email address, I am still in the same town.
Thank you,
David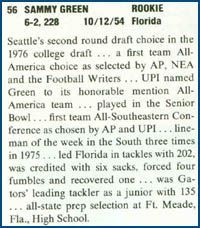 The Pocket Book of Pro Football 1976
Edited by Herbert M. Furlow

The backers may be the defensive guts of the Seahawks. Three were regulars last year, although Curtis had a knee problem at Baltimore. Geddes and Hansen both have starting experience. Bradley played behind Lambert with the Steelers; Hutcherson was hurt most of last year. Rookie Green has top All-America notices.
From: Reynolds
Sent: Friday, July 20, 2007 9:26 AM

Sammy Green lives in Fort Dodge, Iowa and is an English and Composition high school teacher.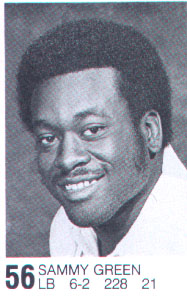 A Seahawk Blueprint: from expansion to contention
Source: Norm Evans' Seahawk Report
Oct. 29 – Nov. 4, 1979
By Gary Huff
The bulk of the Seahawks first team in 1976 came, of course, from the veteran allocations draft. Many of those drafted merely filled positions until the college draft could provide quality replacements. Only four of those expansion draftees, Nick Bebout, Art Kuehn, Sam McCullum and Dave Brown remain today.
The Hawks' first-year college draft, while tainted with a few drafting errors, added five quality players. The selection of Steve Niehaus, the team's initial first-rounder, must now be regarded as one of the team's larger draft mistakes. In the third and fourth rounds, where a team should come up with some fine down-the-road players, the Hawks bombed. Jeff Lloyd (DL) and Randy Johnson (OG) didn't survive training camp. Rick Engles (P), Don Bitterlich (K) and Andrew Bolton (RB) didn't last much longer. All of these players have had shots with other teams, but their careers are essentially over.
Despite these shortcomings, the `76 draft did produce some important members of the `79 team: Sammy Green, Sherman Smith, Steve Raible (all in the second round), Steve Myer (4th) and Don Dufek (5th).
PRO CHARTS
By Murray Olderman
The Albuquerque Tribune
Saturday, September 17, 1977
Seattle Seahawks Prospectus
In second year of existence, Seahawks opted for draft choices instead of chance at Tony Dorsett, who probably wouldn't have signed with them. Coach Jack Patera actually did good guiding expansion team to two victories in '76. Whole concentration is building on youth.
Had some pleasant surprises on offense. Now they need more bodies to weld the defense.
DEFENSE
Defensive Line: The future rests with Steve Niehaus as the hub of defensive effort. Club's top pick, his first year was learning experience. Other men up front, like Bob Lurtsema, just stopgap. So traded for Bill Sandifer. Rating—C
Linebackers: Best stocked department on club, which enabled them to trade Ed Bradley for Sandifer. Mike Curtis, former all-pro, still has enough speed to play outside. Sammy Green made considerable progress as rookie in '76. Rating –B
Secondary; Has a professional look with people like Eddie McMillan, Al Matthews and Dave Brown. Rollie Woolsey, picked from Dallas in expansion, also thrived on corner with chance to play, tied with Brown as interception leader. Rating—B
Collecting Sammy Green?
1983 JOGO CFL #63
Mini-poster from the Seattle Post-Intelligencer, #41.