John Demarie was there!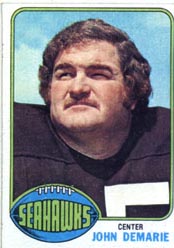 Pre-76
Blue-Gray and Hula Bowl all-star games
Drafted 1967 (Browns)
Source: Seattle Post-Intelligencer
Wednesday, August 18, 1976
Veteran Guard John Demarie, asked how he felt leaving the Cleveland Browns for an expansion team in Seattle: "There's nothing I can do about it, so I'm happy as hell."
Source: Street and Smith's Pro Football 1977
The backup tackles last year were
Dave Simonson
and
Gordon Jolley
. Jolley started four games. Guard John DeMarie started 8 games, but he's 32 and shows it.
Ron Coder
also is on the roster. Center
Art Kuehn
started as many games as the 33-year-old
Hoaglin
.
Seattle Draft: 'Good Job'
10:00 PM 11/15/2007 Don Kosterman, executive vice-president and general manager of the Los Angeles Rams, offered, "Seattle did an excellent job and got some veteran players who will be invaluable. For instance, (Nick)
Bebout
, (John) Demarie, (Rocky)
Rasley
, (Gordon)
Jolley
, (Fred)
Hoaglin
, (Norm)
Evans
, (Bob)
Penchion
are going to play to give the Seahawks an established offensive line.
Seattle players choices were sent "welcome" telegrams from Patera yesterday. Later, all will receive personal telephone calls from the appropriate Seahawk assistant coach.
As a group, the newest Seahawks did not express disappointment or disgust at joining an expansion franchise.
John Demarie, offensive guard, Cleveland -- "I was somewhat surprised, but the more I thought about it the more enthusiastic I became. There are very few times in a man's life when he gets to be the first ever to do something. Whatever will be done in Seattle this season will be the first and will give us a chance to make a little history.
"I have been in Seattle for two exhibition games in the past. I was very, very impressed with the country and I'm looking forward to spending some time there."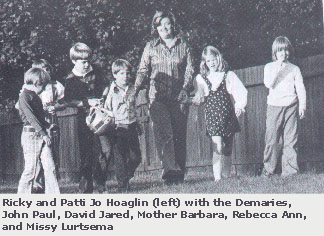 When a pro football player joins a new team he not only gets a new uniform but he has to paint his son's helmet.
Pro! The Official Magazine of the National Football League
Seahawks Edition
Detroit vs Seattle, October 24, 1976
By Carolyn Andersen
"Sunday will never be the same."
As KIRO Radio proudly boasts to over 1,500,000 people in the metropolitan Seattle area, the Seahawks have given new meaning and life to Sundays. While Seattle's entry into the NFL has brought about many changes in the weekend schedule of local football fans, families of the men who suit up in the silver and blue each Sunday, find it "just another working day."
Although the public may view the life of a pro athlete as glamorous, few of the wives consider it to be any different than a dozen other professions.
Coming to Seattle in the expansion draft was the first football move the John Demarie family had made. It was not, however, their first change of residence.
As a nine-year veteran with the Cleveland Browns, John and Barbara have made 10 moves in their 10 years of marriage. The family, including children John Paul, age 8, Rebecca Ann, 7, and David Jared, 5 1/2, calls Lake Charles, Louisiana "home". During the football season they would rent in Cleveland and then return to Lake Charles where John has a tire dealership.
In talking about this type of lifestyle, Barbara relates it to "camping out for six months. We choose not to move any of our belongings, so we not only rent a place to live but we rent furnishings as well. That way we really appreciate things when we get home."
The couple met while students at high school in Lake Charles.
She…recalls a time when she and John had to prepare (the children) for the bad, "There was a game in Cincinnati when John was playing center for Cleveland. He had three fumbles and lost the game. We anticipated the reaction our kids might receive from their friends, so we tried to prepare them. That was a tough job."
'Hawk Cuts Due Today
"Listen, there are a lot worse places to train. Ever been to Hiram, Ohio?
"It's located in a dry county which is bad enough. But it's surrounded by five more dry counties. At least it's not dry here. You have places to replace the fluids."
Guard John Demarie, a nine-year performer with the Cleveland Browns, made that perceptive observation yesterday.
What that means, most of all, is that the real scars-on-their-scars veterans are in the Seahawk training camp.
There is only one place in the city limits -- at least by sportswriter scouting -- which serves liquor by the drink. Another establishment which did the same is closed.
To Demarie's credit, he found that spot immediately. Which separates the veterans from the newcomers. They learn the territory.
"Hey, in Hiram it was so bad all we did was go down and count the oil cans," Demarie concluded with a sly smile.
"Or watch the one red light," added center Fred Hoaglin, a 10-year veteran who started with Cleveland.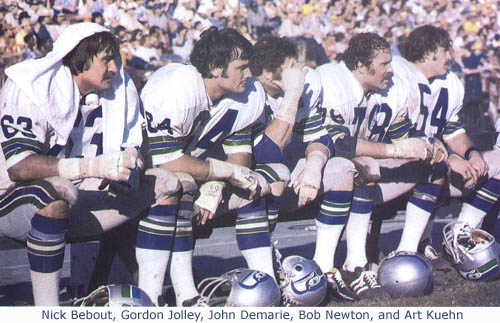 Pro Football 1976
by Larry Felser and Dave Klein
And if Patera really wants to stay up nights, he can think about his interior line. At the moment, the tackles will be Nick Bebout and Norm Evans. The guards are John Demarie and Bob Penchion. Fred Hoagin is at center.
Bebout didn't play well with the Falcons. Evans, once a Pro Bowl is a bit old and may not show his ability on a weak line. Demarie should have a few years left. Penchion played weill in spurts during his career. Hoaglin can play center and guard. Kuehn, one of George Allen's mystery names, played well at UCLA two years ago he never made the Redskins' active roster, joining the WFL instead. Johnson had good grades in college and could win a job. Jolley starting material.
While this group is less than impressive, there is no passable depth. Randy Johnson is a 244-pound rookie guard from Georgia, Art Kuehn is a rookie backup (for now) center from the Redskins and Gordon Jolley is a tackle reserve.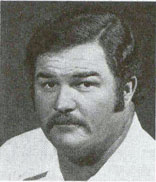 The Pocket Book of Pro Football 1976
Edited by Herbert M. Furlow
The team's strongest segment. All-Pro Norm Evans still likes to play. His being dumped into the expansion pool has caused resentment among the Dolphins. Nick Bebout was the biggest man on the Atlanta offensive line last year, and sometimes started. John Demarie led Cleveland in its upset win over Cincinnati last November. A ten-year man, he can play both guard and center. Fred Hoaglin is a dedicated pro with 11 years. Last season he was the backup center at Houston and played on special teams. Bob Penchion started for the 49ers in 1975.
Seahawk squawks
By BOB WAYT
Chronicle Sports Writer
The Daily Chronicle, Monday. October 18,1976
The buccaneers of the 17th century, though dashing in their feathered hats, hooped earrings and skintight pants, were sordid fellows, you know.
Not only did they haunt the seas of the Caribbean and Pacific, pillaging ships and sailing malevolently away with the loot, the maritime marauders often robbed settlements as well. There were no buccaneers in ruffled lace at the Tampa Bay-Seattle NFL game Sunday, even though the first-year Florida club answers to that moniker.
There were, however, a band of robbers in striped shirts and while they didnt take anybody's life, or booty, they plundered the expansion bowl of its excitement and vitality. If the United Nations had supplied the flags for this game, the officials would have run out before halftime. By the time all the penalties had been stepped off, it could easily have been midnight—in Tennessee.
One referee threw his flag 21 yards. Another rifled his through the face mask of Seattle defensive back Dave Brown, who was subsequently treated for a swollen eye.
"It got to be we weren't so much concerned with blocking and tackling, but just looking to see who the penalty was on," said Seattle coach Jack Patera. "It reminded me more of an officials clinic than a football game," observed Seahawk defensive coordinator Sam Baghosian.
Seattle offensive guard John Demarie said he thought the major reason for the rash of fouls was a recent demand by (NFL commissioner) Pete Rozelle that the officials crack down on holding. In fairness to the referees, Seahawk linebacker Mike Curtis was glad to see so many yellow hankies fly. "It's the first time I've ever been in a ball game where the officials called the way they were supposed to," the 12-year pro claimed.
Collecting John Demarie?
1976 Topps #127